Classic Film Scores Featured on Judy Garland: Soundtracks, Out Today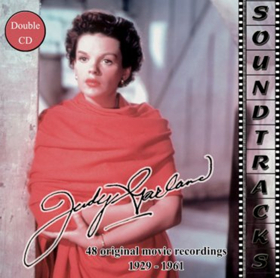 Mint Audio Records is proud to announce the release on July 25, 2017 of a new 2-CD 48-track set, Judy Garland: Soundtracks. Remastered by renowned U.K. audio engineer Richard Moore, compiled by Lawrence Schulman and Scott Brogan, with sleeve notes by Brogan and photos from the collection of Schulman, the collection includes Garland's greatest movie hits, including four outtakes, from 1929 to 1961. Painstakingly restored, the compilation offers listeners a 21st century audio experience that far outshines previous releases. Included are such Garland classics as "(Dear Mr. Gable) You Made Me Love You," "Zing! Went The Strings Of My Heart," "Over The Rainbow," "Danny Boy," "Singin' In The Rain," "I'm Always Chasing Rainbows," "How About You?," "The Trolley Song," "The Boy Next Door," "Have Yourself A Merry Little Christmas," "On the Atchison, Topeka And The Santa Fe," "A Couple Of Swells," "I Wish I Were In Love Again," "Last Night When We Were Young," "Friendly Star," "Get Happy," "The Man That Got Away," "The Far Away Part Of Town," and "Little Drops Of Rain."
The set uses songs composed by some of the greatest songwriters of the Great American Songbook, namely Harold Arlen, George Gershwin, Ira Gershwin, Yip Harburg, Ted Koehler, Johnny Mercer, Harry Warren, Nacio Herb Brown, Arthur Freed, Burton Lane, Jerome Kern, Cole Porter, Irving Berlin, Richard Rodgers, Lorenz Hart, and André Previn. It also includes duets with such singing partners as Mickey Rooney, Gene Kelly, and Fred Astaire. As head of Mint Audio Records and Mint Audio Restoration, Moore has been called "a master of his craft" by Steve Woof, director of EMI Gold, and has given new life to such artists as Matt Monro, Cilla Black, Jim Reeves, Barbra Streisand, Rosemary Clooney, Elvis Presley, Frank Sinatra, and Patsy Cline. The 12-page brochure includes track research by Schulman, and the 6-page sleeve notes by Brogan, who is founder of the websites The Judy Room, the Judy Garland Online Discography, and Judy Garland News and Events, delve into Garland's soundtrack recordings as never before. Music producer, critic and translator Schulman, in the words of ARSC Journal critic, James Fisher, "brings impressive expertise as a popular culture historian and sound archivist to the task of exploring Garland's audio achievement." Over the past three decades, he has worked with such distinguished audio restorers as Robert Parker, Jon M. Samuels, Gary Galo, Peter Rynston, John H. Haley, Robin Cherry, and Peter Reynolds, and been responsible for numerous award-winning Garland CD releases. He has also written extensively about her through sleeve notes, reviews, and articles; his talk on her, "Moments of Magic," has been heard in New York, Boston, and other venues.
Judy Garland: Soundtracks can be purchased at the Mint Audio Records website at http://www.mint-audio.co.uk/judy.html and at Amazon U.K. at https://www.amazon.co.uk/dp/B0746VKNXM . For technical information about the remastering, go to http://www.mint-audio-restoration.co.uk/judy. For full discographical information, go to http://thejudyroom.com/soundtracks/soundtracks.html . For more information, contact Richard Moore at richard@mint-audio-restoration.co.uk .
Track List:
CD 1
Blue Butterfly (Tucker/Schuster), A Holiday in Storyland (1929), November 1929
It's Love I'm After (Mitchell/Pollack), Pigskin Parade (1936), Summer 1936
Everybody Sing (Freed/Brown), Broadway Melody of 1938 (1937), with Sophie Tucker, 5-3-37
(Dear Mr. Gable) You Made Me Love You (McCarthy/Monaco/Edens), Broadway Melody of 1938 (1937), 7-5-37
Bei Mir Bist Du Schoen (Cahn/Chaplin/Secunda), Love Finds Andy Hardy (1938), 21-6-38 (outtake)
In Between (Edens), Love Finds Andy Hardy (1938), 24-6-38
Zing! Went The Strings Of My Heart (Hanley), Listen Darling, 16-9-38
Over The Rainbow (Harburg/Arlen), The Wizard Of Oz (1939), 7-10-38 & 13/4/39
I Cried For You (Freed/Arnheim/Lyman), Babes In Arms (1939), 23-5-39
I'm Nobody's Baby (Davis/Ager and Santly), Andy Hardy Meets Debutante (1940), 14-3-40
Danny Boy (Weatherly), Little Nellie Kelly (1940), 10-9-40 (outtake)
Singin' In The Rain (Freed/Brown), Little Nellie Kelly (1940), 10-9-40
I'm Always Chasing Rainbows (Carroll/McCarthy), Ziegfeld Girl (1941), 13-11-40
Minnie From Trinidad (Edens), Ziegfeld Girl (1941), 14-1-41
How About You? (Freed/Lane), Babes on Broadway (1941), with Mickey Rooney, 18-7-41
For Me And My Gal (Leslie/Goetz/Meyer), For Me and My Gal (1942), with Gene Kelly, 21-3-42
How 'Ya Gonna Keep 'Em Down On The Farm? (Lewis/Young/Donaldson), For Me and My Gal (1942), 27-3-42
But Not For Me (Gershwin/Gershwin), Girl Crazy (1943), 29-3-43
Bidin' My Time (Gershwin/Gershwin), Girl Crazy (1943), with The King's Men, 14-4-43
The Trolley Song (Martin/Blane), Meet Me in St. Louis (1944), 2-12-43
The Boy Next Door (Martin/Blane), Meet Me in St. Louis (1944), 4-12-43
Have Yourself A Merry Little Christmas (Martin/Blane), Meet Me in St. Louis (1944), 4-12-43
On The Atchison, Topeka And The Santa Fe (Mercer/Warren), The Harvey Girls (1946), 8-1-45
CD 2
In The Valley (Where the Evening Sun Goes Down) (Mercer/Warren), The Harvey Girls (1946), 16-2-45
Look For The Silver Lining (DeSylva/Kern), Till The Clouds Roll By (1946), 2-10-45
Who? (Harbach/Hammerstein/Kern), Till The Clouds Roll By (1946), 9-10-45
Love Of My Life (Porter), The Pirate (1948), 13-5-47
You Can Do No Wrong (Porter), The Pirate (1948), 13-5-47
Be a Clown (Porter), The Pirate (1948), with Gene Kelly, 14-7-47
I Want To Go Back To Michigan (Down On The Farm) (Berlin), Easter Parade (1948), 12-11-47 & 19-2-48
A Couple Of Swells (Berlin), Easter Parade (1948), with Fred Astaire, 13-11-47
Better Luck Next Time (Berlin), Easter Parade (1948), 7-1-48
I Wish I Were In Love Again (Hart/Rodgers), Words and Music (1948), with Mickey Rooney, 28-5-48
Johnny One Note (Hart/Rodgers), Word And Music (1948), 30-9-48
Last Night When We Were Young (Harburg/Arlen), In The Good Old Summertime (1949), 16-11-48 (outtake)
Merry Christmas (Spielman/Torre), In The Good Old Summertime (1949), 16-11-48
I Don't Care (Lenox/Sutton), In The Good Old Summertime (1949), 17-11-48
You Can't Get A Man With A Gun (Berlin), Annie Get Your Gun (1950), 25-3-49 (outtake)
If You Feel Like Singing, Sing (Gordon/Warren), Summer Stock (1950), 13-10-49
(Howdy Neighbor) Happy Harvest (Gordon/Warren), Summer Stock (1950), 13-10-49 & 2-2-50
Friendly Star (Gordon/Warren), Summer Stock (1950), 27-10-49
Get Happy (Koehler/Arlen), Summer Stock (1950), 15-3-50
Here's What I'm Here For (Gershwin/Arlen), A Star Is Born (1954), 21-8-53
Gotta Have Me Go With You (Gershwin/Arlen), A Star Is Born (1954), 22-8-53
The Man That Got Away (Gershwin/Arlen), A Star Is Born (1954), 4-9-53
It's A New World (Gershwin/Arlen), A Star Is Born (1954), 23-11-53
The Far Away Part Of Town (Langdon/Previn), Pepe (1960), April 1960
Little Drops Of Rain (Harburg/Arlen), Gay Purr-ee (1962), November 1961
Related Articles
More Hot Stories For You
Andrew Lloyd Webber Musicals Will Stream Online Free; Catch JOSEPH... This Friday, April 3
Andrew Lloyd Webber's musicals will be streamed online for free!... (read more)

BroadwayHD April Lineup Includes PIPPIN, FAME, BILLY ELLIOT, and More!
BroadwayHD has announced its lineup for April.... (read more)

VIDEO: Lin-Manuel Miranda Sings 'New York' by St. Vincent
Lin-Manuel Miranda took to Twitter to post a video of himself playing 'New York' by St. Vincent.... (read more)

Aaron Tveit Talks About His COVID-19 Symptoms, Shares if MOULIN ROUGE! Will Be Returning to Broadway and More
In an interview with Variety, Aaron Tveit shared his experience dealing with COVID-19. discussed what he knew about Moulin Rouge! returning to the sta... (read more)

Watch Live: Lea Salonga Performs an Online Concert
Lea Salonga is currently on Facebook Live, as part of Bayanihan Musikahan's free Facebook live concert series!... (read more)

Photo Flash: See Patti LuPone, Darren Criss, Holland Taylor, & More in a First Look at HOLLYWOOD
Netflix has shared the first look images for its upcoming limited series, HOLLYWOOD!... (read more)