Metropolitan Opera Counter Sues Conductor James Levine; New Allegations Raised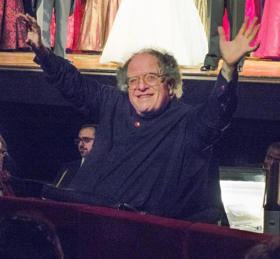 Deadline has reported that the Metropolitan Opera has filed a countersuit against former conductor, James Levine.
In a response to a March lawsuit filed by Levine, the organization filed the countersuit this afternoon, which includes accounts of previously undisclosed allegations of sexual misconduct against the conductor.
According to the filing, the Met alleges that Levine "used his reputation and position of power to prey upon and abuse artists" with conduct spanning from the 1970's through 1999, and lists a number of previously undisclosed accounts of sexual misconduct. The suit does not name any victims.
The Metropolitan Opera terminated Levine following "credible evidence" that Mr. Levine had engaged in "sexually abusive and harassing conduct." Following his dismissal, the disgraced conductor filed a lawsuit against the Metropolitan Opera citing breach of contract and defamation.
The lawsuit, sought $5.8 million in damages, alleges that Levine's firing is the result of an effort to "oust Levine from the Met and erase his legacy from the organization."
Levine's lawsuit also accuses the organization of acting on "vague and unsubstantiated accusations in the press" and states that Levine's contract had no provisions to fire or replace him.
The Met has denied all allegations contained in the lawsuit.
James Levine is primarily known for his tenure as Music Director of the Metropolitan Opera, a position he held for 40 years (1976-2016). Allegations in 2017 of sexual assaults in the past led the Met to suspend its relationship with him and to cancel any future engagements by Levine.
He has made numerous recordings, as well as television and radio broadcasts, with the Met. Levine has also held leadership positions with the Ravinia Festival, the Munich Philharmonic, and the Boston Symphony Orchestra. In 1980 he started the Lindemann Young Artists Development Program, and he has often trained promising singers, conductors, and musicians for professional careers.
After taking an almost two-year health-related hiatus from conducting from 2011 to 2013, Levine retired as the Met's full-time Music Director following the 2015-16 season to become Music Director Emeritus.
The New York Times report notes more than 70 people came forward with allegations or information regarding his abuses. Read the full New York Times report here.
The Met released a statement regarding the allegations:
After considering the findings of a thorough investigation conducted by outside counsel that lasted more than three months, the Metropolitan Opera has terminated its relationship with James Levine as Music Director Emeritus and Artistic Director of its young artist program.
The investigation uncovered credible evidence that Mr. Levine had engaged in sexually abusive and harassing conduct both before and during the period when he worked at the Met. The investigation also uncovered credible evidence that Mr. Levine engaged in sexually abusive and harassing conduct towards vulnerable artists in the early stages of their careers, over whom Mr. Levine had authority. In light of these findings, the Met concludes that it would be inappropriate and impossible for Mr. Levine to continue to work at the Met.
The investigation also found that any claims or rumors that members of the Met's management or its Board of Directors engaged in a cover-up of information relating to these issues are completely unsubstantiated.
We thank the more than 70 individuals who were interviewed during the course of the investigation.
We recognize the great concerns over these issues that have been expressed by the Met community both inside and outside of the opera house, and wish to provide the assurance that the Met is committed to ensuring a safe, respectful and harassment-free workplace for its employees and artists.
Related Articles
More Hot Stories For You
Patti LuPone Wants to Narrate Mary Trump's New Book For Randy Rainbow to Lip-Sync
Could we be getting a new Randy Rainbow/Patti LuPone collaboration? We sure hope so!...

QUIZ: Attend the Winter's Ball to Find Out Which Hamilton Star Will Be Your Date!
We're going back to 1780 for A Winter's Ball (you know, where the Schuyler Sisters are the envy of all?) for our latest Hamilton quiz!...

VIDEO: On This Day, July 9- Lin-Manuel Miranda, Phillipa Soo, Ariana DeBose, and Leslie Odom, Jr. Say Goodbye to HAMILTON
On this day in 2016, original Hamilton cast members, Leslie Odom Jr., Phillipa Soo, and Ariana DeBose along with the musical's star and composer, Lin-...

VIDEO: Listen to Act 1 of HAMILTON, Acted Out by The Muppets
Voice actor and comedian Ricky Downes III has recorded all of Act I of Hamilton... in the voices of all The Muppets!...

Ben Platt Talks Broadway Return, MERRILY, DEAR EVAN HANSEN Film and More
In a new interview with Deadline, Tony Award-winner Ben Platt has revealed updates on a few of his many upcoming projects, including his 'hankering' t...

Governor Cuomo is 'Concerned' About Prolonged Shutdown of the Arts in New York City
Governor Andrew Cuomo said on Monday that he is 'concerned' about the prolonged shutdown of the arts and culture industries in New York City....