Marilyn Michaels Releases Autobiography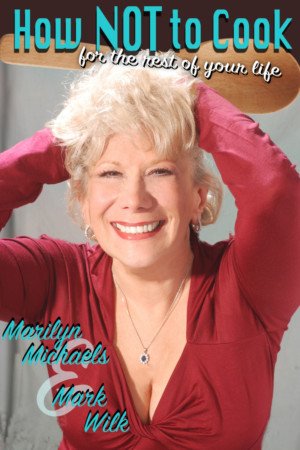 Actress, Comedienne and singer Marilyn Michaels' new book, How Not to Cook, for the Rest of Your Life is an ANTI-cookbook but gives you plenty of food for thought! Equal parts biography, and scrimp-n'-save philosophy, this laugh-out-loud rant, come with humorous revelations about her experiences working with Woody Allen, Orson Welles, Liza Minnelli, Burt Reynolds, Joan Crawford, Bette Davis, Ed Sullivan, Donald Trump, Bill Cosby, Debbie Reynolds, Carrie Fisher, and a whole chapter devoted to working with Jule Styne on the National Company of Funny Girl, at the same time Streisand was doing it on Broadway. Of course it tells a lot about meeting up with Streisand and everything she learned from that encounter.
Marilyn made her mark chosen by composer Jule Styne for the role of original Fannie Brice in the National Tour of Funny Girl. She also appeared on Broadway in Catskills on Broadway. Her numerous TV appearances included being the only female performer in the Emmy Award winning comedy series "The Kopykats".
Mark Wilk co-authored the children's book "A Dog Named Randall" along with writing several articles for the New York Times (with Ms. Michaels) and a new musical comedy, Alysha (lyrics and book) with music and book by Ms. Michaels.
The book is now available on Amazon.com
Related Articles
More Hot Stories For You