Loading Dock's SPACEMAN Cancelled Indefinitely Following Stage Accident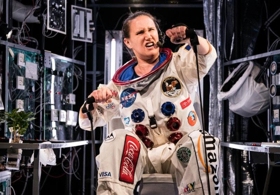 Loading Dock Theatre, the Brooklyn-based Production Company behind the anticipated Off-Broadway premiere of Leegrid Steven's Spaceman, which began performances at The Wild Project yesterday, Thursday, February 22, 2018, is sad to announce that the run has been cancelled indefinitely. This unexpected cancelation comes after an unfortunate accident during last night's curtain call, during which New York Innovative Theater Award-winner andSpaceman star Erin Treadway tripped over a speaker, sustaining hairline fractures to both of her arms and left wrist.
Spaceman, a unique theatrical experience that utilizes low light, a claustrophobic set and simulated micro-gravity to simulate space travel, follows astronaut Molly Jennis on her attempt to be the first human to reach Mars. Beginning seven months into an eight-month journey to the red planet, she is the lone crew member of the space module Aeneas. With a mission to establish a new colony, the difficulties of interplanetary space travel are brought to life in exacting detail. Radiation exposure, long term weightlessness, low light, extensive communication delays and poor hygiene are just a few of the challenges Molly Jennis must face on her quest to be the first to Mars, but she soon finds nothing compares to the psychological effects of having so much time alone.
At this time there is no information about a future production, but Loading Dock Theatre will relaunch Spaceman into the Off-Broadway stratosphere as soon as Ms. Treadway, who is devastated to be postponing what she called "one of the most exciting roles of her career," has made a full recovery.
For more information about Loading Dock Theatre, it's production of Spaceman and their artists please visit www.loadingdocktheatre.org
ABOUT LOADING DOCK THEATRE
Loading Dock was formed by playwright/director Leegrid Stevens and actor Erin Treadway. The company is based in Brooklyn where they rehearse and build shows. The primary focus of Loading Dock is to create original plays that explore the extremes in human behavior. They produce emotional, character driven plays with an experimental edge. Along with nine Innovative Theatre Award nominations and four wins, critics have called Loading Dock productions "a marvel of theater craft and theater art" (NY Theatre - Spaceman) that "hits us right in the gut and heart" (Theatre That Matters - The Twelfth Labor); and their production of Ms. Julie, Asian Equities was named one of Broadway World's Top Eleven Theatrical Experiences of 2015.
Leegrid Stevens (Playwright/Co-Founder) grew up in the hill country of Spicewood, TX. He moved to New York after attending SMU in Dallas and now lives in Brooklyn. His plays have been seen in downtown theatres in New York including HERE Arts Center, Incubator Arts Project, Lark Theatre, Altered Stages, Theatre for the New City among others both nationally and internationally. You can find some of his plays in print including Post-Oedipus (Playscripts), Leda's Swan (Stage Tribes, Theater-Verlag Desh Publishers), Sun Stand Thou Still (Plays and Playwrights 2004), and The Dudleys! (Indie Theatre). Leegrid's production of his play The Dudleys! just won the NY Innovative Theatre award for Outstanding Innovative Design; he was nominated for two NY Innovative Theatre Awards, Outstanding Script and Outstanding Sound Design (won), forSpaceman at Incubator Arts; Leegrid's production of The Twelfth Labor received four NY Innovative Theatre Award nominations including outstanding production. A recent workshop production of his play, The Dudleys! in Austin earned him several B. Iden Payne awards including Outstanding Script, Outstanding Composition and Outstanding Sound Design. Leegrid's adaptation of Miss Julie, titled Ms. Julie, Asian Equities, was recently named as one of Broadway World's ten best productions of 2015. He holds an. MFA in playwriting from Columbia.
Erin Treadway (Actor/Co-Founder) is a Texas-born, Brooklyn-based actress and frequent collaborator with playwright/director Leegrid Stevens. Their most recent projects were The Dudleys! (HERE Arts Center; NYIT award for Outstanding Innovative Design) Ms. Julie, Asian Equities and The Twelfth Labor. Other projects include Spaceman at Incubator Arts in New York: Sun, Stand Thou Still(Spring Theatreworks); Post Oedipus (HERE, One-Arm Red, Spring Theatreworks); Still Life With Runner (HERE, Spring Theatreworks); Theme & Variations (Ontological); Leda's Swan (Columbia University); 12th Labor (Columbia University, The Lark, Des Moines Social Club, Tutto Theatre Company); The Dudleys! (, Theatre for the New City, Tutto Theatre Company); The Nine/Twelve Tapes (Theatre for the New City), all premieres of Stevens' work. This collaboration has allowed her to play roles ranging from a mentally damaged young woman on a 1950's Idaho farm to an astronaut on a one-way one-person journey to Mars. Other roles/projects include: Gertrude in Hamlet(LaMama); Ophelia in Poor Jacob's Hamlet (Spring Theatreworks); Olga in Three Sisters (Columbia University); Eli in Mourning(Columbia University); Mitzi in URGE (Spring Theatreworks); among others. Erin can be seen in commercials for A&E and the Biography channel, and in the feature film lbs.
Jacob Titus (Director).Jacob's work has been seen in NY at the Public in the 365 Plays/365 Days, HERE Arts Center, Ontological-Hysterics, among other theatres off-off Broadway, in Brooklyn, as well as LA and San Francisco. In 2010, he directed Promise Tomorrow Today which won Best Play in the Downtown Urban Theater Festival at Theater for the New City. In 2012, Jacob directedFALLING by Amy E. Witting at the 2012 NY Fringe Festival for which he received an Overall Excellence in Directing Award. In 2013, Jacob directed victor by Amy E. Witting which won best play in the Thespis Festival in New York City. Recently, Jacob directed The Rise of Mediocrity by Larry Phillips which was a finalist for best play in the Venus/Adonis Theater Festival 2016, as well as The Dudleys! by Leegrid Stevens with Loading Dock Theatre. Jacob has a Masters in Directing from Boston University.