Liza Minnelli Cancels Vegas Concert With Michael Feinstein Due To Illness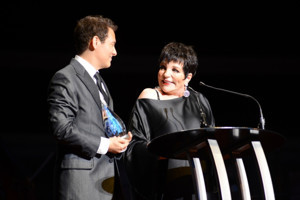 Liza Minnelli was forced to cancel her concert in Las Vegas scheduled for tomorrow evening, appearing with Michael Feinstein, due to illness.
Ms. Minnelli is suffering from an extreme viral infection which has made performing impossible at this time.
"I was so looking forward to bringing my friends to Las Vegas and seeing Liza on the stage again. We hope to reschedule this performance when the time is right, but for now we are keeping Liza in our thoughts and sending her our prayers for a speedy recovery" said Myron Martin, President & CEO of The Smith Center.
The show would have invited audiences to join acclaimed singer and pianist Michael Feinstein in an intimate retrospective with stage-and-screen legend Liza Minnelli. Sharing personal stories and rarely seen video footage, each would have relived incredible moments from their dazzling careers.
Earning a total of seven Oscar, Grammy, Emmy and Tony awards across her 60-year career, Minnelli is renowned for her lifetime of roles on Broadway, film and television, especially her Academy Award-winning performance in musical film "Cabaret." The singer and actress has also starred in hit films such as "Arthur" and "New York, New York."
A performer, composer and arranger, Feinstein has earned nominations for five Grammys and two Emmys during his 30 years of bringing the music of the Great American Songbook to the world. His performances around the globe have included concerts at the White House, Buckingham Palace, Hollywood Bowl and Carnegie Hall. His venue Feinstein's/54 Below, known as Broadway's Supper Club, hosts performances by Broadway's finest stars.