Click Here for More Articles on LIN-MANUEL MIRANDA
Lin-Manuel Miranda to Guest Star on BROOKLYN NINE-NINE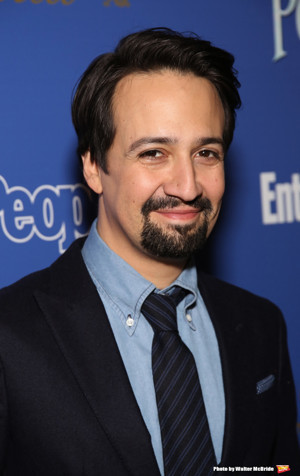 Lin-Manuel Miranda will guest star on the NBC comedy Brooklyn Nine-Nine, according to Entertainment Weekly.
Miranda will be featured in THE MARCH 7 episode, titled "The Golden Child," playing David Santiago, brother of Amy (Melissa Fumero) and her rival.
Miranda is a huge fan of the NBC comedy, even going so far as rallying behind the show when was canceled by FOX earlier this year after five seasons. Miranda teamed up with Mark Hamill, Sean Astin, Seth Meyers, and Patton Oswalt to help save the show. They even dubbed themselves "The Guardians of the 99." NBC quickly swooped in to pick up the show for a 13-episode sixth season, and later added five extra episodes.
In May, the show's co-creator Dan Goor told EW, "We're huge fans of all of those actors. And we'd love to try to figure out ways to put them on our world."
Miranda recently reprised his lead role in Hamilton for a three-week run of the production in Puerto Rico to raise money for artists struggling in the aftermath of Hurricane Maria. He also starred in the Disney film Mary Poppins Returns and guest-starred last season in two episodes of Curb Your Enthusiasm and lent his voice to three episodes of DuckTales.
Read the original article on Entertainment Weekly.

Related Articles