Leah Nanako Winkler Receives 2017 Mark O'Donnell Prize from The Actors Fund and Playwrights Horizons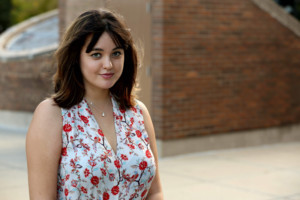 The Actors Fund and Playwrights Horizons announced the winner of The Mark O'Donnell Prize, Leah Nanako Winkler, at a dedication ceremony at The Mark O'Donnell Theater at The Actors Fund Arts Center in Downtown Brooklyn yesterday.
Ms. Winkler is the first winner of the annual prize, which is awarded by The Actors Fund in collaboration with Playwrights Horizons and presented to an emerging theater artist in recognition of her or his talent and promise. The Mark O'Donnell Theater is a state-of-the-art black box theater and arts center located at The Schermerhorn in Downtown Brooklyn and was re-named at yesterday's dedication in honor of the playwright and humorist.
Inspired by the eccentric mind of Mark O'Donnell, The Mark O'Donnell Prize is targeted toward "America's most anomalous, singular and curious emerging writers, composers, directors and designers." The award includes a prize of up to $25,000, use of The Mark O'Donnell Theater at The Actors Fund Arts Center for one week to develop a reading of a new work, as well as counseling from The Actors Fund on two of the major challenges faced by emerging artists: how to apply for affordable housing and obtaining health insurance. The Mark O'Donnell Prize is funded by The Actors Fund, a human services organization serving everyone in entertainment and the performing arts, and made possible by a gift from Stephen O'Donnell in memory of Mark.
As previously announced, Stephen O'Donnell has donated his late twin brother Mark O'Donnell's royalties as co-writer of the Broadway musical Hairspray in perpetuity to The Actors Fund, in support of their addiction and recovery services to members of the entertainment and performing arts community.
The Schermerhorn, an award-winning 216-unit supportive housing development for low-income New Yorkers, will continue to serve as home to The Mark O'Donnell Theater. The Mark O'Donnell Theater serves as a resource for Brooklyn-based artists and arts groups to aid in the development and sharing of their work, as well as a venue for integrating the residents of The Schermerhorn with the surrounding community through the arts. The building is operated by The Actors Fund in collaboration with Breaking Ground, a non-profit developer that provides permanent affordable housing for individuals and families who are homeless or at risk of becoming homeless.
After a career of critical acclaim, Mark O'Donnell achieved commercial success when he co-wrote the book of the musical Hairspray, based on the John Waters film, with Thomas Meehan. The production earned the pair the 2003 Tony Award and a celebrated seven-year run on Broadway, followed by the 2007 musical film adaptation. The writers went on to adapt the Tony-nominated musical Cry Baby for Broadway in 2008, based on a Waters film of the same name.
Mark O'Donnell's Playwrights Horizons credits were That's It, Folks!; Fables for Friends; and The Nice and the Nasty. His other plays include Strangers on Earth, Vertigo Park and the musical Tots in Tinseltown. He collaborated with Bill Irwin on an adaptation of Moliere's Scapin and co-authored a translation of Georges Feydeau's A Flea in Her Ear. He also adapted Feydeau's Private Fittings for the La Jolla Playhouse and a symphonic version of Pyramus and Thisbe for the Kennedy Center.
Mr. O'Donnell published two collections of comic stories, Elementary Education and Vertigo Park and Other Tall Tales, as well as two novels, Getting Over Homer and Let Nothing You Dismay. His humor, cartoons and poetry have appeared in The New Yorker, The New York Times, The Atlantic and Esquire. He received a Guggenheim Fellowship and the George S. Kaufman Award.
The Mark O'Donnell Theater at The Actors Fund Arts Center is supported, in part, by public funds from the New York City Department of Cultural Affairs in partnership with the City Council and by Council Member Stephen Levin.
Leah Nanako Winkler is from Lexington, Kentucky and Kamakura, Japan. She moved to NYC a little over a decade ago using the money she earned from donating her eggs. As soon as she got off the Greyhound at Port Authority, she started making plays. Well-after she got an apartment and a laptop. With her now defunct theater company, Everywhere Theatre Group she produced, directed and a wrote plays with Theodore Nicholas, Chase Voorhees and Lindsay Mack at places like the Ontological at St. Mark's Theater, The Brick Theater, Ice Factory at the New Ohio Theater and many bars, basements and once an abandoned boat. In 2011 her female identity politics satire Death For Sydney Black was presented by TerraNova Collective where she was a member of the Groundbreakers Playwright Group. In 2012 she joined Youngblood at the Ensemble Studio Theatre and her theater company imploded after making a play called Flying Snakes in 3-D! (co-written with Theodore Nicholas) which poked fun at trust-fund artists and satirized the class disparity among theater makers in NYC. In 2013 Playwrights Horizons gave her a SuperLab of her play Diversity Awareness Picnic with Clubbed Thumb. Leah then continued to self-produce short plays at various bars and little venues around the city while continuing to work various odd-jobs. In 2015 her sixteen-character play Kentucky was on the Kilroys List and subsequently produced Off-Broadway in a co-production between Ensemble Studio Theater, Page 73 and the Radio Drama Network. It is published by Dramatists Play Service. The New York Times called her "a distinctive new voice." She was a 2017 Sundance Ucross Fellow, a 2016-2018 Time Warner Fellow at the Women's Project Lab and a proud member of Ma Yi, EST and the Dorothy Streslin New American Writer's Group at Primary Stages. Her play Two Mile Hollow (2017 Kilroys List), a satire of wealthy whiteness where none of the white characters are played by white actors-will premiere in Chicago, Minneapolis, San Francisco and Los Angeles in the 2017-2018 season. Leah loves her mom, who worked three jobs to help her attend a very expensive theater school when her Pell Grant did not cover housing-and her friends who let her stay at their apartments when she gave up her apartment and quit her day job to be in rehearsals for Kentucky. This is her very first award. Learn more about her at www.leahwinkler.org.
The Actors Fund is a national human services organization that fosters stability and resiliency, and provides a safety net for performing arts and entertainment professionals over their lifespan. Through offices in New York, Los Angeles and Chicago, The Fund serves everyone in film, theater, television, music, opera, radio and dance with programs including social services and emergency financial assistance, health care and insurance counseling, housing, and secondary employment and training services. Visit www.actorsfund.org.
Playwrights Horizons is dedicated to cultivating the most important American Playwrights, composers, and lyricists, as well as developing and producing their bold new plays and musicals. Under Artistic Director Tim Sanford and Managing Director Leslie Marcus, Playwrights builds upon its diverse and renowned body of work, counting 400 writers among its artistic roster. In addition to its onstage work each season, Playwrights' singular commitment to nurturing American theater artists guides all of the institution's multifaceted initiatives: our acclaimed New Works Lab, a robust commissioning program, an innovative curriculum at its Theater School, and more. Playwrights has been recognized with numerous awards and honors, including six Pulitzer Prizes, 13 Tony Awards, and 39 Obie Awards.