League of Professional Theatre Events Spotlight Producers Daryl Roth, Betty Corwin 11/6-8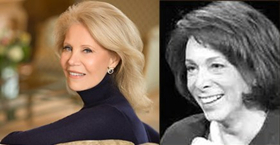 The League of Professional Theatre Women feature two producers in special programs next week.
Daryl Roth will be interviewed for the Oral History Program Monday, Nov. 6 and Betty Corwin will receive a Lifetime Achievement Award Wednesday, Nov. 8 at Sardi's.
Here are the details:
Oral History
The League of Professional Theatre Women continues its acclaimed Oral History program with producer Daryl Roth being interviewed by theater critic Linda Winer.
Monday, Nov. 6
6 pm
Bruno Walter Auditorium, New York Public Library for the Performing Arts at Lincoln Center (Corner of 65th Street and Amsterdam Avenue)
Daryl Roth holds the singular distinction of producing seven Pulitzer Prize-Winning plays and currently serves as the Co-Chair of the LPTW's Advisory Council. Join us as she discusses her extensive life and work in the theatre. She will be interviewed by Linda Winer, a prize-winning theater critic, who wrote for Newsday from 1987 to 2017.
Free admission. First come, first seated.
Betty Corwin Lifetime Achievement Award
Pulitzer-Prize winning Playwright Paula Vogel will introduce the program honoring Betty Corwin; "The Woman Who Preserved the American Theater."
Betty Corwin, a long-time LPTW member, created and founded the Theatre on Film and Tape Archives for the Library of Performing Arts at Lincoln Center (TOFT) in 1970, and thus preserved generations of the American theater. She turns 97 Nov. 18 and continues to be a powerful force, helming the LPTW's Oral History Program, now in it's 25th year.
She will be honored at luncheon
Wednesday, Nov. 8
Noon
Sardi's Restaurant, 234 West 44th St., 4th Floor
LUNCHEON INCLUDES CHAMPAGNE TOAST
$95 Member Ticket - Click Here
$125 Non-Member Ticket - Click Here
$1,750 - VIP Table for 10 - Click Here