Lakai Dance Theatre to Debut New Work at Live Arts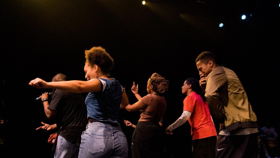 Founded by McKersin Previlus, Lakaï Dance Theatre presents The Block: An Afro-Musical at New York Live Arts. With influences of Jazz, Hip-Hop, and Afro-Diasporic styles, The Block takes on the realities of an inner-city life through intricate spoken word verses and musical stories. This one-time performance is on November 2, 2018, 7:30 PM. Tickets start at $15 and can be purchased at 212 924 0077 or online at newyorklivearts.org.

In The Block, the street becomes a stage for self reflection on toxic masculinity, racial profiling, mental health, and violence, all as a means of community improvement. Through Hip-Hop and Afro-Diasporic movement styles, McKersin challenges stigmas on black and brown vulnerability and the difficulties of asking for help. Developed from individual narratives of the director and performers, the script shares personal stories of hardships and triumphs experienced in a tough and violent yet ultimately creative and resilient urban community.

McKersin Previlus's Lakaï Dance Theatre takes its name from the word for "home" in his native tongue of Haitian Creole. Growing up without the means for dance classes, McKersin overcame a troubled environment, persevering to become the dancer and choreographer that he is today. With Ethnic-Haitian dance as his base vocabulary, McKersin started building a bigger arsenal with Hip-Hop, Jazz, and Tap. During college, he participated in a work study taking ballet and modern intensives. Today, he leads workshops throughout various parts of the country orientated towards social justice and the roots of African American culture and movement. McKersin's current project Bridge 4 my Brothers focuses on building up men in the inner city to become emotionally intelligent and agents of social change within their community. He also works to inspire young students as a full time performing arts teacher at a local K-8 School in Boston, MA.

Located in the heart of Chelsea in New York City, New York Live Arts produces and presents dance, music, and theater performances in its 20,000 square-foot home, which includes a 184-seat theater and two 1,200 square-foot studios. New York Live Arts offers an extensive range of participatory programs for adults and young people and supports the continuing professional development of performing artists. New York Live Arts serves as home base for the Bill T. Jones/Arnie Zane Company and is the company's sole producer, providing support and the environment to originate innovative and challenging new work for the Company and New York's creative community.