Knickerbocker Chamber Orchestra and Jody Oberfelder Projects Present Kurt Weill's ZAUBERNACHT (Magic Night)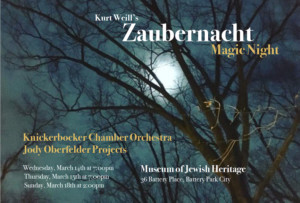 On March 14, 15 and 18, 2018, the Knickerbocker Chamber Orchestra (KCO) and Jody Oberfelder Projects (JOP) present Kurt Weill's Zaubernacht (Magic Night), a dance and chamber music work that will appeal to children and adults alike. For this production, choreographer Jody Oberfelder will create compelling characters based on the dynamic score, and the Knickerbocker Chamber Orchestra will perform composer Kurt Weill's long-lost orchestrations-the first time the original orchestrations will be heard in New York City since Zaubernacht's American premiere in 1925. A KCO chamber music ensemble will be joined by singer Hai-Ting Chinn, and the intrepid and whimsical veteran JOP members Emily Giovine, Pierre Guilbault, Mary Madsen, Lindsey Mandolini, Ned Malouf (on stilts!), Maya Orchin, Hannah Wendel, Mei Yamanaka, and introducing 11-year-old Lyla Forest Butler! Lighting is by Savannah Bell, video design by Eric Siegel and costumes by Summer Lee Jack.
"The Knickerbocker Chamber Orchestra is thrilled to be offering, with Jody Oberfelder Projects, the first New York City performance of Kurt Weill's Zaubernacht, with his original, imaginative orchestrations, in 92 years!" said KCO founder and music director Gary S. Fagin. "When Weill fled Nazi Germany in 1933, he left the original score of Zaubernacht behind. Three years later, the score was brought to America for Zaubernacht's New York premiere, and in 1954, it was bequeathed to Yale University. But the materials were locked into the wrong safe, which was moved to a basement, where it gathered dust for more than 50 years, assumed to be empty. In 2006, the safe was opened and its sensational contents were brought to light and now, 11 years later, the Knickerbocker Chamber Orchestra and Jody Oberfelder Projects are performing this magical piece!"
"We are overjoyed to have this opportunity to delve into Kurt Weill's rich imaginative score. Told through the lens of a child, I've devised a fresh fairy tale of overcoming darkness, developing resilience, finding one's place in the world," said Jody Oberfelder.
Jody Oberfelder is a director, choreographer, and filmmaker. She and her company have toured to internationally to NoD (Prague), Gallus Theater (Frankfurt), Guelph Dance Festival (Canada), Centre National de la Danse (Paris), The International Festival of Modern Dance in Seoul, The Belgrade Dance Festival, The Merchant House (Amsterdam) and nationally at Dance Place (Washington DC), Jacob's Pillow, MASSMoCA, The Yard, and many other spaces. In New York City, her most recent immersive heart-themed work 4Chambers was performed 86 times: in an historic home on Governors Island and in a former hospital in Brooklyn. Oberfelder has also presented work at Abrons Arts Center, Dixon Place (three commissions), Schimmel Center for the Arts, Symphony Space, The Jewish Museum, The Flea Theater, Joyce SoHo, and PS 122. Guest Artist residencies include the Lincoln Center Institute, University of Hawai'i, Middlebury College, Wayne State University, Moravian College, NYU, and Alfred University. Jody has choreographed for Don Pasquale, directed by Anton Armendariz, Divaria Productions, and the Spanish opera company Rioja Lirica (April 2016) She's reimagined Purcell's Dido & Aeneas (commissioned by The Orchestra of St. Luke's, 2008). In an original production of Stravinsky's L'histoire du Soldat, in collaboration with the Knickerbocker Chamber Orchestra, Oberfelder adapted the original C.F. Ramuz text with the approval of Schirmer Publishing (commissioned by Brooklyn Philharmonic 2009).
Founded in 2008, the Knickerbocker Chamber Orchestra is a professional chamber orchestra based in Lower Manhattan under the direction of Gary S. Fagin. Its mission is to bring outstanding orchestral and chamber music performances and educational programs to Downtown residents, workers and students. KCO incorporates this area's rich history into innovative performances and educational programming, through collaboration with acclaimed soloists, choral, dance and literary organizations. KCO programs are inspired by Lower Manhattan, are performed in the extraordinary spaces of Lower Manhattan, and are created for the people of Lower Manhattan. Kurt Weill's Zaubernacht is part of the Knickerbocker Chamber Orchestra's 10th Anniversary Season.
For more information about the Knickerbocker Chamber Orchestra and its 10th Anniversary Season, please visit www.knickerbocker-orchestra.org. For more information on Jody Oberfelder Projects please visit www.jodyoberfelder.com