Kaufman to Host Screening & Live Performance of LA CHANA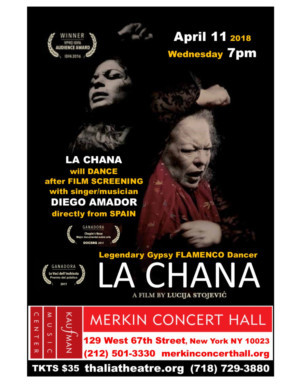 Legendary Gypsy Flamenco dancer La Chana will perform after a screening of her Award-winning documentary film LA CHANA on April 11, 2018 at Merkin Concert Hall
La Chana hailed as "The Queen of Rhythm/Goddess of Compas" comes directly from Spain for a special appearance PERFORMING LIVE after the screening of the documentary film LA CHANA:
Wednesday APRIL 11, 7 PM
MERKIN CONCERT HALL at Kaufman Music Center
129 West 67th Street, New York, NY 10023
$35 (Special Group Rate (10+) $30 sold at Thalia Spanish Theatre
thaliatheatre.org (718) 729-3880; merkinconcerthall.org (212) 501-3330
$4 Service fee applies for telephone & online sales. No charge if bought in person at Merkin Hall Ticket Box Office.
Director/Producer LUCIJA STOJEVIC will introduce the film, and, following the screening, LA CHANA will dance accompanied by Flamenco singer/musician DIEGO AMADOR and his percussionist son Diego Amador Jr., who are La Chana's family members and spectacular artists themselves. This thrilling special event is produced by Thalia Spanish Theatre and its Artistic Director, Angel Gil Orrios, who was the Director of La Chana's Flamenco Dance Company in Spain in the late seventies. Antonia Santiago Amador "La Chana" --"the one who knows" in the gypsies' caló language-- will arrive in New York right after receiving a Special Culture Award on April 8th "The Day of The Gypsy Culture" from the Minister of Culture of Spain in front of all the Gypsy organizations and family. This prestigious Spanish Culture Prize has been awarded before to two other Flamenco legends: PACO DE LUCIA and CAMARON DE LA ISLA.
LA CHANA (82 min., 2016) Directed by Lucija Stojevic, is about one woman's strength to overcome life's challenges. The film brings the audience under the skin and into the mind of La Chana, a talented Gypsy flamenco dancer as she returned to the stage after a 20-year break. Along the way, La Chana reveals the secret behind her disappearance when she was at the peak of her career.
An official selection in over 50 film festivals in 5 continents, LA CHANA won FOUR AUDIENCE AWARDS: International Documentary Film Festival Amsterdam, the world's largest and most prestigious documentary film festival in the world, beating 300 films; (il premio del publico) in its Italian premiere at le Voci Dell'Inchiesta; Winner IDFA VPRO Audience Award 2016; Dock of the Bay Festival 2018 in San Sebastian, Spain; and Budapest International Documentary Festival 2018. Best Documentary Gaudí Awards 2018 (Catalan "Oscars"); Best Documentary FEROZ Awards 2018 (Spanish Critics Choice Award); SADE Award Dock of the Bay Festival 2018. It was nominated among only 5 documentaries for the European Film Awards 2017.
A captivating and inspirational story which proves that there are NO LIMITS for a true passion. Chopin's Nose Award
With depth, humor and pathos, LA CHANA celebrates the charisma of a self-taught Gypsy flamenco dancer who in the 1960s-80s rose to international stardom and then suddenly vanished from the public eye at the height of her career. Peter Sellers saw her dance as a young woman and asked her to perform in the film THE BOBO in 1967. Hollywood beckoned, but that was not to be. In her baroque boudoir in Barcelona, LA CHANA continues to practice her art and reveals the reason her career came to such an abrupt end. Filled with footage of spectacular flamenco dance and music, this film brings us the irrepressible spirit of this eccentric woman with an uncanny gift for rhythm who, despite all odds, enjoys a comeback in her late sixties.
https://www.lachanafilm.com/ https://vimeo.com/74848002
LA CHANA (82', 2016, Dir/Prod Lucija Stojevic)
Producer: Deirdre Towers
Delegate producer: Noon Films SL
Co-producers: Greta Olafsdottir and Susan Muska for Bless Bless Productions (Iceland/USA)
Associate producers: Beatriz del Pozo, Guri Scotford
Director of Photography: Samuel Navarrete
Editor: Domi Parra; Second Editor: Irene Coll
Composer: Ernesto Briceño; Sound Design: Alejandro Castillo
?In Collaboration with: RTVE, TV3, ICEC, IFC
Fiscal Sponsor: New York Women in Film & Television
International Sales - Cat & Docs
This Special Event is made possible with public funds from the NEW YORK STATE COUNCIL ON THE ARTS with the support of GOVERNOR Andrew Cuomo and the NEW YORK STATE LEGISLATURE; the NEW YORK CITY DEPARTMENT OF CULTURAL AFFAIRS in partnership with the City Council; and the collaboration of the INSTITUTO CERVANTES, New York.
The New York Times review of La Chana's performance in 1990 at The Joyce Theater with "Cumbre Flamenca," stated: "the most extraordinary of those solos was ''The Passion That Creates'' performed by La Chana, who gave the illusion that she was as much a sorceress as a dancer... The sounds of her feet against the floor built in a tremendous crescendo, only to dwindle away to exist on the edge of a silence that La Chana made as awesome as her storms."
DIEGO AMADOR (multi-instrumentalist, Flamenco-Jazz composer and vocalist) has collaborated with such flamenco artists as Tomatito, Camarón de la Isla, Diego El Cigala, Remedios Amaya, Alejandro Sanz, Chick Corea, and Pat Metheny, among others. With a career spanning more than twenty years, Diego Amador has released 7 Cd's: Anticipo Flamenco, El aire de lo puro, Piano Jondo, Rio de los Canasteros, Live in Paris / Flamenco Jazz Tribute (2012), Scherzo Flamenco; and Soy de las 3,000 (2017) his most biographic record, exploring the world of Salsa and Latin Rhythms.
LUCIJA STOJEVIC (Film Director/Producer) was educated in The University of Edinburgh (Architectural Design) and Prague Film School (Directing and Editing). She has produced over 30 short format documentaries for The Guardian, The New York Times and Global Post. Her work has also been displayed in the context of video art in exhibitions in Vienna and Graz (Austria), Screens of Barcelona/LOOP (Spain) and The Edinburgh Fringe Festival (UK). In 2014, she established Noon Films S.L. a Production Company focusing on creative documentaries in Barcelona, Spain.
DEIRDRE TOWERS (Film Producer & Outreach Director) ran the Dance on Camera Festival in New York, co-produced by the Film Society of Lincoln Center, for 18 years. A current member of Ensemble Suite Iberia, she taught in the NYC schools through City Center for 12 years during the Flamenco Festival and at the Institute for Spanish Arts in Santa Fe, New Mexico for six summers.
GRETA OLAFSDOTTIR & SUSAN MUSKA (Film Co-Producers) from Bless Bless Productions, USA/Iceland, produced and directed the award winning documentaries The Brandon Teena Story, Edie & Thea: A Very Long Engagement, Women, The Forgotten Face of War, Through the Lens. The latter received a jury award for best documentary at the Astra International Documentary Festival and was a part of two year campaign by Amnesty International to stop violence against women. Awards for The Brandon Teena Story include The Berlin International Film Festival's Teddy for Best Documentary and the Siegel Säule Audience Award.
ANGEL GIL ORRIOS (Special Event Producer) is the Artistic/Executive Director of Thalia Spanish Theatre since 2000, and received the 2009 Mayor's Award for Arts & Culture, the NYC Hispanic Leadership Award, the 2010 ACE Special Award for Artistic Achievement, and the 2017 Raul Julia HOLA Founders Award For Excellence. In 1977-1979, he directed and designed LA CHANA's Flamenco Dance Company in Madrid, touring Spain, South America and Australia; and wrote LA CHANA's TV Special "CREACION: Genesis Flamenco." In 1979, a grant from the U.S.-Spain Joint Committee for Cultural Affairs enabled him to research Broadway musicals in New York, where he has remained ever since.
He has produced, designed and directed more than 130 productions in Spain, the U.S., and France, which have won him numerous awards, among them: the Silver Medal of the French Academie des Arts-Sciences-Lettres in Paris in 1987; the ACE (Association of Critics of Entertainment) Award for Best Director in 1989, 2000, 2002, 2007, 2008, 2011, 2013, 2015, 2016 and 2017 in New York; the HOLA (Hispanic Organization of Latin Actors) Award for Best Director & Producer in 2001, '02, '04, '06, '08, '09, '10, '11 '15 and 2017 in New York; and the Prince Ferdinand award in Zaragoza in 1975.
THALIA SPANISH THEATRE is the only BILINGUAL Hispanic theatre in Queens, NY. For 40 years its mission has been to celebrate the vibrancy and diversity of Spanish and Latin American culture and heritage with unique productions of theatre, music and dance. Its more than 215 productions have received 207 AWARDS FOR ARTISTIC EXCELLENCE, including many from ACE (Association of Critics of Entertainment), HOLA (Hispanic Organization of Latin Actors) and ATI (Artistas de Teatro Independiente), the 1997 and 1989 ENCORE Awards of the Arts & Business Council, the 1997 NEW YORK STATE GOVERNOR'S ARTS AWARD, and the 2009 MAYOR'S AWARD FOR ARTS & CULTURE. In 2007 Thalia's musical production of Maestro Raul Jaurena's TE AMO TANGO, recorded live at the theatre, won the LATIN GRAMMY for BEST TANGO ALBUM.

Related Articles
More Hot Stories For You