John Stamos, Weird Al to Star in WILLY WONKA AND THE CHOCOLATE FACTORY: IN CONCERT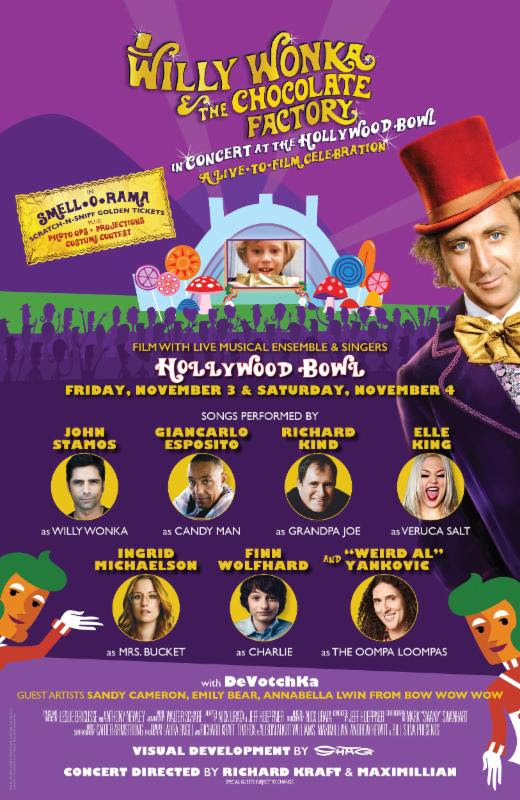 Warner Bros. Pictures' classic "WILLY WONKA & THE CHOCOLATE FACTORY" will be brought to life when WILLY WONKA & THE CHOCOLATE FACTORY™IN CONCERT AT THE HOLLYWOOD BOWL: A LIVE-TO-FILM CELEBRATION premieres on Friday, November 3 and Saturday, November 4. This special event will feature JOHN STAMOS, ELLE KING, and "WEIRD AL" YANKOVIC alongside an all-star cast singing iconic songs as the film plays on the Bowl's movie screen accompanied by live musicians. Tickets go on sale Saturday, September 23rd at 10AM PST on ticketmaster.com.
The singing cast includes JOHN STAMOS performing "Pure Imagination" as Willy Wonka, GIANCARLO ESPOSITO singing the role of The Candy Man, RICHARD KIND as Grandpa Joe, ELLE KING singing Veruca Salt's "I Want It Now," INGRID MICHAELSON as Mrs. Bucket, FINN WOLFHARD as Charlie, and "WEIRD AL" YANKOVIC as the Oompa Loompas.
Beloved musical numbers from the Oscar®-nominated score by Anthony Newley, Leslie Bricusse, and Walter Scharf including "The Candy Man," "I Want It Now," "I've Got A Golden Ticket," and "Oompa-Loompa Doompadee-Doo" will be performed live on stage by the star-studded cast, accompanied by multi-instrumental band DEVOTCHKA and a musical ensemble conducted by Jeff Hoeppner. DeVotchKa's Nick Urata ("Little Miss Sunshine") is the show's music director.
This special family event at the Hollywood Bowl will be presented in SMELL-O-RAMA with guests receiving exclusive Scratch-N-Sniff Golden Tickets. The concert will feature a factory of treats, including a costume contest and special projections on the surface of the Bowl created by acclaimed painter, designer, and illustrator SHAG.
"Willy Wonka is the first movie I ever saw," says John Stamos. "The film was released at a time when you could bring your own popcorn to the movie theater. I filled a whole grocery bag full of popcorn, but never touched it because I was so fascinated with what was going on behind Willy's eyes. Gene Wilder as Willy Wonka was pure magic. Every time I watch the movie, and I've watched it more than several hundred times, I find something new. It becomes deeper, weirder, more charming and more of a mystery."
"To see one of my favorite movies on the big screen and at the same time perform with some of my comedic heroes at the Hollywood Bowl no less is a dream come true," said Finn Wolfhard, star of STRANGER THINGS and the blockbuster horror film "IT."
"The Hollywood Bowl and Willy Wonka in one night and I get to be a part of it? I'm like a little kid. I'm so excited!" said singer-songwriter, Ingrid Michaelson.
"I am excited to be a part of Willy Wonka & The Chocolate Factory™ In Concert at the Hollywood Bowl. It was one of my favorite movies of all time growing up," noted Emmy-nominated BREAKING BAD star Giancarlo Esposito. "And now that I am old enough to be a kid again, I am in childlike wonder and expectation to be in this classic interpretation that will most certainly spark the imaginations of so many yet again."
"A classic movie at a classic venue. And both just represent fun. I can't believe I'm going to be a part of it. I won the golden ticket," said Richard Kind, best known from SPIN CITY, MAD ABOUT YOU and as the voice of Bing Bong in Pixar's INSIDE OUT.
"'Pure imagination' has been the vision behind creating this unique celebration," teases concert director, Richard Kraft. "WONKA is all about creating an unexpected, experiential overload of sights and music, and even smells. Every member of our audience will be receiving their own scratch-n-sniff Golden Ticket so at the right moments they will be experiencing the aromas like chocolate and bubble gum. Even the Snozzberries will smell like Snozzberries."
Kraft explains, "Like our concert celebration of DISNEY'S THE LITTLE MERMAID AT THE HOLLYWOOD BOWL, we are mixing in film, live music, singers, dancers, effects and special guest artists to create an event that pays homage to the original movie but also delivers something that could only be experienced live. Our creative mantra for this show has been, "Anything you want to: Do it."
"A lot of people don't believe me when I tell them Willy Wonka and the Chocolate Factory is among my favorite movies," noted designer Shag. "The idea of one man creating a fully realized magical world is a theme I've returned to over and over in my own art, so it makes sense that I'm drawn to the story of Willy Wonka."
Richard Kraft and Maximillian Castillo are directing the concert. Kraft was previously the creative director of DISNEY'S THE LITTLE MERMAID IN CONCERT LIVE-TO-FILM AT THE HOLLYWOOD BOWL, LA LA LAND IN CONCERT: A LIVE-TO-FILM CELEBRATION AT THE HOLLYWOOD BOWL, A WHOLE NEW WORLD OF ALAN MENKEN, and EVIL DEAD IN CONCERT: A HALLOWEEN EXPERIENCE. Maximillian is an experiential Artist/Director and founder of Ultra Productions, who recently produced the LA LA LAND City Hall aerial dancing production, which brought him together with Richard Kraft.
The show will also feature special guest artists such as violin soloist Sandy Cameron; 16-year old pianist Emily Bear performing the Oscar®-winning Tom and Jerry short THE CAT CONCERTO live-to-film; and Annabella Lwin from Bow Wow Wow singing the appropriate party song finale: "I WANTCANDY."
The costume contest will be hosted by original cast member Julie Dawn Cole, who memorably played Veruca Salt.
Music Supervisor for the show is Carter Armstrong. Choreography is by Mark "Swany" Swanhart. Robert J. Ulrich, Carol Kritzer, and Alex Newman are the casting directors.
The producing teams of Laura Engel & Richard Kraft, Tim Fox & Alison Ahart Williams, and Andrew Hewitt & Bill Silva Presents are reunited for this production following their sold-out Hollywood Bowl live-to-film concert celebrations, including DISNEY'S TIM BURTON'S THE NIGHTMARE BEFORE CHRISTMAS IN CONCERT, DISNEY'S THE LITTLE MERMAID IN CONCERT LIVE-TO-FILM, and LA LA LAND IN CONCERT: A LIVE-TO-FILM CELEBRATION. Also producing is Maximillian Castillo.
WILLY WONKA & THE CHOCOLATE FACTORY™ IN CONCERT AT THE HOLLYWOOD BOWL: A LIVE-TO-FILM CELEBRATION is produced under license by Warner Bros. Consumer Products.
Doors will open at 6:30PM with a costume contest to follow and the concert beginning at 8PM.