John Cariani, Jason Danieley, Santino Fontana, Marc Kudisch, Julia Murney, Bryce Pinkham and More to Battle Windmills in Transport Group's MAN OF LA MANCHA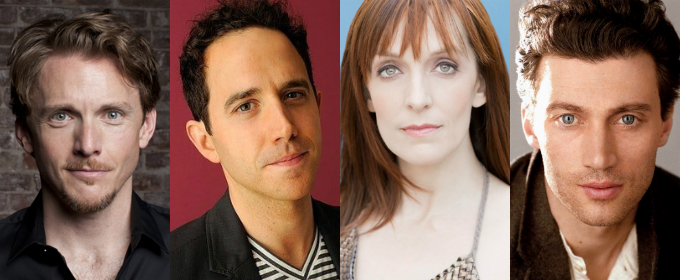 Transport Group has announced initial casting for Man of La Mancha - its first musical in this season's Anne L. Bernstein Concert Series.
The concert stars John Cariani (Tony nominee, The Band's Visit), Jason Danieley (Drama Desk nominee, The Visit), Santino Fontana (Tony nominee, Cinderella), Marc Kudisch (Tony nominee, Thoroughly Modern Millie), Julia Murney (Drama Desk nominee, The Wild Party), Bryce Pinkham (Tony Nominee, A Gentleman's Guide to Love and Murder), Andrew Samonksy (Drama Desk nominee, Queen of the Mist) and Mary Testa (Tony nominee & Drama Desk winner, The Portuguese Kid).
The concert will feature George Abud (The Band's Visit), Stanley Bahorek (Amazing Grace), Sherry Boone (Ragtime), Jessica Fontana (Cinderella), Hunter Ryan Herdlicka (A Little Night Music), and Tally Sessions (War Paint).
Also joining the cast are Tim Dolan (Once Upon a Mattress), Michael De Souza (Once Upon a Mattress), Stephen Mir (William Inge in Rep), Doug Shapiro (Once Upon a Mattress), Jason SweetTooth Williams (Freaky Friday), and Rowan Vickers (Nat Turner in Jerusalem).
The Man of La Mancha concert takes place Monday, December 18, 2017 at 8pm at the Merkin Concert Hall at Kaufman Music Center, 129 West 67 Street.
The concert will be directed by Transport Group artistic director Jack Cummings III and will feature original orchestrations. Man of La Manchais written by Dale Wasserman, and has music by Mitch Leigh and lyrics by Joe Darion. Final casting will be announced in the coming weeks.
The evening will feature a talkback with original Broadway cast members including Mimi Turque, who originated the role of Antonia.
Previous presentations in Transport Group's concert series include Baby, Once Upon a Mattress, The Music Man, Peter Pan, and A Man of No Importance.
Transport Group is the recipient of a special Drama Desk Award recognizing its "breadth of vision and presentation of challenging productions" as well as numerous other awards and award nominations from the Outer Critics' Circle, Lucille Lortel Awards, OBIE Awards, Off-Broadway Alliance, Drama League, and others. Founded in 2001, Transport Group stages new works and re-imagined revivals-both plays and musicals-that explore the challenges of relationship and identity in modern America. Currently headed by founder Jack Cummings III (Artistic Director) and Lori Fineman (Executive Director), Transport Group most recently produced the critically acclaimed production of Eugene O'Neill's Strange Interlude, performed by David Greenspan, and Picnic & Come Back, Little Sheba: William Inge in Rep, which received two Drama Desk nominations and three OBIE Awards (Jack Cummings III for direction, Heather Mac Rae for performance, Dane Laffrey for scenic design). Additional recent productions include the first off-Broadway revival of Once Upon a Mattress, starring Jackie Hoffman and John "Lypsinka" Epperson; Three Days To See, a world premiere theatrical exploration of Helen Keller through her own writings; the critically acclaimed revival of John Cariani's modern classic Almost, Maine; and a re-imagined revival of the John Van Druten classic I Remember Mamawhich was included in the New York Times' Top Ten productions of 2014 and The New Yorker's top cultural moments of 2014. In addition to mainstage productions, Transport Group also produces one-night-only, star-studded concert events, often featuring the productions' original orchestrations performed by as many as 60 actors and musicians. Concert titles have included Baby(2012), Once Upon a Mattress (2013), The Music Man(2014), Peter Pan(2016) andA Man of No Importance (2016). Next up for Transport Group includes a co-production of Tennessee Williams's Summer and Smoke with Classic Stage Company in spring 2018.
Man of La Mancha will be performed December 18, 2017, at 8pm at Merkin Concert Hall at the Kaufman Music Center, 129 West 67 Street. Tickets are on sale and start at $55. For more information and to purchase tickets, visit www.transportgroup.org or phone 866-811-4111.