Jason Robert Brown, Judy Gold, Grace McLean, Jason SweetTooth Williams and More Among NYMF's 2017 Gala Lineup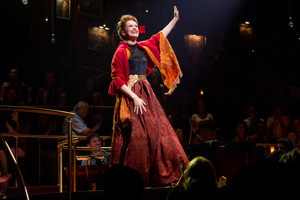 The New York Musical Festival (NYMF) will honor Pulitzer Prize-, Tony- and Grammy Award-winning writer Marsha Norman and NYMF Board of Directors Chair Charles Fink at its 2017 Gala on Sunday, November 12 at the Edison Ballroom in Midtown Manhattan (240 W 47th St, New York, NY 10036).
The 2017 Gala will be co-hosted by Grace McLean (Broadway's Natasha, Pierre & The Great Comet of 1812) and Jason SweetTooth Williams (Broadway Bounty Hunter). Comedian, writer and actress Judy Gold (Roseanne, Broad City, 30 Rock) will serve as auctioneer.
Presenters and performers for the evening include Jason Robert Brown (Parade, The Last 5 Years), Adam Rapp (Red Light Winter), Martyna Majok (Ironbound), Shoba Narayan (Natasha, Pierre & The Great Comet of 1812), Randy Blair (Amélie), Jason SweetTooth Williams (Broadway Bounty Hunter), Pearl Rhein (Natasha, Pierre & The Great Comet of 1812), Brynn Williams (Lazarus), Dan Sharkey (Amazing Grace), Jillian Louis (It Shoulda Been You), Daniel Robert Sullivan (Motown), Jacob Yates (Georama), Carrie Berk (Peace, Love and Cupcakes), Diego Lucano (School of Rock), Victoria Csatay (Peace, Love & Cupcakes), Merin McCallum (Peace, Love & Cupcakes), Blake Sheridan (Peace, Love & Cupcakes), Ksenia Nakonechny (Peace, Love and Cupcakes), Alexa Reeves (Peace, Love and Cupcakes), Claire Neumann (Baghdaddy), Graydon Peter Yosowitz (The Light Years), Marshall Pailet (Baghdaddy, Claudio Quest), AD Penedo (Baghdaddy), Katori Hall (The Mountaintop), Kerstin Anderson (The Sound of Music) and more.
Each November, NYMF holds a gala celebrating the year's artistic triumphs and honoring select individuals whose work has contributed to the continued vitality of musical theatre. Held at the beautiful Edison Ballroom, a historic Times Square landmark, this one of a kind event is attended by an exclusive group of musical theater enthusiasts, Broadway artists, and leading members of the theater industry. The evening will begin with a cocktail reception and silent auction, after which guests will be treated to a gourmet meal and a star-studded show.
The honorees will be celebrated via performances by Broadway stars and NYMF alumni in an evening of entertainment co-directed by Shelley Butler (Assoc. Director, Broadway - Beautiful: The Carole King Musical; A Doll's House Part 2 - South Coast Rep) and West Hyler (Georama, Cirque du Soleil's Paramour), with musical direction by Charity Wicks (Natasha, Pierre & The Great Comet of 1812).
Since 2006, Charlie Fink has produced over 30 readings, workshops, festival and Off-Broadway productions of new musicals, including Baghdaddy, the critically acclaimed musical comedy about bumbling spies that recently ran at St. Luke's Theater, and Baby Case, which won (almost) every NYMF award in 2011. Charlie is the Producing Artistic Director of the not-for-profit New Musical Foundation, and serves as Chairman of the Board of the New York Musical Festival, of which he is the longest-tenured board member, with over ten years of service. Charlie's passion for new work began at Disney in 1986 where he supervised the development of the historic animated musicals Beauty and the Beast, Aladdin, and The Lion King, which was based on his original idea, "Bambi in Africa".
In real life, Charlie is a former entertainment and technology executive whose work spans three decades. In addition to his six years as a Disney Creative VP, Charlie was SVP and Chief Creative Officer of AOL Studios, and President and Chief Creative Officer of American Greetings Interactive. In the 90s, he was EVP & COO of VR pioneer Virtual World Entertainment.
Charlie now writes about VR, AR and New Media for Forbes and other publications and is a sought-after speaker at events like CES, SXSW, AWE, and Digital Hollywood. He is also the author of the upcoming general interest business book "Charlie Fink's Metaverse", a continuously updated AR-enabled guide to AR, VR & the future of personal computing.
Marsha Norman is a Pulitzer Prize, Tony, Drama Desk, Blackburn, Grammy, and Peabody winner for her work in theater, film, and television. Ms. Norman won the 1983 Pulitzer Prize, Blackburn Prize, Hull-Warriner, and Drama Desk Awards for her play Night, Mother. In l992 she won a Tony Award and a Drama Desk Award for her book for the Broadway musical, The Secret Garden. She also wrote the book for the Broadway musical, The Color Purple; she received a Tony nomination for the original production, and a Tony Award for the 2016 Revival. She won a Peabody Award for her writing on the HBO television series, In Treatment, starring Gabriel Byrne and Dianne Wiest. Her most recent work is the adaptation of The Trumpet Of The Swan: A Novel Symphony For Actors And Orchestra, with music conducted and written by Jason Robert Brown.
Her television and film credits include "'Night, Mother," starring Sissy Spacek and Anne Bancroft, "The Laundromat," starring Carol Burnett and Amy Madigan; "The Pool Hall," starring James Earl Jones; Face Of A Stranger starring Gena Rowlands and Tyne Daly; Cooler Climate, starring Sally Field and Judy Davis; Audrey Hepburn, Custody Of The Heart, and most recently, Samantha, An American Girl Holiday. She spent one year as Co-Executive Producer of Law And Order: Criminal Intent, and wrote the Gina episodes of Season 2 of HBO's In Treatment. The Trumpet of the Swan: A Novel Symphony for Actors and Orchestra, written by Jason Robert Brown and Marsha Norman, was released by TRW and PS Classics on June 22, 2011.
Most recently, she received the William Inge Distinguished Lifetime Achievement in Theatre Award, and the Career Achievement Award from the Dramatists Guild of America, and teaches Playwriting at Julliard and Musical Book at Yale.
For more information on purchasing gala tickets, visit www.nymf.org/gala.
New York Musical Festival (NYMF) nurtures the creation, production, and public presentation of stylistically, thematically, and culturally diverse new musicals to ensure the future vitality of musical theater.
Now entering its fifteenth year, the Festival is the premier musical theater event in the world. The preeminent site for launching new musicals and discovering new talent, the Festival provides an affordable platform for artists to mount professional productions that reach their peers, industry leaders, and musical theater fans. More than 90 Festival shows have gone on to productions on and Off-Broadway, in regional theaters in all 50 states, and in more than 20 countries worldwide. Festival alumni have received a wide array of awards including the Tony Award and the Pulitzer Prize. In 2013, NYMF received a special Drama Desk Award in recognition of its work "creating and nurturing new musical theater, ensuring the future of this essential art form."
New York Musical Festival is a 501(c) (3) not-for-profit organization. NYMF is supported, in part, by an award from the National Endowment for the Arts, by public funds from the New York City Department of Cultural Affairs, and by the New York State Council on the Arts, a state agency.
The 2017 New York Musical Festival took place July 10 - August 6. For more information, visit www.nymf.org.