Immersive Theatre Piece THE FEMALE ROLE MODEL PROJECT Comes to Theaterlab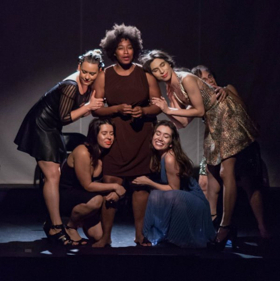 The Female Role Model Project is a scientifically enhanced multimedia devised theatre piece built by an ensemble of female-identified artists about recreating modern female role models in the world of cataclysmic climate change, cataclysmic political change and possibility of reprogramming our brains.
Mark your calendars for this Friday, January 26th to come and visit Theaterlab (357 W 36th St, 3rd Floor) in an Open Studio-style performance experiment from 6-10 PM. During this immersive experience, you will be invited to journey through the playground of adult role models, put a brainscanner on your head, brain synch with your favorite star, play gender scrabble and correct movies.
Created by Tjasa Ferme, developed with and directed by Ana Margineanu, featuring devisers/actors Meggan Dodd, Mahima Saigal, Gaia Visnar, Ashley Antonia Lopez and Lya Yanne. In collaboration with composer and sound engineer Justin Mathews, neurolinguist and psychologist Natalie Kacinik, science assistant Marissa Scotto and stage and Production Manager Carly J. Bauer.
For 6pm, 7pm, 8pm and 9pm rolling entry slots email theaterlab36@gmail.com to reserve your place. For more information visit http://tjasaferme.com/femalerolemodelproject/.