Ice Factory Festival Late-Night Performance Salon FRIDAYS ON ICE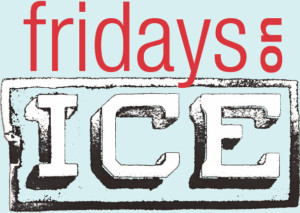 The Obie Award-winning Ice Factory Festival (Artistic Director Robert Lyons) has announced hosts and guest artists for "Fridays on Ice," its late-night performance salon that includes a diverse and distinctive lineup of writer/performers creating work not usually seen in downtown theatre spaces, but more typically found performing in nightclubs, bars, and private apartments.
The expanded programming in this year's Ice Factory Festival is produced and curated by Kevin Laibson (formerly of The PIT). Each evening is individually hosted by an impresario of this alternative storytelling community, and features cutting-edge micro-works by some of NYC's cagiest short-form theater-makers. Lyons says, "This is another example of how the New Ohio is expanding our audience's expectations about what they might see when they walk through our doors." "Fridays on Ice" takes place every Friday at 10:30pm from July 7 - August 11 at New Ohio Theatre, located at 154 Christopher Street between Greenwich and Washington Streets in New York City. Tickets are $15 ($5 if you attended the 7pm Ice Factory show that night), and can be purchased online at
http://NewOhioTheatre.org
or by calling
866-811-4111
. For more info visit
http://newohiotheatre.org/fridaysonice17.htm
, Like on Facebook at
https://www.Facebook.com/NewOhioTheatre
and
https://www.Facebook.com/IceFactoryFestival
, follow on Instagram (
https://www.instagram.com/newohiotheatre
) at @NewOhioTheatre, and for up-to-the-minute festival updates follow on Twitter (
https://Twitter.com/NewOhioTheatre
) at @NewOhioTheatre. Time Out New York calls Ice Factory "one of New York's best curated-festivals," and The New York Times says the festival's "an annual celebration of the weird, the wild and the unexpectedly wonderful."
New York Magazine
praises the Ice Factory as "New York's #1 Summer Theatre Festival," and The New Yorker says, "The Ice Factory Festival has a fine record for presenting intellectually challenging and artistically daring fare." "FRIDAYS ON ICE" SCHEDULE July 7
Shon Arieh-Lerer combines comedy, street dance, fake philosophy, and clowning. With live music by Henry Kandel, performances from Storyboard P and Ghost of the legendary bruk-up dance crew MUTANT$,
Eliza Bent
(Time Out NY Critics' Pick Toilet Fire), art comic Lucy Cottrell and physical comedian Parker Denton. Shon Arieh-Lerer is known as The Genius of Comedy. He makes videos for Slate and writes humor pieces for The New Yorker. He is a street-dance disciple of Ghost, O.G. of the Possession style of Bruk Up. Arieh-Lerer serves as the artistic director of the experimental comedy group His Majesty, the Baby, and is also the world's most recognized living translator of Yindjibarndi poetry. July 14
Katie Hartman with guests
Brett Davis
(The
Macaulay Culkin
Show), trans alt-comic
Patti Harris
on,
Clay McLeod Chapman
(Pumpkin Pie Show),
Laura von Holt
and "The
Lucille Ball
of Burlesque" Sapphire Jones. Katie Hartman is a staff writer and performer for Seriously.tv. Her sketch duo, Skinny Bitch Jesus Meeting, has been a critics' pick in Time Out New York and Washington Post. Their web series "Made To Order" (
madetoorderseries.com
) was listed as one of "6 Brilliant Web Series" by Marie Claire. Katie improvises Saturday nights at The Peoples Improv Theater with house team Gypsy Danger, and is a regular on the Webby Award-winning channel The Key of Awesome. July 21
Sudi Green presents THIS ART IS TRASH: A high-brow celebration of low culture. Watch as the city's top comedians and performance artists are inspired by culture's lowest lows. With guests
Cole Escola
(Time Out NY top ten cabaret performer), trans comedian/musician/actor
Peter Smith
(Catlyn Jenner in The Katdashians musical), Ziwe Fumudoh (The Onion) and Matt Rogers (Comedy Central Comic to Watch). Sudi Green is a writer for "Saturday Night Live" and Maya and Marty. You can see her as the co-host of her sketch/variety show Theme Party at the Upright Citizens Brigade theatre in New York. In 2015, Sudi was selected to perform as a new face in the Just For Laughs Comedy Festival in Montreal. July 28
Marina & Nicco. All New Yorkers know the odd anonymous territory of riding the subway -- surrounded by millions of people you know nothing about. Marina & Nicco invite some of their favorite writers to daydream about these strangers and who they are once they've left the closing doors behind. With guests Madalyn Baldanzi (Funny or Die), Luke Burns (The New Yorker), Georgie Aldaco (The Onion), Jon Bershad (
seriously.tv
),
Zhailon Levingston
and Jason Shebiro (SiriusXM). Marina and Nicco are TV/screen-writers and comedic playwrights based in New York. As the duo "Marina & Nicco" their work has been featured in The New Yorker, on "Comedy Central," Funny or Die, and on
Morgan Spurlock
's Call Bullshit-- in addition to their regular live shows at major comedy theaters in New York. Their play Unpacking: A Ghost Story Told in the Dark will be produced at HERE in July and August of 2017. Aug 4
Cristina Pitter presents Decolonizing My Vagina: The Cristina Pitter Show. A night of storytelling and ritual. With guest
Starr Busby
. Cristina Pitter is a queer fat babe multidisciplinary artist and sex educator. She also has the best laugh ever. Seriously. You might have seen her work at
Ars Nova
, Joe's Pub, The PIT, The Tank, The
Flea Theater
, JACK, Dixon Place, or three separate but specific bathtubs. Feel free to follow her antics on Twitter @isisgypsy and Instagram @lavidagypsy. Aug 11
Alex Song has worked as a writer for NBC's "The Tonight Show Starring
J
immy Fallon
" and truTV's "Comedy Knockout." As an actor, Alex has appeared on MTV, IFC, Funny or Die, Above Average, The Huffington Post, and more. She currently performs at UCB on Harold Night. Find her online at
alexandrasong.com
or on Twitter @alexsnog. Additional guests to be announced at
http://newohiotheatre.org/fridaysonice17.htm
. New Ohio Theatre is a two-time OBIE Award-winning theatre under the leadership of
Robert Lyon
s, Artistic Director, and Marc Stuart Weitz, Producing Director. The New Ohio serves New York's most adventurous theatre audiences by developing and presenting bold work from today's vast independent theatre community. They believe the best of this community, the small artist-driven ensembles and the daring producing companies who operate without a permanent theatrical home, are actively expanding the boundaries of where American theatre is right now and where it's going. From their home in the West Village's historic Archive Building, the New Ohio provides a high-profile platform for downtown's most mature, ridiculous, engaged, irreverent, gut-wrenching, frivolous, sophisticated, foolish and profound theatrical endeavors.
With its Ice Factory summer festival the New Ohio offers emerging and established companies a prime forum in which to develop their work. Ice Factory prides itself on maintaining extraordinary aesthetic diversity along with an unequaled standard for intelligent, imaginative theater. The theatre is accessible from the #1 train to Christopher St. or A, B, C, D, E, F or M train to West 4th St. For info visit http://NewOhioTheatre.org.

Related Articles
More Hot Stories For You