Healthy Nikki Blonsky to Hit the Stage Tonight in STUFFED Off-Broadway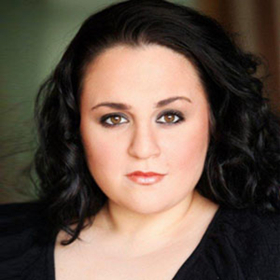 Golden Globe Nominee Nikki Blonksy (New Line Cinema's Hairspray) will begin performances tonight in Stuffed, a new play by Lisa Lampanelli, after being out of the show ill this past weekend.
"I am so excited to be able to join Lisa and this amazing cast on stage tonight and officially make my Stuffed debut," said Blonsky. "And I am so grateful to our amazing understudy Lauren Ann Brickman for stepping in and taking care of 'Marty' when I was sick and doing such an incredible job."
STUFFED began previews on October 5 and opens Off-Broadway on October 19 in a new production at the Westside Theatre (Downstairs, 407 West 43rd Street), following a limited NYC run last fall at WP Theater.
Starring alongside Lampanelli and Blonsky in Stuffed is Marsha Stephanie Blake (NYTW's Othello, Orange is the New Black) and Eden Malyn (Orange is the New Black). Jackson Gay (These Paper Bullets!) directs.
The four characters in Stuffed are a lifelong dieter, a bulimic, a confident overweight gal, and a permanent size-zero. The play features Lampanelli's famously irreverent voice, signature wit, and an extra-large scoop of razor-sharp insight into the crazy-making world of our relationships with food. With Lisa onstage, alongside a talented cast, Stuffed doesn't shy away from tough questions like: Is eating an ice cream sandwich in the shower as emotionally fulfilling as it sounds? When it comes to jeans, what's better -- muffin top or camel toe? And, if Oprah, the most powerful person in the world, can't conquer her food issues, what can the rest of us do but laugh as we try?
The creative team for Stuffed includes set design by Antje Ellermann (Stuffed, Dear Elizabeth), costume design by Jessica Ford (These Paper Bullets), lighting design by Amith Chandrashaker (FADE, [PORTO]), sound design by Elisheba Ittoop (Duat), and casting by Stewart/Whitley. Additional material was contributed to the play by Ashley Austin Morris.
The New York premiere of Stuffed was produced in 2016 by WP Theater, formerly known as Women's Project Theater (Lisa McNulty, Producing Artistic Director, Maureen Moynihan, Managing Director) and directed by Jackson Gay.