HSA to Honor HAMILTON's Renee Elise Goldsberry at Fall 2017 Benefit Masquerade Gala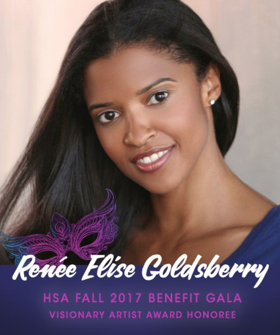 The Harlem School of the Arts (HSA) is once again transforming The Plaza Hotel into an unforgettable masquerade benefit gala to raise money and awareness surrounding their world-class arts education facility.
The gala takes places on Monday, October 23, 2017 at the iconic Plaza Hotel in New York City beginning at 6:00pm. Hosted by Sunny Hostin of ABC's The View, guests are encouraged to participate in the theme with elaborate and festive masquerade masks that accompany their black tie ensemble. Previous gala's hosted by HSA have showcased a who's who in the arts community in some of their most festive masquerade attire, and it is expected this year will be no exception.
This year's honorees include: singer, songwriter, producer and actress Mary J. Blige, who will be awarded the Dorothy Maynor Award; American composer Ray Chew, who is set to receive the Inaugural Alumni Award; Tony Award Winner for Best Featured Actress, Rene?e Elise Goldsberry for the Visionary Artists Award; and Debra L. Lee, Chairman & CEO of BET Networks, who will receive the Betty Allen Corporate Award.
Guests will enjoy a preliminary reception followed by a sit down dinner, complete with performances and live auction, offering one-of-a kind items. The party will continue after the gala with open bar, dessert and music by D-Nice.
"Following the heels of Dorothy Maynor, Betty Allen and their extraordinary dedication to and leadership in the arts, we'll recognize an incredible group of artists and women at this year's Gala, such Mary J. Blige, Rene?e Elise Goldsberry, and Debra Lee, alongside Ray Chew," says HSA Chairman, Charles J. Hamilton, Jr. Esq. "I'm proud of HSA's renewed vitality during these past seven years and the Gala marks a special time to celebrate HSA's accomplishments of those being honored while raising vital support to continue providing students with the transformational access to the arts for which it is known."
Proceeds from the Gala enable Harlem School of the Arts to provide over 2,000 students access to exceptional arts instruction and professional development, including financial aid to families from disadvantaged communities and merit scholarships to students pursuing careers in the arts.
The event will take place at The Grand Ballroom at The Plaza, New York City, with a 6pm Reception in the Terrace Room, followed by a 7pm Dinner & Performance in the Grand Ballroom, and an After Party* from 9pm - 12am in the Terrace Room. *MUSIC BY DJ D-NICE
Tickets are available at hsanyc.org/gala2017, with options to purchase tables, single tickets and/or after- party tickets; donations are also accepted via the site.
Harlem School of the Arts enriches the lives of young people and their families through world-class training in and exposure to the arts across multiple disciplines in an environment that emphasizes rigorous training, stimulates creativity, builds self-confidence, and adds a dimension of beauty to their lives.
HSA achieves its mission on-site at The Herb Alpert Center by offering high quality, affordable, arts training in dance, music, theatre, and visual art to ethnically and socio-economically diverse young people aged 2-18; by providing financial aid and merit scholarships to those who need it most; and by developing key partnerships with other cultural institutions, colleges/universities, and conservatories to prepare our aspiring pre-professional students at the highest possible level.