HADESTOWN Star T. Oliver Reid Stops By THE ART OF KINDNESS Podcast
The Broadway veteran and activist opens up about his illustrious career and teachings.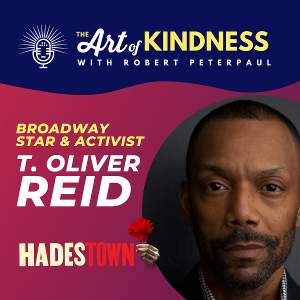 This week, Robert Peterpaul, in association with the Broadway Podcast Network, welcomes Broadway star T. Oliver Reid to The Art of Kindness podcast, which promotes kindness in the entertainment industry and beyond.
The activist and performer shares stories from Hadestown, advice for young artists, building The Black Theatre Coalition and much more. The episode can now be streamed wherever you listen to podcasts or on BPN at BPN.FM/ArtofKindness.
Throughout the coming season, listeners will have the opportunity to hear from a diverse array of voices from the worlds of TV, film, and Broadway. These guests will share their personal stories and insights on how kindness and empathy have impacted their lives and careers. Every episode also ends with a tangible kindness tip for listeners to incorporate into their life.
Led by actor and creator Robert Peterpaul, The Art of Kindness podcast has been ranking in the top 5% of podcasts globally since premiering in 2021. Since then, guests like superstar Meghan Trainor, Sweet Magnolia's star JoAnna Garcia Swisher and Tony-nominee Ethan Slater (Wicked movie) have been coming to the table for thought-provoking conversations.
The Art of Kindness with Robert Peterpaul podcast spotlights artists from all areas of the entertainment industry using their platform to make the world a better place. Hosted by award-winning actor, writer and celebrity interviewer Robert Peterpaul, the podcast focuses on spreading kindness in the arts and beyond. The glittering guests have ranged from Grammy-winner Meghan Trainor to Olympian Laurie Hernandez to WWE superstar Kofi Kingston. The AOK is produced by Robert Peterpaul Productions and streams in the top 5% across all podcast platforms, including: Apple Podcasts, Spotify, Amazon Music, Google Podcasts and iHeartRadio..