Grace McLean, Brittain Ashford, and More from THE GREAT COMET to Perform with The Songwriter's Orchestra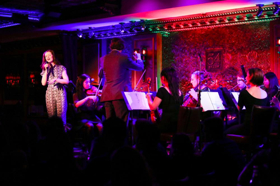 The Songwriter's Orchestra, an innovative 12-piece chamber orchestra that accompanies singer-songwriters in new arrangements of their music, will be performing at (le) poisson rouge with seven cast members from The Great Comet on Monday August 21st at 7:30pm. The concert will feature Grace McLean, who plays Marya D in Great Comet, Brittain Ashford, who plays Sonya, Gelsey Bell, who plays Princess Mary, and ensemble members/musicians Courtney Bassett, Mary Spencer Knapp, Heath Saunders and Cathryn Wake. Each of these cast members is also a songwriter, and this concert will showcase their music in new arrangements for The Songwriter's Orchestra. Shoba Narayan, Natasha understudy and ensemble member, will also be sharing a song by Great Comet composer Dave Malloy.
The Songwriter's Orchestra has performed at (le) poisson rouge, 54 Below, The Laurie Beechman Theatre, Landmark on Main Street, Miller Theatre, Imani Winds Chamber Festival, Usdan Camp for the Performing Arts, and The Dolphin Café. Every song in their concerts is presented in a brand new arrangement, transformed from its original to a version where 12 string, wind, brass and percussion players serve as the accompaniment. The ensemble is run by arranger/conductor Solomon Hoffman. The concert is directed by Sammi Cannold, the associate director of The Great Comet.
The musicians in the ensemble are top NYC classical and musical theatre players. This concert will feature Jordan Lee (violin), Kevin Kuh (violin), Elise Frawley (viola), Vivian Ludford (cello), Coreisa Lee (flute), Patricia Billings (clarinet), Blair Shepperd (bassoon), Evan Honse (trumpet), Elizabeth Fleming (horn), Becca Patterson (trombone), Marty Jaffe (bass), and Ashley Baier (percussion)
The Songwriter's Orchestra play Le Poisson Rouge (158 Bleecker Street) on 8/17/17 at 7:30pm, doors at 6:30pm. Advanced tickets are $20 for table seating (2 item minimum) and $15 for standing tickets. Day of show tickets will be $25/$20. For tickets, visit lprnyc.com. For more information, go to thesongwritersorchestra.com.
Photo credit: Mike Discenza