Click Here for More Articles on ANDREW LLOYD WEBBER
Glenn Close Will Moderate Town Hall Chat to Celebrate Release of Andrew Lloyd Webber's UNMASKED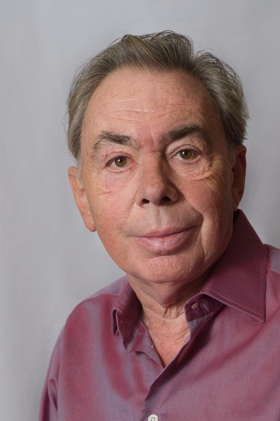 Andrew Lloyd Webber introduces and discusses his new memoir, Unmasked, in this exclusive literary event on Monday, March 5, at The Town Hall. Joining Andrew Lloyd Webber in conversation is award-winning actress Glenn Close who will serve as a special guest host for the evening.
The event celebrates the publication of Andrew Lloyd Webber's long-awaited autobiography, Unmasked, to be released on March 6 by HarperCollins, coinciding with the legendary composer's 70th birthday.
Written entirely in his own words, internationally-acclaimed composer Andrew Lloyd Webber recounts his fascinating life and remarkable career in UNMASKED, his new autobiography set for release on March 6, 2018.
A natural storyteller, with his signature humor and self-deprecating tone, Lloyd Webber shares the details of his early personal and professional years, including his early artistic influences. In UNMASKED, Lloyd Webber takes stock of his achievements, the twists of fate and circumstance which brought him both success and disappointment, and the passions that inspire and sustain him.
Actress Glenn Close will be the special guest host for The Town Hall event. A six-time Academy Award nominee, Close won a Tony award for her portrayal of Norma Desmond in Webber's Sunset Boulevard, and won a London Evening Standard award for the London Coliseum production of the show in Spring 2016. She reprised the role this year at the Palace Theatre in New York.
A record of several exciting and turbulent decades of British and American musical theater and the transformation of popular music itself, UNMASKED is ultimately a chronicle of artistic creation. Lloyd Webber looks back at the development of some of his most famous works and illuminates his collaborations with luminaries such as Tim Rice, Robert Stigwood, Harold Prince, Cameron Mackintosh, and Trevor Nunn. Taking us behind the scenes of his productions, Lloyd Webber reveals fascinating details about each show, including the rich cast of characters involved with making them, and the creative and logistical challenges and artistic political battles that ensued.
Reflecting a life that included many passions (from architecture to Turkish Van swimming cats), full of witty and revealing anecdotes, and featuring cameo appearances by numerous celebrities - Elaine Paige, Sarah Brightman, David Frost, Julie Covington, Judi Dench, Richard Branson, A.R. Rahman, Mandy Patinkin, Richard Rodgers, Norman Jewison, Milos Forman, Placido Domingo, Barbra Streisand, Michael Crawford, Gillian Lynne, Betty Buckley, and more - UNMASKED at last reveals the true face of the extraordinary man beneath the storied legend.
"I have long resisted writing an autobiography. Autobiographies are by definition self-serving and mine is no exception," Lloyd Webber comments. "It is the result of my nearest and dearest, moaning at me 'to tell your story your way.' I meekly agreed, primarily to shut them up. Consequently this tome is not my fault. I intended to write my memoirs in one volume and I have failed spectacularly. Quite how I have been able to be so verbose about the most boring person I have ever written about eludes me."
Full of colorful characters, rich storytelling and illustrated with sixteen pages of color photos, UNMASKED provides unique insight into the life of the man who has entertained millions of audiences around the world with his music.
The Town Hall event on March 5th promises to be unique "opening night" for this remarkable memoir, and an intimate and free-wheeling conversation between the composer and one of his most iconic stars.
Each ticket purchase will include a hardcover copy of UNMASKED, which will also be available for sale at The Town Hall on the night of the show.
---
IF YOU GO:
The Town Hall Presents: Andrew Lloyd Webber UNMASKED
In Conversation with Special Guest Host and Award-Winning Actress GLENN CLOSE
Monday, March 5, 2018 at 8:00pm (doors 7:30pm)
The event will take place at The Town Hall, 123 West 43rd Street (between 6th Avenue and Broadway), New York, NY 10036
Tickets: $45/$50/$55
All ticket purchases include a hardcover copy of book
Tickets can be purchased at The Town Hall Box Office (212-997-6661) or Ticketmaster 1-800-653-8000 | www.ticketmaster.com.
For more information, visit www.thetownhall.org.
---
ABOUT ANDREW LLOYD WEBBER:
When Sunset Boulevard joined School Of Rock, Cats and The Phantom Of The Opera on Broadway in 2017, Andrew Lloyd Webber became the only person to equal the record set in 1953 by Rodgers and Hammerstein with four Broadway shows running concurrently. Other musicals he has composed include Aspects Of Love, Joseph and the Amazing Technicolor Dreamcoat, Jesus Christ Superstar, Evita, Starlight Express and Love Never Dies.
He is the most successful composer of musicals in history and professional productions of his shows have sold more than 330 million tickets worldwide, more than 125 million of them in the U.S. In Cats and The Phantom of the Opera he is responsible for two of Broadway's four highest-grossing shows and Phantom alone has been seen by more than 140 million people worldwide.
Andrew's shows have been seen in more than 80 countries around the world and his cast recordings have generated more than 40 million album sales. Andrew's music has been recorded and performed by such music icons as Madonna, Barbra Streisand, Beyoncé and Tom Jones.
Along that journey, Andrew has amassed a great many awards, including seven Tonys, three Grammys, seven Oliviers, one Golden Globe and an Oscar.
Andrew has produced many of his own shows including School of Rock (the first British musical to have world premiered on Broadway), Cats and The Phantom of the Opera.
Andrew has also produced and championed the work of other writers and composers. Notably he presented the groundbreaking Bombay Dreams which introduced the two-time Oscar-winning Bollywood composer A.R. Rahman to the Western stage. Other productions include the Olivier Award-winning Daisy Pulls It Off and La Bete, and the record-breaking Palladium productions of The Sound Of Music and The Wizard of Oz.
He owns seven West End Theatres including the Theatre Royal Drury Lane, the Palladium and most recently acquired The Other Palace, which he has established as a unique London home for new musicals in development and fledgling writing talent.
He is passionate about the importance of music in education and the Andrew Lloyd Webber Foundation has become one of Britain's leading charities supporting the arts and music. In 2016 the Foundation funded a major new national initiative which endowed the American Theatre Wing with a $1.3 million, three-year grant to support theatre education opportunities for underserved young people and public schools across the U.S.
He was knighted by Her Majesty The Queen in 1992 and created an honorary member of the House of Lords in 1997.
ABOUT GLENN CLOSE:
A six-time Academy Award nominee, Close reprised her Tony Award-winning role in Andrew Lloyd A six-time Academy Award nominee, Close stars in the title role of the film adaptation of Meg Wolitzer's bestselling novel, The Wife, with Jonathan Pryce and Christian Slater for Swedish director Bjorn Runge. The film had its world debut at this year's Toronto International Film Festival premiering to rave reviews for her performance. Close is also in Julian Fellow's adaptation of Agatha Christie's Crooked House alongside an all-star cast that included Max Irons, Christina Hendricks, Gillian Anderson and Terence Stamp.
Close reprised her Tony Award-winning role in Andrew Lloyd Webber's musical Sunset Boulevard in a new production at the London Coliseum in the Spring of 2016. For that performance she won a London Evening Standard Award and was nominated for an Olivier Award. The full production, starring Close, opened on Broadway this February, for an exclusive limited engagement.
Close made her feature film debut in George Roy Hill's The World According to Garp, earning her awards from the Los Angeles Film Critics Association and the National Board of Review as well as her first Academy Award nomination. She was subsequently Oscar-nominated for The Big Chill, The Natural, Fatal Attraction and Stephen Frears' Dangerous Liaisons.
Close received her sixth Academy Award nomination in 2012, along with Golden Globe and SAG nominations, for Albert Nobbs. She wrote the screenplay with (Man Booker prize-winning novelist) John Banville.
Her recent film appearances include What Happened to Monday, The Girl With All the Gifts, Wilde Wedding and the upcoming comedy Father Figures. Her film credits include Richard Marquand's Jagged Edge, Barbet Schroeder's Reversal of Fortune, Franco Zeffirelli's Hamlet, István Szabó's Meeting Venus, Ron Howard's The Paper, Stephen Herek's 101 Dalmatians, Kevin Lima's 102 Dalmatians, Wolfgang Petersen's Air Force One, Robert Altman's Cookie's Fortune, Rose Troche's The Safety of Objects, Merchant Ivory's Le Divorce, Chris Terrio's Heights, Rodrigo García's Things You Can Tell Just by Looking at Her and Nine Lives, Evening, Low Down, 5 to 7, Anesthesia, The Great Gilly Hopkins and Guardians of the Galaxy.
In 2012, Close headlined the fifth and final season of the critically-acclaimed original legal thriller, Damages. For her riveting portrayal of high-stakes litigator 'Patty Hewes', Close won two consecutive Emmys as "Best Actress in a Drama Series" and two subsequent Emmy nominations, along with a Golden Globe Award and three SAG Award nominations. Other television credits include The Shield, The Elephant Man, Something About Amelia, Stones for Ibarra, The Ballad of Lucy Whipple and In the Gloaming, for which she won a CableACE Award.
Close made her theatre, and Broadway, debut in Harold Prince's revival of Love for Love. Her theater credits include The Crucifer of Blood, The Singular Life of Albert Nobbs (Obie Award), Barnum (Tony nomination) and Tony Awards for her performances in The Real Thing and Death and the Maiden, both directed by Mike Nichols. In London, she reteamed with the director of the original Sunset Boulevard stage production, Trevor Nunn, in his Royal National Theatre revival of A Streetcar Named Desire. She returned to Broadway for the 2014 revival production of Edward Albee's A Delicate Balance.
ABOUT THE TOWN HALL:
Inaugurated on January 12, 1921, The Town Hall has celebrated the diversity of New York with programs for all audiences through its own eclectic programming and by opening its doors to an unparalleled roster of independent producers. The 1,500 seat hall, with its grand feel and impeccable acoustics, has been a showcase for music from around the world and new artistic collaborations as well as a stage for public affairs and education, social progress and political discourse. Some of the figures that have appeared at Town Hall include Paul Robeson, Sergei Rachmaninov, Pablo Casals, Andres Segovia, Dizzy Gillespie, Charlie Parker, Nina Simone, Langston Hughes, Thelonious Monk, Igor Stravinsky and Bob Dylan.
In its latest and most adventurous programming schedule, The Town Hall has launched a wide-ranging series of one-night-only events, including the literary series Gods and Savages, the Improvisations collaboration series, and the films-in-concert series, Shoots & Scores. www.thetownhall.org
Photo Credit: Lucy Sewill

Related Articles
More Hot Stories For You
Actors' Equity Association Releases Statement Regarding WEST SIDE STORY
Actors' Equity Association released the following statement after a report in the New York Times that members of West Side Story have become concerned... (read more)

Photos and Video: Get a First Look at FROZEN's New Cast Members; Plus Learn About the Changes Coming to Broadway
As it approaches its second anniversary on Broadway, Frozen will welcome a trio of new stars joining the company tonight, Tuesday, February 18, 2020. ... (read more)

Arena Stage Announces 2020/21 Season; Corbin Bleu in CATCH ME IF YOU CAN, and More!
Arena Stage has announced its 2020/21 Season, which is set to include five world premieres, four plays and three musicals, including a Corbin Bleu-led... (read more)

Photo Flash: First Look at Ivo van Hove's WEST SIDE STORY on Broadway!
Tomorrow is the big night! Tony Award winner Ivo van Hove's new production of West Side Story will open Thursday, February 20, at the Broadway Theatre... (read more)

Event Calendar Revealed for 74th Annual Tony Awards!
The American Theatre Wing's Tony Awards have announced the calendar for the 2019-2020 season. The Tony Awards, which honors theatre professionals for ... (read more)

Photo Flash: PRINCE OF EGYPT Cast Poses For All New Portraits
THE PRINCE OF EGYPT, the brand-new musical that is now in previews at London's Dominion Theatre, has released a series of principal cast character por... (read more)