Gattelli to Direct Ripley, Klena, Gehling and More in Reading Of THE SONG OF BERNADETTE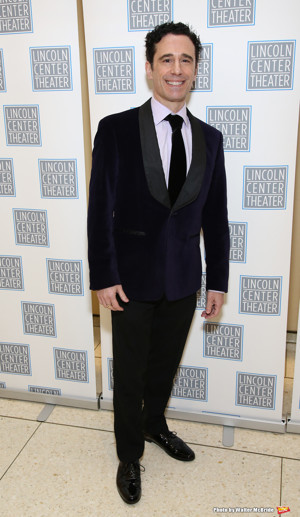 Tony winner Christopher Gattelli (Newsies, The Cher Show, My Fair Lady, SpongeBob) will direct an invite-only, developmental reading of the new musical, The Song of Bernadette, March 14th & 15th, starring Dear Evan Hansen's Mallory Bechtel as Bernadette, alongside Tony Winner Alice Ripley (Next to Normal, Side Show, American Psycho), Derek Klena (Carrie, Dogfight, Anastasia) and Drew Gehling (Waitress, Dave).
The Song of Bernadette features an original score by multiple Grammy, Tony & Emmy nominee, Frank Wildhorn; book by award-winning playwright, Rinne Groff; lyrics by CMA winner & Grammy nominee, Robin Lerner; music direction, orchestrations, and arrangements by Grammy winner, Jason Howland; and direction by multiple Tony nominee & winner, Christopher Gattelli. Stage Management team includes Bernadette Schoenborn and Leila Cheung. Producing team include Louis Hobson/Indie Theatrical, Van Dean; co-producers John Pagliassotti, Kevin Cheung, and T.J. Berden; and associate producer Lily Oberg.
The Song of Bernadette is based on the true story of Bernadette Soubirous, a humble young girl from the impoverished town of Lourdes, France, and her mysterious visions of a Lady in White at the Grotto at Massabielle in 1858. The intimate musical explores the unexplained events surrounding her visions, and how one unlikely girl's voice would change Lourdes and the world forever.
The all-star cast features Katie Thompson (Giant, Pump Boys and Dinettes), Eric Anderson (Pretty Woman, Waitress), Dana Costello (Finding Neverland, Jekyll & Hyde), Heath Saunders (The Great Comet, Alice By Heart), Paul Anthony Stewart (Beautiful, Fiddler), Eliseo Roman (On Your Feet, In The Heights), John Treacy Egan (My Fair Lady, Nice Work If You Can Get It), Kevin Duda (Beautiful, Book of Mormon), Leslie Becker (Bonnie & Clyde), Housso Semon (Beautiful), Keaton Whittaker (Little Night Music), Dennis Stowe (Aladdin), Salisha Thomas (Beautiful), Michael McArthur (The Ferryman), and TyNia Brandon (Beautiful).
Photo Credit: Walter McBride / WM Photos
Related Articles
More Hot Stories For You
Patti LuPone Wants to Narrate Mary Trump's New Book For Randy Rainbow to Lip-Sync
Could we be getting a new Randy Rainbow/Patti LuPone collaboration? We sure hope so!...

QUIZ: Attend the Winter's Ball to Find Out Which Hamilton Star Will Be Your Date!
We're going back to 1780 for A Winter's Ball (you know, where the Schuyler Sisters are the envy of all?) for our latest Hamilton quiz!...

VIDEO: On This Day, July 9- Lin-Manuel Miranda, Phillipa Soo, Ariana DeBose, and Leslie Odom, Jr. Say Goodbye to HAMILTON
On this day in 2016, original Hamilton cast members, Leslie Odom Jr., Phillipa Soo, and Ariana DeBose along with the musical's star and composer, Lin-...

VIDEO: Listen to Act 1 of HAMILTON, Acted Out by The Muppets
Voice actor and comedian Ricky Downes III has recorded all of Act I of Hamilton... in the voices of all The Muppets!...

Ben Platt Talks Broadway Return, MERRILY, DEAR EVAN HANSEN Film and More
In a new interview with Deadline, Tony Award-winner Ben Platt has revealed updates on a few of his many upcoming projects, including his 'hankering' t...

Governor Cuomo is 'Concerned' About Prolonged Shutdown of the Arts in New York City
Governor Andrew Cuomo said on Monday that he is 'concerned' about the prolonged shutdown of the arts and culture industries in New York City....