GUN CONTROL the Musical Will Hold Reading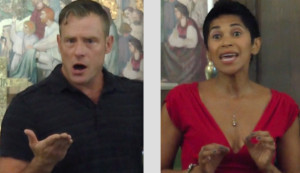 A new musical joining the ranks of works addressing what broadcaster Meredith Vieira calls "even our most intractable problems" is set for a one-night staged reading Monday, October 22, 7:30pm, at the Theatre at St. John's, 81 Christopher St., New York City. Presented in association with the Provincetown Theater, "Gun Control, the Musical" is a 2-act, 13-song show exploring one of America's most incendiary issues. The book, music and lyrics are the work of award-winning journalist Jim Brosseau.
The show's nine characters will be portrayed by a seven-actor cast, led by Spencer Keasey ("Naked Boys Singing") and Alexandra Foucard ("LES MISERABLES") and rounded out by Clyde Shelby Mellert ("The Fantasticks"), Halcyone Hurst ("The Trip to Bountiful," London), award-winning songwriter Grant King and Provincetown Theater veteran actors Jeff Tagen and Mark Weinress. Robert Neapolitan will provide light design.
In noting the theater's ability to "hold up a mirror to society," Vieira, whose documentary "Tower" explored a 1966 mass shooting, said, "The discord that separates us transforms into the possibility of discussion...providing a step forward toward confronting and resolving even our most intractable problems."
"My hope, besides entertaining, is to help promote more understanding on this important topic through musical theater," said Brosseau, a pianist and longtime magazine editor.
Its title notwithstanding, "Gun Control, the Musical," first presented at the historic Provincetown Theater on Cape Cod, showcases several viewpoints on firearms. "Although I'm passionate about the need for such things as stronger background checks," said Brosseau, "I was reminded in writing this musical that few things in life are black and white."
"Gun Control, the Musical" follows a parent's journey to redeem his only child's death in a mass shooting. The love story that ensues lightens the weighty search for common ground as it relates to the Second Amendment.
"When the house lights dim in the theater," Vieira said, "somehow, magically, we see things more clearly."

Related Articles
More Hot Stories For You