Exclusive: Sara Bareilles, Brandon Victor Dixon, and John Legend on JESUS CHRIST SUPTERSTAR And More!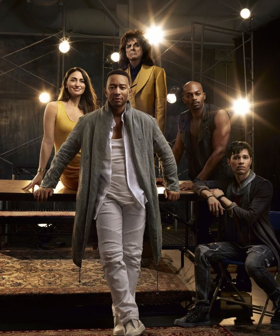 "What's the buzz? Tell me what's a-happening!"
BroadwayWorld correspondent Maeve Riley caught up with the cast of JESUS CHRIST SUPERSTAR at their for your consideration Event in Los Angeles! Let's see what the cast had to say!
You've all had different experiences performing for a wide range of audiences. From roles on Broadway to selling out stadiums, what helped you adapt to the live-for-television musical format?
Sara: It was really interesting. I was amazed at the tools I picked up from being in Waitress. Interpreting the material from moment to moment is a huge part of the storytelling, and helped me step into a role this way. It very much informed me in the way that I approached meeting [the character of] Mary, and it was a real meditation in being present. That was an amazing tool to bring to this process. We had such wonderful support. Our creative team was out of this world, and so loving and encouraging! They made it feel safe to play.
Brandon: Everything helped. As much as it is broadcast on television, it was built like a Broadway show. I think all of those skills that I've used in shows like Hamilton, RENT, and The Color Purple- I brought all those to bear. But you know, I think the technical elements with the crew, and how everyone did their part really locked in all the performative elements. All the work we did on Broadway translated very directly to this show!
John: It's a special challenge taking on someone else's material, because I've been primarily doing my own songs my entire career, and performing as myself. But doing it as a character that was written by another composer is an amazing challenge. You want to take on the character, learn all the material, and do it as much justice as you can. You want to deliver a great performance. As for the live aspect- we're used to performing live, we all perform live all the time. It was unique, though, because we did this with such a huge team with so many moving parts. I really felt protected, I felt like the team was great, and they weren't going to let us down on the production side. All we had to do was go out there and give our best performance, and we had a lot of fun doing it!
Sara, you are achieving every theatre kid's dream of hosting the Tonys. What are you most excited for as a host?
Sara: I'm excited for that very first moment when it all begins. When it's like here we go, let's get on the rollercoaster ride. It is such a big responsibility, and we're working really hard to prepare and make sure we do it justice. I'm hoping we make the theatre community proud!
Why do you think now was the perfect time for such broad audiences to see Jesus Christ Superstar?
Brandon: You know, I think right now we are at a certain point in our global community where we are transforming and things are changing. A lot of the old ideologies are facing new challenges in our current mental and psychological makeup as a whole. Taking the Christian message, and diving into what would have been the human and emotional connection between these people... I think THAT is the thing that people have responded to.
John: I thought it was great that we did it on Easter Sunday. It's an interesting show, because it's a reimagining of what Jesus' last days could've been like from the perspective of Andrew Lloyd Weber and Tim Rice. They had a vision and an interpretation of the biblical story that was a bit nontraditional in its own way. It had a different perspective than we often grow up learning in church, or however we learn the Bible. For us to do that show right now, I think it was really powerful. For us to do it with a diverse cast, it was really powerful. The fact that it went so well... it kind of reinvigorated the show for a new audience and a new generation.
Now that you've stepped into the theatre world, what are some other dream roles you're dying to tackle?
Sara: Oh, gosh! I think maybe because I did it in high school, I'd love to play Audrey in Little Shop of Horrors. Except they'd really have to rethink some of those moments. There's so many dream roles, but I'm definitely living the dream right this second.
---
This NBC event was a one-of-a kind live staging of the iconic 1971 Broadway rock opera with music by Andrew Lloyd Webber and lyrics by Tim Rice. The event was executive produced by Andrew Lloyd Webber, Tim Rice, Marc Platt, Craig Zadan and Neil Meron.
"Jesus Christ Superstar" was originally conceived as a concept album that hit #1 on the Billboard charts, and eventually made its way to the stage in 1971. It is based on the final week of Jesus' life. The 1971 musical opened at the Mark Hellinger Theatre on Broadway and starred Jeff Fenholt as Jesus and Ben Vereen as Judas. It was nominated for five Tony Awards, including Best Performance by a Featured Actor in a Musical for Vereen. Lloyd Webber won a Drama Desk Award for Most Promising Composer.

Related Articles
Maeve Riley is so excited to be a BroadwayWorld.com Social Media Correspondent via Vine and Snapchat! A student at UCLA's School of Theater, Film, and (read more...)