Click Here for More Articles on Podcasts
Exclusive Podcast: BROADWAY'S BACKBONE with Andy Blankenbuehler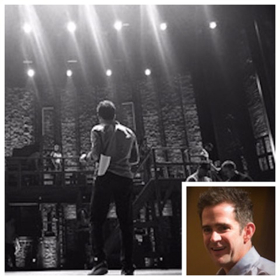 BroadwayWorld will be bringing you new episodes of Broadway's Backbone- a podcast dedicated to the men and woman of the ensemble: the chorus of dancers, singers, and actors that are the foundation of every Broadway musical. These often-unsung gypsies are the hardest working people on the boards and are Broadway's backbone. Each episode features an interview with a Broadway vet, in which they speak about their life, career and dreams, and the topics that aren't always shared. The life of a gypsy maybe full of passion, but not always filled with glamour. Each guest shares intimate details about their journey. There is no mud slinging, but expect a little dirt. The podcast is in honor of the folks of the ensemble and the people who plan to be them.
In this episode: Hamilton and Bandstand's Andy Blankenbuehler has 3 Tony Awards, 3 shows running on Broadway, and 3,000 ideas in his head. He was always determined to be his best and to do this he realized that he had to stop apologizing, accept that problems gave him the best ideas, and that he works best when he is over prepared. He stopped performing because he wanted to tell stories and the ensemble (a group of distinct individuals) is the lens the story is told through. Having had to deal with personal tragedy and suffering, he knows first hand that art heals the soul. He must find an identity and do it as best he can, and that he married a superhero.
Broadway Backbone is hosted by Brad Bradley, who made his Broadway debut in the original cast of "Steel Pier" and followed that with "Annie Get Your Gun", "Thou Shalt Not" "Spamalot", "People in the Picture", "Billy Elliot", and "Chita: A Legendary Celebration." Brad got the idea for the podcast during a conversation he had with Chita Rivera as they were sitting on the dock in Cherry Grove, Fire Island talking shop. She told him that everyone should go through the chorus. It's where dues are paid, the craft is refined, and discipline is born. The seed was planted.
Past podcast guests have included: Ryan Steele (Newsies, Peter Pan LIVE), Neil Haskell (Hamilton, So You Think You Can Dance), Lisa Gajda (Tuck Everlasting), Peter Gregus (Jersey Boys), Angie Schworer (Something Rotten), Charlie Sutton (An American in Paris), Dennis Stowe (Aladdin), Cleve and Donna Marie Asbury (Chicago), Jeremy Davis(Hail, Caesar), Jen Cody (Urinetown), and Tara Rubin (Tara Rubin Casting). The podcast can be found at www.Broadwaysbackbone.com, and soon on iTunes.

Related Articles