Click Here for More Articles on AVENUE Q
Exclusive Photo Coverage: Bound for Broadway IV!
The fourth annual Bound for Broadway concert was held June 7 at Merkin Concert Hall.
Bound for Broadway offered audiences the opportunity to hear selected songs from musical theater writers on the rise. The evening was hosted by Liz Callaway and had a top notch cast of stars including Norbert Leo Butz, Greg Naughton, Stephen Bogardus, Matthew Morrison, Kerry Butler, Jim Walton, Howard McGillin, and more! Among the titles were Along the Way (by Kristin Anderson-Lopez, Gregory Christopher, James-Allen Ford, Russell Kaplan, Karla Momberger, Sara Levine and Shawn Churchman); Children's Letters to God (music by David Evans; lyrics by Douglas J. Cohen; book by Stuart Hample); The Opposite of Sex (music and lyrics by Douglas J. Cohen; book by Robert Jess Roth and Douglas J. Cohen); High Fidelity (lyrics by Amanda Green; music by Tom Kitt; was (book and lyrics by Barry Kleinbort; music by Joseph Thalken); The Blue Flower (music, lyrics and book by Jim Bauer); Meet John Doe (music by Andrew Gerle; lyrics by Eddie Sugarman; book by Andrew Gerle and Eddie Sugarman); and Time After Time (book and lyrics by Stephen Cole; music by Jeffrey Saver).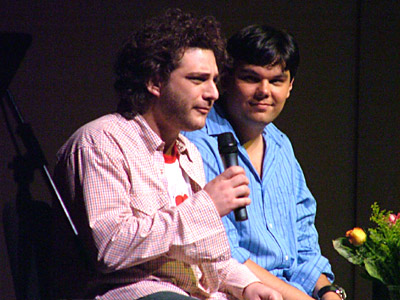 Fresh from their Tony award winning evening, Jeff Marx and
Robert Lopez (Avenue Q) made a surprise visit to kick things off.
Avenue Q was one of the musicals highlighted in the very first
Bound for Broadway concert.

Robert gets read to play...

and together with Jeff sing "Tear It Up and Throw It Away" a number
which was cut from Avenue Q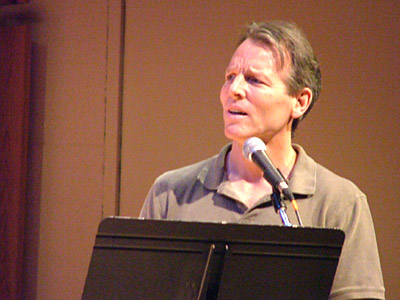 Stephen Bogardus sings a selection from The Opposite of Sex

With Kerry Butler singing as D.D. Truitt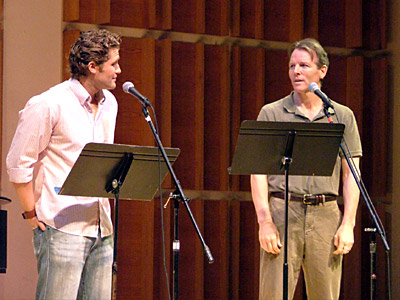 Matt Morrison and Stephen Bogardus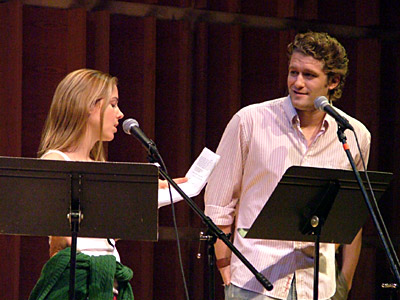 Kerry and Matt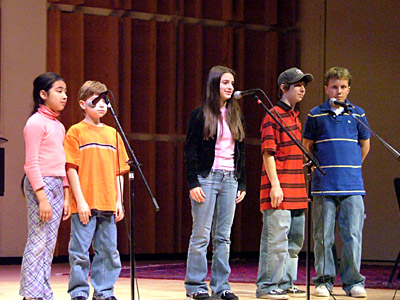 An ensemble of very talented kids sing the final song in
"Children's Letters To God"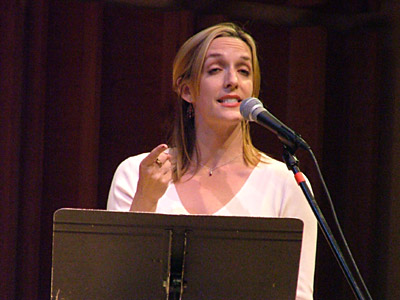 Julia Murney sings a comical number from Meet John Doe based
on the film by Frank Capra

Julia again

Meet John Doe (Richard Todd Adams)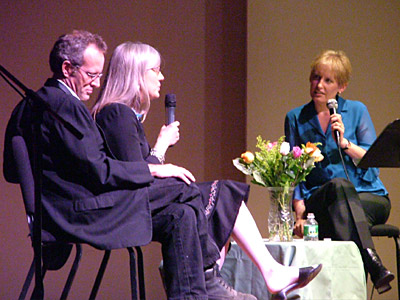 Host Liz Callaway interviews Jim and Ruth Bauer about
their musical, "The Blue Flower"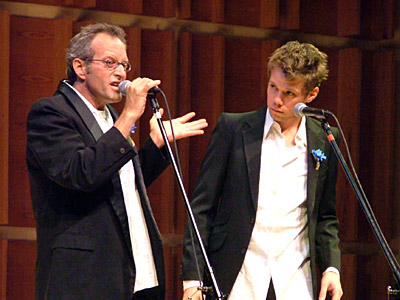 Jim Bauer and Benjamin Schrader begin a medley from this "Da Da"
art inspired piece.

Amanda Green and Norbert Leo Butz sing a very funny selection
from "High Fidelity"

Followed by the irreverent Greg Naughton...

Who had the crowd in hysterics with his song from High Fidelity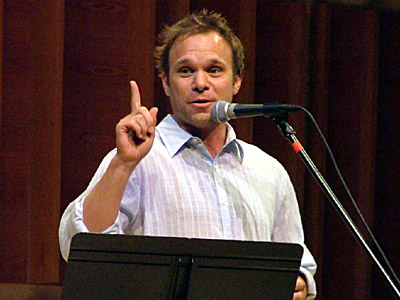 Norbert explains his top 5 break ups of all time

Norbert again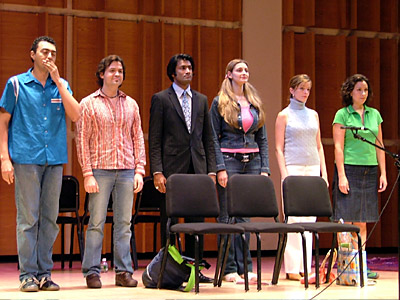 The talented ensemble of "Along The Way" - an acapella musical
get ready to perform

Using just their voices, the cast of Along The Way sing about
their commute in New York City...

While Kristin Anderson-Lopez laments over being a "temp"

The vocal powerhouse, Addison Timlin, performs a song from "was"

Also featured in the cast for "was" is Howard McGillin

and David Pittu

The final segment showcased another musical based on a movie -
"Time After Time". Authors Jeffrey Saver and Stephen Cole
set the songs up for the audience

Liz Callaway treats the audience to her magnificent voice
singing selections from Time After Time

and is reunited with the equally talented Jim Walton. Liz and Tony
both appeared together in the original cast of "Merrily We Roll Along"

Jim Walton as H. G. Wells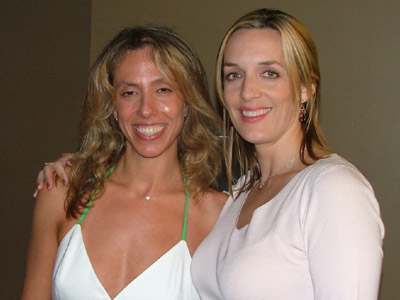 Backstage, Amanda Green and Julia Murney give us big smiles!

The adorable kids relax before they hit the stage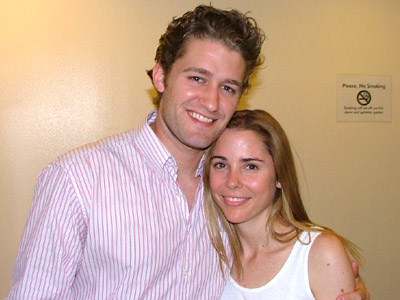 Matthew Morrison (the night before he heads back to LA to reprise
his role as Link Larkin opposite Marissa Jaret Winokur in Hairspray)
poses with Kerry Butler

Robert Jess Roth (Director of Disney's Beauty and the Beast) and
Douglas J. Cohen who co-wrote the book for "The Opposite of Sex"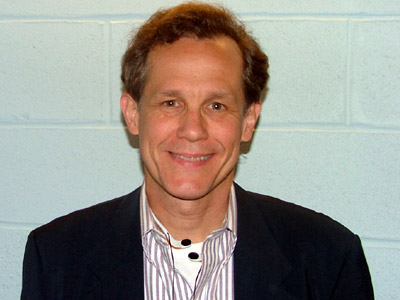 Stage veteran, Jim Walton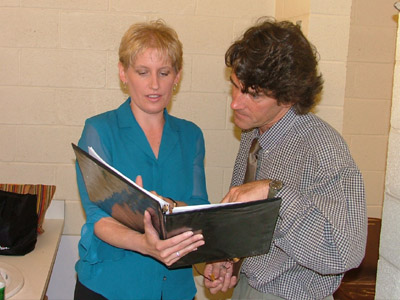 Liz Callaway goes over some last minute notes
with Artistic Director, Sean Hartley
Related Articles
Craig Brockman and independent video editor and producer in the entertainment industry and has served as both Senior Editor and Multimedia Director for BroadwayWorldand. He (read more...)