Exclusive Interview: Alan Menken on Vying for the 'EGOT', ABC's THE NEIGHBORS, Plus Scoops on ALADDIN, HUNCHBACK, TANGLED & More! Page 2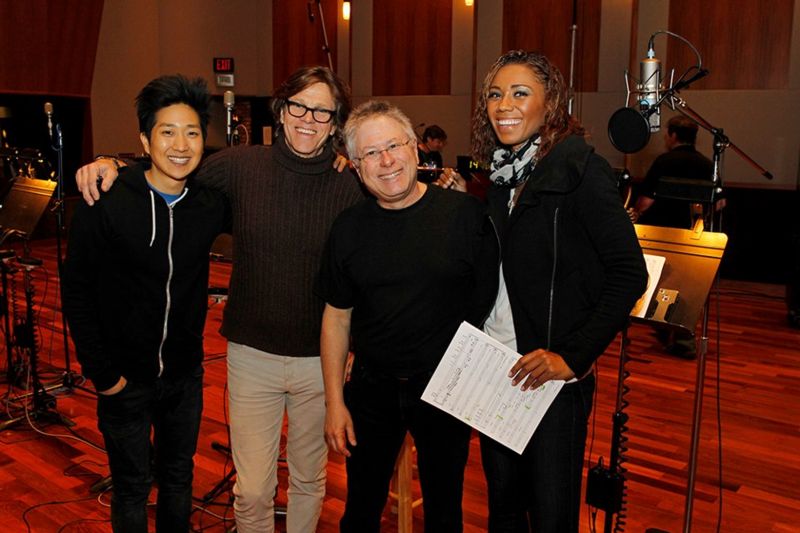 One of the hopefuls for the 2013 Emmy Awards is Grammy, Oscar and Tony Award-winning composer Alan Menken, who just wrote the new tune "Broadway Alien Song" for an episode of ABC's comedy series THE NEIGHBORS in collaboration with TANGLED lyricist Glenn Slater. If Menken wins an Emmy for the song, he will join an elite group of individuals with "EGOT" status, meaning artists who have won at least one Emmy, Grammy, Oscar and Tony. Among the crème de la crème are Richard Rodgers, Marvin Hamlisch and Mel Brooks.
BroadwayWorld took time to talk to Menken about vying for the fabled EGOT, writing for television, and the possibility of creating a new musical series for ABC. Plus, Menken discusses ALADDIN opening in Toronto and on Broadway, redeveloping THE HUNCHBACK OF NOTRE DAME for the stage with Stephen Schwartz, and new projects with Douglas Carter Beane, David Zippel and Harvey Fierstein, as well as seeing his work spread across the globe.
---
You just wrote "Broadway Alien Song" for The Neighbors, and I watched the video. It's hilarious -- I loved it!
I love the song, too.
Can you tell me a little bit about the process of writing the song? Is writing for television different?
It is different in its own way. The whole experience is very much a hybrid. But let's start back with DAN FOGELMAN, who created THE NEIGHBORS. He was our book writer on TANGLED, the Rapunzel musical we did with Disney, and there was a learning curve for him on that being the book writer. And I actually didn't know then, as I was working with Dan, how multi-talented he was. I knew he was a really funny writer, and really good. So, when Dan came to me about THE NEIGHBORS, first of all, I looked at the show, which I loved, and then I went to Glenn Slater because Dan and I had worked with Glenn on Rapunzel, and so we both got really excited about working with him again.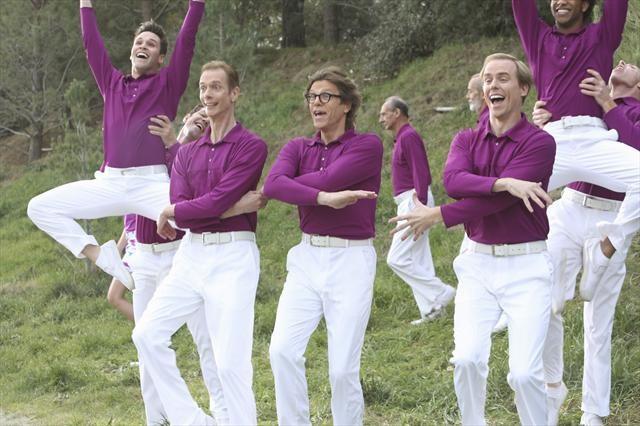 When we looked at the show and talked about the basic premise, it seemed to me clearly it was going to be a tongue-in-cheek pastiche of some kind of a Broadway number. And I thought it would be fun to do a pastiche of "Belle". It's basically that [The Neighbors] have gone to a Broadway show, and now they want to learn about all of these new and wonderful things in this world of humans. And so Glenn, of course, came up with a list of completely inappropriate, ridiculous things that they want to do, but all done to music. I guess it's kind of like "Belle" from BEAUTY AND THE BEAST.
And we had a ball. We just had a blast doing it. As far as process, Dan was delightful to work with because he knows what he wants, but he's also a big fan. The cast, again, they were novices at this but so happy to learn. And I had Michael Kosarin, my regular conductor, come out and work with me on this, and Michael Starobin, so it was like home for us. It was a lot of fun.
Would you compose again for television?
Oh, yes! In fact, Dan and Glenn and I are developing something -- a new musical series for ABC.
Oh, really? Can you talk about that a little bit?
Not much. [Laughs.] Because it's still in development, and it's too early to talk about. But as we were working on this, it was kind of a love-fest between us and the whole production on THE NEIGHBORS, and it was a fun return for me to be working with some of the people who I've worked with at animation who are now over at ABC. So everyone would say, "Oh, we ought to develop something." And clearly, you know, FOX has GLEE, and NBC had SMASH, so ABC has been looking for something. I had been developing something a couple of years ago for ABC that did not get off the ground, so we'll see if this one gets off the ground.
You know, television is different in that it's very much about the medium of television more so than musicals, and there's always a balance to be struck in terms of how much they're going to let us dictate the musical context of the show, and how much the TV executives are going to be concerned about character and continuing storylines and the demographics and things like that, which are totally understandable. But it's a fun medium. You get to write something and within a week you're doing it! It's not like a film or on Broadway where it's possibly years out when you're writing something.
So for the new series, can you say whether it would be all original music, or more like GLEE with covers of popular songs?
If I'm going to do it, it's going to be original music. I'm not interested in being the producer of somebody else's song. We've been talking about some concepts for musicals within TV shows.
OK, so going back to the EGOT. If you were to win an Emmy for your work on THE NEIGHBORS, you would be joining Richard Rodgers and Marvin Hamlisch--
And Mel Brooks, who won the Tony for the score for THE PRODUCERS... But yeah, it's a select list of people.
So what would it mean to you? Is this something you've been striving for?
I hadn't been thinking much about it, and then my agent said, 'You know, you want to aim for the EGOT. You want to think about doing something." Very enthusiastic guy, my agent/manager. And so I'd been talking to various people about ideas, and THE NEIGHBORS came along -- a really neat idea. And again, the series is so much fun. I would be delighted just to do another musical series for THE NEIGHBORS. There's nothing more fun than people who are as clueless as them singing a Broadway musical number.
So, what would the EGOT mean? TV is a medium where I've been an outsider for the most part. I think I had one previous nomination for -- I can't even remember, it's been so long -- I did a Lincoln mini-series years ago. But again, it's not an area I've really been deeply involved in, so it would be a level of welcome and acceptance that would be extraordinary. And is it likely to happen? I don't know. I have not a clue, to be honest. But I put my best foot forward, and if it works out, great, and if not, I still want to keep working in television, as well as the stage.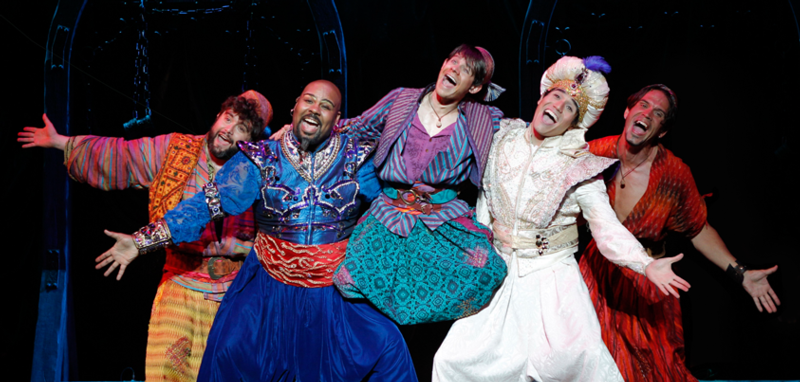 Speaking of the stage, let's talk about some of your other projects. ALADDIN is coming up in Toronto!
We're doing last-minute additions and changes on ALADDIN, but basically what we're doing is a version of the production that we did in Seattle at the 5th Avenue Theatre a couple years ago. It's so much fun, the team is great. Casey Nicholaw is directing and Chad Beguelin is writing the book and the new lyrics, and of course it has the lyrics by Howard Ashman and Tim Rice from the original.
And we've gotten to go back to a device that
Howard Ashman
and I had created for the original version of ALADDIN that we did at Disney, with a Hope-Crosby road picture sensibility where these guys are a traveling troupe of beggars/singers. And then, of course, Aladdin gets pulled into this adventure and the guys follow along. So it
is
the movie, and yet it has this extra element that is really a lot of fun.
I know you've gotten to write some new material and add some cut material to the show.
A lot of cut material. And then we have HUNCHBACK. It's Stephen Schwartz and I and Peter Parnell, directed by Scott Schwartz, Stephen's son. We're developing HUNCHBACK for the stage, and last time we did that, we did it in Berlin 16 years ago or 15 years ago, something like that. It expands on the movie considerably, but the basis of the score is the base of the animated movie.
We did a little table reading. We have these things at Disney -- we call them the Rooftop Players, I think -- and it's in-house. And then we did a reading of HUNCHBACK with actors as well, which was great. It was really moving and successful, so I can't wait to see that come to the stage.
And then I have a couple of new projects I'm doing. Some with teams I've worked with before, and some with new teams, all really exciting projects and high-profile names. But I think I'm going to annoy people if I actually mention the names.
Can you say whether they're related to Disney?
Neither of them are Disney-oriented or at Disney. Not that I have any problem being Disney oriented. [Laughs.] And we are actually doing some things with TANGLED, a spin-off kind of thing for stage and film. But again, that's in its very early phases.
Would this be TANGLED 2 or something else?
Possible projects involving a spin-off from TANGLED. I wish I could give you more. I don't want to get in trouble.
No worries, I understand.
I'm working on an original film musical project with Douglas Carter Beane and with David Zippel. Again, I can't go further than that. Umm... oh boy, one of the stage projects I'm working on is with Harvey Fierstein and Jack Feldman.
That's a fun team!
Yeah, we've had a great time working together.
And I recently got back from Tokyo where LITTLE MERMAID opened. Is LITTLE MERMAID still playing at Paper Mill? I think it's still at Paper Mill, and that's the production that's going to be going out for stock and amateur,
finally
. But we opened the production of MERMAID in Tokyo, which was just incredible. And that's doing really well. There's also a production in Moscow, which was great, and SISTER ACT's opening in all kinds of places around the world. And I'm going to Paris, where a new production of BEAUTY AND THE BEAST IS OPENING at the Mogador Theatre. So, it's a lot of stuff. A lot of juggling going around.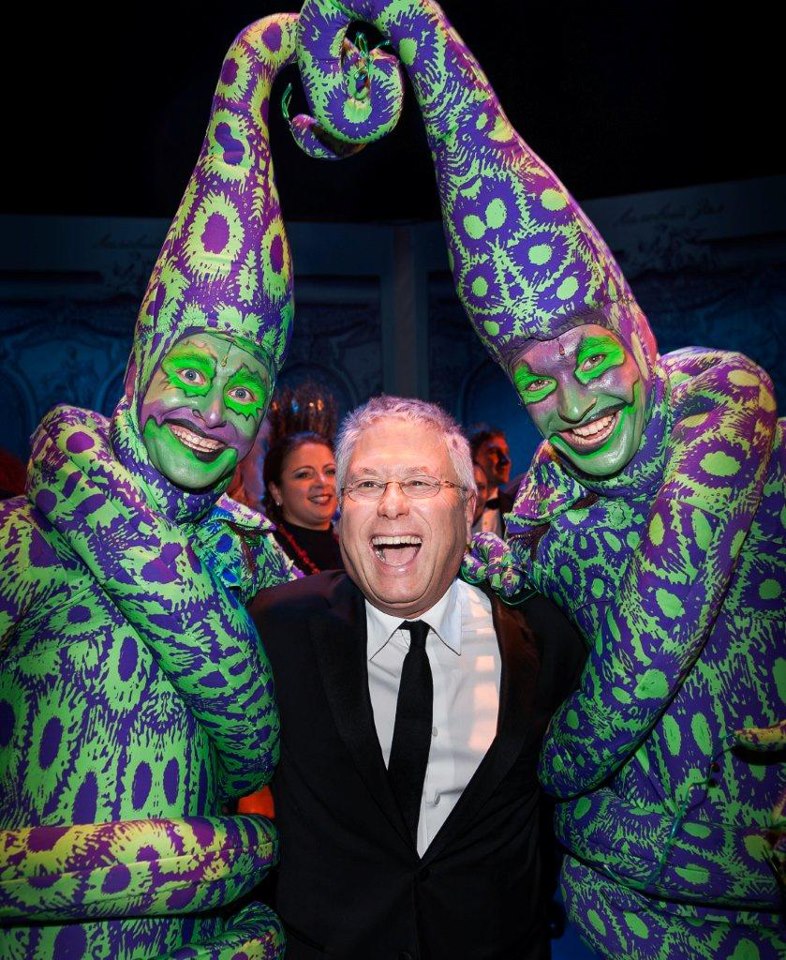 With all of your shows opening all around the world, do you see differences between countries' interpretations?
A little bit. It was interesting, when I was in Tokyo and I saw LITTLE MERMAID, I really felt a resonance in Japanese society for that story. But these stories are universal. And it's great when you see the father-daughter story or the fish-out-of-water story have different but at the same time similar resonances in different cultures.
And that's one of the great, great blessings of being around and doing as much as I've done, you really get to see the fruits of your projects come back to you in amazing ways.
Did I miss anything that you wanted to touch on, about the EGOT or your other projects?
I'm doing this concert in August out at Disneyland with Richard Sherman. It's going to be a lot of fun... That and playing tennis and enjoying my summer. That's what I have in mind at the moment.
I'm really excited about all of these projects, and I'm so happy I got to talk to you. Please do enjoy your summer.
Thank you, Jessica! It was good to talk to you, too.
Pictured: (banner) Alan Menken, photo by Walter McBride; (top) TIM JO, Toks Olagundoye and Simon Templeman record with composer Alan Menken for the "Sing Like A Larry Bird" episode of THE NEIGHBORS, which aired March 13, 2013. (ABC/RICK ROWELL) Used with permission © 2013 American Broadcasting Companies, Inc. All rights reserved; (bottom) photos courtesy Alan Menken Studio.