Edward W. Hardy Presents A Musical Evening Of Works Composed For The Theatre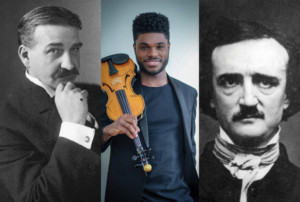 This Thursday, May 31, 2018 at 7pm virtuoso violinist and EtM Con Edison Composer-in-Residence Edward W. Hardy will be performing a mixture of musical genres with original music inspired by the writings of Edgar Allan Poe and L. Frank Baum along with other premieres and arrangements of Hardy's works all for free at the Turtle Bay Music School's Concert Hall. Hardy is one of the youngest composers to ever be accepted into the Exploring the Metropolis Con Edison Composer Residency and is one of the most prominent composer/ violinists of solo violin repertoire for theatrical productions in New York City.
This concert will have Mr. Hardy, along with Eric Cooper, Frédérique Gnaman and Eugene Dyson of Sterling Strings, performing several of his new compositions, selections from his previous off-broadway and off-off-Broadway shows The Pearl Diver, Lake of Sorrows, Master and Margarita and even from his score of the Off-Broadway smash hit "The Woodsman" - adaptation of L. Frank Baum's "The Wonderful Wizard of Oz".
There will also be a silent auction of items ranging from a never before released digital musical manuscript of hit off-Broadway show The Woodsman, a color service from the popular NYC hairstylist Nicole Ann Lucero of Unfade hair studio to even biding on one of Edward W. Hardy's violins that were featured on Fox News and used in his one-man show Six Violins.
A Musical Evening Of Works Composed For The Theatre is produced by Edward W. Hardy in association with the EtM Con Edison Composer-in-Residence program, the Turtle Bay Music School, the New York State Council on the Arts, and New York City Department of Cultural Affairs.
Thursday, May 31, 2018 at 7pm
The Turtle Bay Music School: Concert Hall
244 E 52nd St, New York, NY 10022
(Nearby trains: 6, E, M Trains)
Tickets are free (RSVP)
For tickets visit: http://bit.ly/PoeBaumHardy
Instagram, Facebook, Twitter
@edwardwhardy