Disney Struggling to Cast Lead Roles in Live-Action ALADDIN Reboot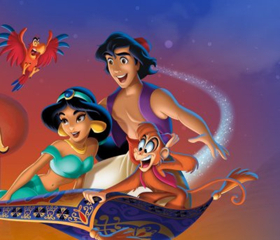 According to The Hollywood Reporter, Disney is struggling to find its leads for the recently announced live-action remake of its hit 1992 animated film ALADDIN. The site reports that the studio and the film's director Guy Ritchie put out a global casting call back in March in an attempt to find its Aladdin and Jasmine for the project. Casting agents from around the world were brought on board for what sources describe as, "a massive global search." Thus far, 2,000 actors and actresses have read for the roles.
Part of the casting difficulty lies in the studio's desire to find a male actor in his 20's who can both act and sing. Ideally, Disney is searching for someone of "Middle-Eastern or Indian descent" to portray the street rat turned prince. While production was originally scheduled to get underway this month, the search for actors has delayed the project. Sources reveal that while several rounds of screen tests have taken place in London, a suitable actor has yet to be cast.
Initial reports revealed that the studio initially showed interest in casting well-known stars Dev Patel or Riz Ahmed in the role of Aladdin. However, the current thought process is to cast a newcomer in the male lead. Among the names currently in the mix are Dutch actor Achraf Koutet, Canadian actor Mena Massoud and American actor George Kosturos.
For the role of Princess Jasmine, sources reveal that POWER RANGERS actress Naomi Scott or Indian actress Tara Sutaria are in the running. As previously reported, Will Smith will take on the iconic role of the Genie, originally voiced by Robin Williams in the film. Disney hopes to cast a known actor in the role of villain Jafar.
THR reports that Disney has now enlisted the help of award-winning producer Marc Platt and executive music producer Chris Montan in its search for the leads. Filming is now scheduled to begin next month.
Read the article in full here.
Image courtesy of Walt Disney
Related Articles