Click Here for More Articles on Debut of the Month Features
Debut of the Month: C-c-c'mon! Katlyn Carlson Makes Her Broadway Debut in BE MORE CHILL
Katlyn Carlson makes her Broadway debut as Chloe Valentine in Joe Iconis' new original musical Be More Chill. In the retro sci-fi musical comedy, achieving the perfect life is now possible thanks to the "Squip," a mysterious new ingestible technology. But does this miracle pill come at a cost that is too hard to swallow? Today Katlyn Carlson speaks to BroadwayWorld about making her Broadway debut in a show that proves you should always be yourself - especially if you're a loser...geek...or whatever!
[NOTE: BroadwayWorld's fabulous photographer Walter McBride captures images of the Broadway stars profiled in our monthly column in a special photo shoot. Check out the pics of Ms. Carlson throughout the feature!]
---
Congratulations on Be More Chill! This show has had such a unique journey to Broadway and you have been along for the ride from the beginning. What was your initial impression when you first got the script and heard the music back in 2015?
Oh my gosh, well of course I had heard of Joe Iconis, you can't really be even tangentially in the musical theater world and not know who Joe Iconis was back in 2015. And I had also heard of the novel. So I was immediately intrigued by the concept of the show, and when I did the initial reading prior to the New Jersey production, I just gravitated towards this music so easily. I remember thinking that it was unlike anything I had ever heard before in the musical theater world. And it just spoke to the teenager inside of me right away - the way that Joe was able to articulate this experience, and the way that Joe Tracz was able to articulate the teenage experience in his book. So I just instantly thought, 'yeah they're really tapping into something here' and it felt special right away. Of course you hope that every project you work on is going to be special in some way, but this was just a different kind of special - it had a little magic to it.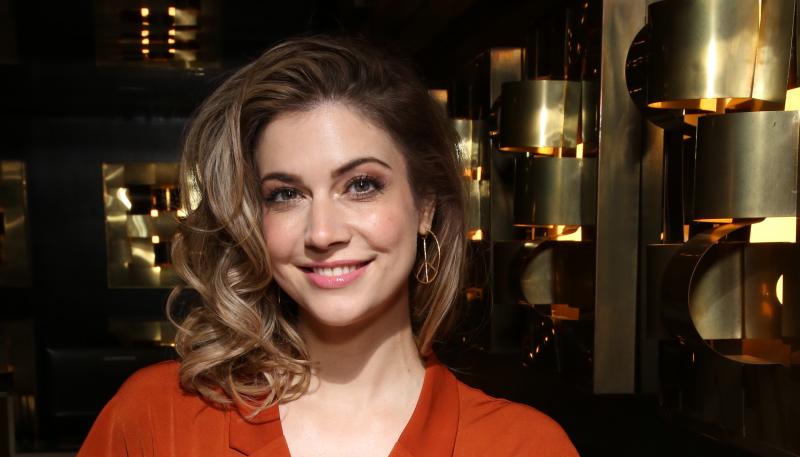 So it sounds like you had a feeling even back then that it was destined to go far.
Well we certainly hoped it would. During the experience in New Jersey we were having people, especially young people, coming to the show over and over and over again, which just doesn't really happen in theater in general. Not to mention seeing them sitting in the front row and singing these songs back to us when at that time, those songs didn't exist anywhere outside of that room. So yeah that felt pretty unusual and incredible. And just being in Red Bank together, it had this summer camp vibe and just fueled this instant camaraderie which made the cast really fall in love with each other. So it was just a really magical experience. And it was definitely a little heartbreaking when it didn't immediately make the transfer to New York in some form. But it never felt over, especially once the album happened. It just never felt like the chapter was closed.
Right, once the original cast recording was released it really caused an online frenzy among theater fans.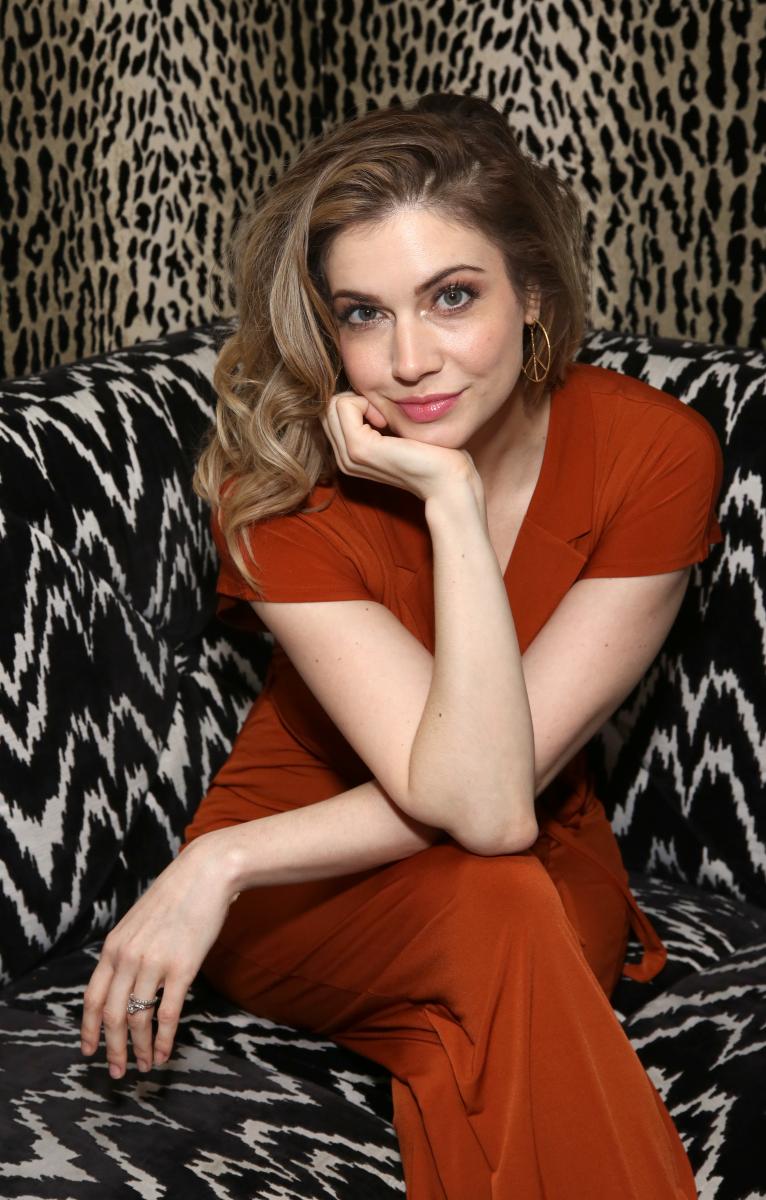 Well it took about a year and a half to really take off. I feel like the first several thousand streams or so on Spotify were those hardcore original fans in New Jersey. I guess it would have had to have started there. But after that it caught on like wildfire and literally spread across the world.
You originated the role of Chloe, who is depicted as the "mean girl" of the story. Were you able to draw from your own high school experiences when creating this character?
Well I was definitely not the mean girl in high school, I was much more like the Christine or Jake in our show, the overachiever theater kid who was in all the clubs. So I'm able to tap into that experience from the outside of what it was like to have that person like Chloe intimidating you and making you feel terrible. But what I love so much about this iteration of the production is how much richer and deeper every character is now. And they really illustrate the idea that even the highest person in the hierarchy has their own issues that they're wrestling with. And now I'm going to get a little nerdy but... I love Pink Floyd, and as a high schooler I loved this one lyric in the song "Comfortably Numb" and it sort of became my anthem for Chloe. And the quote is "I can't explain/You would not understand/This is not how I am." And that's sort of true for everyone and it's certainly very true for Chloe.
So you can actually sympathize with her in some ways?
Well I think she is desperate to hang onto her status and she doesn't know any other way to do that other than to be scary. And she resents Brooke because she knows that people like Brooke because she's nice, but people only like her because she's popular and because they are scared and intimidated by her, instead of liking her for who she is. So I can look at her from a kind of sympathetic angle that, yeah, she's basically still a kid trying to figure out how to navigate the world of high school - and that's not an easy thing to do.
What has it been like to meet with young fans who have seen the show?
Oh my gosh, I think we have the best fans in the history of musical theater! The last few nights they have just been standing out in the rain just waiting for us. The other night there was a "Michael In the Bathroom" sing-along at midnight. It was unbelievable! And I admire them so much because they are so self-possessed in a way that is really astounding to me. I don't remember being so confident at that age, to be waiting at the stage door and just so excitedly telling an actor they admire how much they admire them. That would have been very intimidating to me. So the fact that either they love the show so much and that helps them come out of their shell to do that, or that they're just that self-possessed as to be talking to people who they consider their quote/unquote idols, is so impressive to me. I'm just blown away by them.
Speaking of show-stopping numbers like "Michael In the Bathroom," what is it like to sing these inspiring songs from the show?
It's just the greatest gift. They are just joyful. Even the songs that are emotional and that might be considered sad songs, have this upbeat and subversive quality to them that just feels so real and raw and it's just never not exciting to sing them. It's an amazing professional gift when we get to those "na na's" in "More Than Survive." I could cry every night. It's just an emotional wellspring!.
What advice have you gotten from your cast mates who are already Broadway veterans?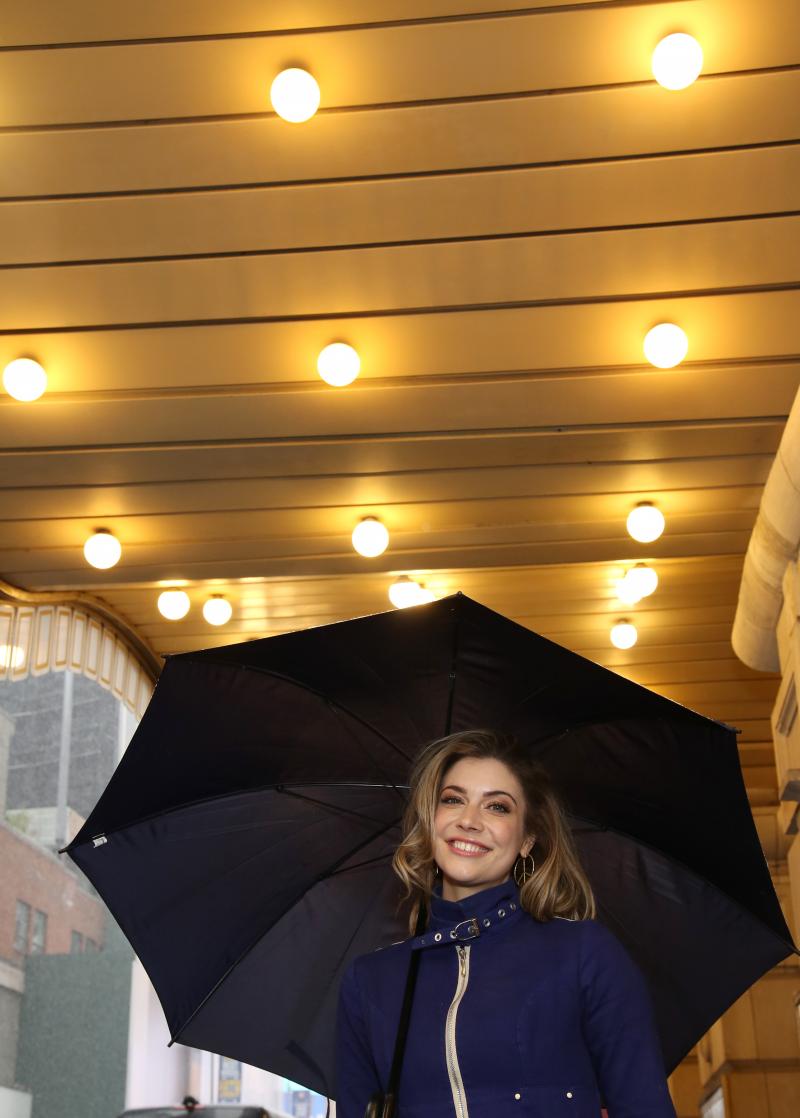 You know one of the sweetest things about this experience is that it's several of our Broadway debuts and several of us have not only been on Broadway once, but several times, someone like Gerard Canonico and Jason Tam. And when we got the news that we were transferring to Broadway, the veterans were openly weeping as much as us debut folks. To them it was like, this isn't old hat, it is still so special and unique and meaningful. And that really touched me. So the advice has been less about, 'hey kid, here's how you survive on Broadway" and more like 'embrace it, look around, look at this space, look into this house, look all the way up into the balcony.' So their advice has been more like making sure that their fellow cast members are appreciating the magic that we've all been plopped right into the middle of.
What was it like to make your Broadway debut in Be More Chill?
Well the night before was our final invited dress rehearsal and it was a pretty full house, so that was my first time performing in front of a Broadway audience. And I remember I was wondering if it was going to hit me at all. I was like, maybe it won't hit me, maybe it will just feel like any other show. Maybe it's too big and I'm too detached from the audience to really feel any different. But then the night of the first preview, my parents came into town and it was my husband's birthday, so I met with all of them before the show and we were all just buzzing with energy. My parents were about to burst out of their skin. And I was like, 'okay, this is too much for me to handle, I'm going to go.' And I went to my dressing room and stepped inside and just burst into tears and sobbed for like ten minutes. I was just so grateful, so grateful, and it really, really hit me how much I have wanted this for this show, wanted this for myself, and just so grateful to share this show with nine hundred people every night. It's just mind-blowing. So yes, during that first preview there were several moments where I was holding back tears. I remember that first moment I stepped on stage and I thought, 'ok, this is it. I literally just made my Broadway debut.' And luckily in that number I'm behind these giant white sunglasses so if I teared up, it was okay. But yeah, I'll just never forget that night!
BroadwayWorld congratulates Katlyn Carlson on her Broadway debut in Be More Chill! The actress originated her role of Chloe in the musical at Two River Theater, and again off-Broadway. Her other theater credits include off-Broadway's The Unavoidable Disappearance of Tom Durnin and the First National Tour of Dirty Dancing. Her Film and TV credits include Holly Star, Going In Style, My Name is Jerry, Happy Together, Henry Danger, Master of None, Alternatino with Arturo Castro, Billions, and The Jim Gaffigan Show.