Carol Burnett Awarded First Ladies Of Laughter Spirit Award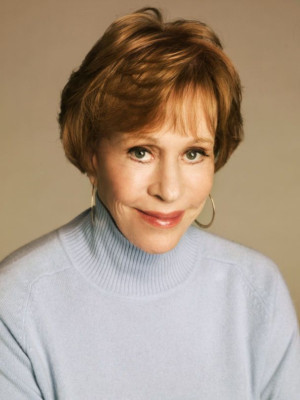 Carol Burnett will be publicly awarded the first Ladies of Laughter Spirit Award at the 2018 Ladies of Laughter National Competition Grand Finale at Gotham Comedy Club in New York on August 15th.
"I am so honored to receive the first-ever Ladies of Laughter Spirit Award," said Ms. Burnett. "If performing comedy brings people joy and laughter, I can think of no higher calling," she added.
One of the most popular comedians on television during the 1960s and '70s, Carol Burnett became popular through television guest appearances and specials before receiving her own comedy-variety program, The Carol Burnett Show, in 1967. The show ran for 11 seasons. Ms. Burnett has also appeared in a number of feature films, and on Broadway. She published her autobiography, One More Time, in 1986. In 2013, she became a recipient of the Kennedy Center Honors, one of the most respected awards given to creative artists who have influenced American culture.
The women themselves who entered the 2018 competition chose Ms. Burnett as the recipient of this year's Spirit Award. When asked to name the person who was their first inspiration to pursue comedy, there was no competition - Ms. Burnett received more votes than anyone else.
"Without even knowing it, Ms. Burnett through her long and illustrious career influenced countless young women to be funny and try their hand at one of the most competitive businesses in the world," said Peggy Boyce, Executive Producer and Founder of Ladies of Laughter. "We are honored and tickled she has chosen to accept our first-ever Spirit award," she added.
First established at a local YWCA in 1999, the Ladies of Laughter has awarded thousands of dollars and provided career opportunities to women stand-up comedians. It has gained a reputation as "the career-builder to women in comedy" through its national competition, and its Funny & Fabulous theater tour that features past winners.
For tickets to the Ladies of Laughter Grand Finale at Gotham Comedy Club on Aug. 15th, call (212) 367-9000 or go to http://gothamcomedyclub.com/event.cfm?id=509553&cart
For more information on Ladies of Laughter, go to www.ladiesoflaughter.org.
The 2018 Ladies of Laughter Remaining Preliminary Event Schedule:
Thurs. July 26th 8:00pm-BergenPAC. Hosted by 'One Funny Mother,' Dena Blizzard.  30 N. Brunt St., Englewood, NJ (201) 227-1030. Tickets can be purchased by going to:
https://www.bergenpac.org/events/detail/ladies-of-laughter
Wed. Aug. 8th7:30pm-Stand Up NY. Hosted by NPR's Ophira Eisenberg.  236 W. 78thSt., New York City-212-595-0850.  Tickets can ONLYbe purchased by going to:
http://www.ladiesoflaughter.org/standup-ny-ticket/standup-ny-august-8th-2018-730pm
https://www.youtube.com/watch?v=B6FeZR8LT9U