Click Here for More Articles on NEW YORK CITY
CRAZY EX-GIRLFRIEND's Vincent Rodriguez III and Composer Drew Gasparini to Lead Master Class in NYC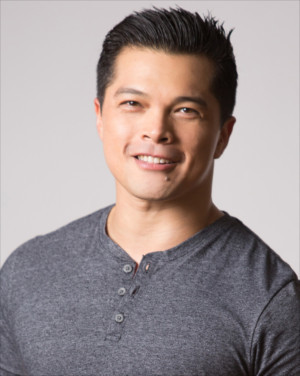 Vincent Rodriguez III, star of CW's "Crazy Ex-Girlfriend", and composer/lyricist Drew Gasparini will teach a master class titled "Performance and Business Empowerment for Artists" on Tuesday, December 5th at 3pm in New York City. Registration is now open.
Vincent Rodriguez III is a multi-talented performer currently starring in one of today's most acclaimed series, "Crazy Ex-Girlfriend" (now in its 3rd season on CW).
Drew Gasparini is one of today's most exciting musical theatre writers and a sought after educator.
Together, Vince and Drew have 25 years of combined professional experience in the entertainment industry, and on December 5 they will offer a three-hour master class focused on stage performance, approaching material, getting the callback, and expanding your business as an artist.
"Performance and Business Empowerment for Artists" is designed to prepare students to step back out into the fast-paced world of show business with a new confidence and a sharper skillset that applies on stage and in the audition room. Having themselves been empowered and inspired by those who tread the path before them, Vince and Drew are eager to pay it forward by sharing lessons from their own experience.
"Performance and Business Empowerment for Artists" taught by Vincent Rodriguez III and Drew Gasparini will be offered on December 5, 2017 from 3-6pm at Ripley Grier Studios in New York City (520 8th Ave, 16th Floor).
TO SIGN UP or for more information, email VincentAndDrewTeach@gmail.com. To enrich the experience of each student the class size will be limited to 10 performers, though there is an option for additional students to observe the class as an auditor. To ensure your participation in the class, full payment must be made by December 1st.
---
MORE ABOUT THE CLASS:
THE CLASS:
As a student in "Performance and Business Empowerment for Artists" you will receive ample one on one time with both Vincent and Drew where they will work with you on your approach to the material, your performance, song interpretation, and your technique. There will also be a Q&A at the end of class.
RATE:
The rate to participate in the master class is $250. As a reminder, the class size will be limited to 10 students.
To observe this master class as an auditor the rate is $50, and you will have the chance to watch each performer get critiqued, take notes, and participate in the Q&A.
TO SIGN UP:
Email VincentAndDrewTeach@gmail.com. Full payment must be made by December 1st to guarantee a spot.
WHAT TO PREPARE:
All students should bring a headshot, resume, and rep book, and should prepare either a short song or a 32 bar cut of your choosing to perform.
CANCELLATIONS:
If you sign up to participate in the class, please be aware that there is a 72-hour cancellation policy. With less than 3 days notice of the cancellation there will be no refund.
---
MORE ABOUT THE TEACHERS:
Vincent Rodriguez III is a Los Angeles-based actor, singer, dancer, magician, acrobat, stunt actor & fitness enthusiast. He currently stars as Josh Chan in CW's critically acclaimed, Golden Globe and Emmy Award-winning "Crazy Ex-Girlfriend". He also recently made his Assistant Choreographer debut on the show this season for his Gene Kelly inspired solo song & dance "I've Got My Head in the Clouds" and a Fosse inspired group number called "Strip Away My Conscience." Prior to moving to Los Angeles, he was a stage actor in New York City for 11 years, performing internationally in first national tours, regional theater, and Off Broadway.
Most recent stage credits include Disney's Hunchback of Notre Dame (Workshop, bi-coastal stage premieres & studio recording), Here Lies Love (Public Theatre), Pipe Dream (NYC Encores! & studio recording), Irving Berlin's White Christmas (Original Cast & recording) and the first national tours of Anything Goes, Xanadu, and 42nd Street.
Throughout his career, he has taken time in-between performing to teach at high schools, colleges, and performing arts programs. His classes range from workshops and masterclasses in audition technique, song interpretation, Broadway dance repertoire, on-camera auditions, and mock auditions (singing, dancing, or acting) geared for those preparing to enter the industry. He is passionate, enthusiastic, nurturing and a motivating teacher; focused on empowering his students and leaving them with the tools and techniques for them to reach their personal best and compete in the competitive job market of show business.
Vincent is currently filming season 3 of CW's Crazy Ex-Girlfriend in Los Angeles, CA.
Drew Gasparini is an award-winning musical theatre composer/lyricist and singer/songwriter. He has written the music and lyrics for several musicals including Crazy Just Like Me (winner: NYMF Best Of Fest), Make Me Bad (book by Alex Brightman), and Turn Of The Screw (book by Michael Kimmel; reading at Lincoln Center) to name a few.
Drew was a contributing composer for the television series SMASH (Season 2) on NBC and was named one of Playbill's "Contemporary Musical Theatre Songwriter's You Should Know." His work is regularly heard at esteemed NYC venues such as Joe's Pub at The Public Theater, and Feinstein's/54 Below. "The Music & Lyrics of Drew Gasparini" was presented at the Kennedy Center in Washington D.C. in 2012 and Lincoln Center in New York City in 2015. Drew's musical theatre/pop album "I Could Use A Drink: The Songs Of Drew Gasparini", featuring the vocals of some of Broadway's biggest names, was released by Broadway Records in 2013 and spent 6 weeks on the top 100 iTunes charts. Drew is an alum of the BMI Lehman Engel Musical Theatre workshop and his sheet music is available at www.NewMusicalTheatre.com where he is a top 10 best seller.
Drew signed a publishing deal with Razor & Tie Publishing in 2015, and since then his songs have been heard nationwide on TV programs such as "Gainesville" on CMT and NBC's "The Biggest Loser."
Amidst Drew's writing and performance schedule, he makes sure to find the time to teach, whether in private coachings or larger scale master classes and workshops. Drew focuses on bridging the gap between genres, performance technique, selecting/approaching material, and auditioning.
Currently Drew is working on several new projects including a musical adaptation of Night Shift commissioned by Warner Brothers Theater Ventures, an adaptation of the movie/novel It's Kind of a Funny Story (book by Alex Brightman) commissioned by Universal Theatrical Group, as well as an adaptation of the children's novel Whipping Boy (again with Alex Brightman).