Click Here for More Articles on JEREMY JORDAN
Broadwaysted Podcast to Present 'It's a Broadwaysted Life' to Benefit Broadway Bound Kids Starring Jeremy Jordan, James Monroe Iglehart, Michael Cerveris, More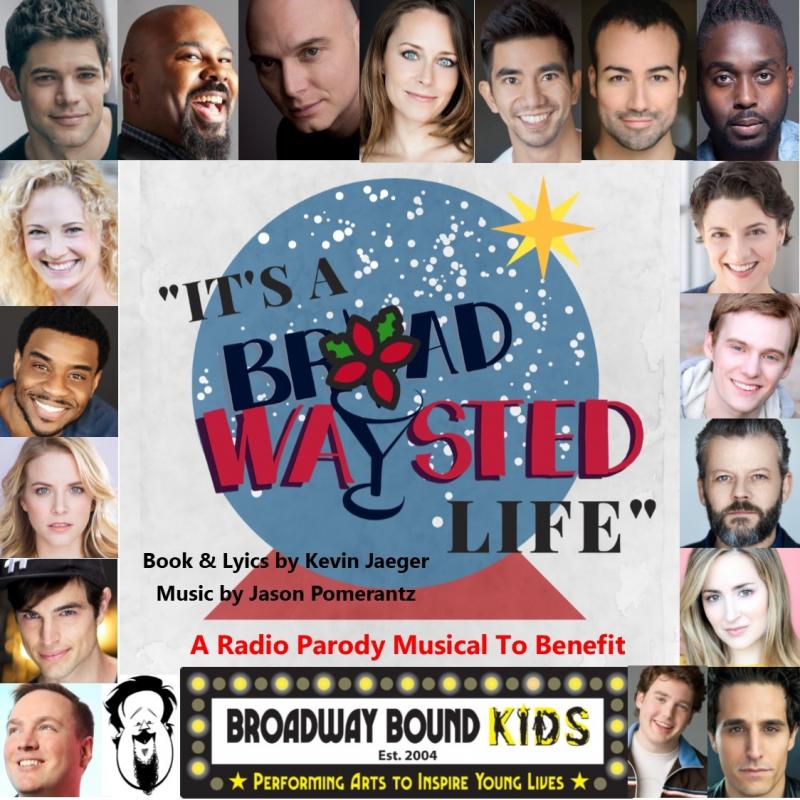 This December, the popular theatre podcast Broadwaysted is once again releasing a star-studded parody radio play to celebrate the holiday season...and this time, it's a musical!
Jeremy Jordan (American Son, TV's "Supergirl"), James Monroe Iglehart (Hamilton, Aladdin), and Michael Cerveris (Fun Home, Assassins) lead the cast of It's A Broadwaysted Life!--a spoof of the Frank Capra classic "It's a Wonderful Life"--that airs as a month-long campaign to sponsor students of the non-profit Broadway Bound Kids!
Also starring Jenn Gambatese (School of Rock, Disney's Tarzan), Aaron J Albano (Cats, Newsies), Brendon Stimson (Mean Girls, Newsies), Hayley Podschun (Hello Dolly, Paper Mill's Holiday Inn), Tee Boyich (Mean Girls), Caesar Samayoa (Come From Away), Mykal Kilgore (NBC's Jesus Christ Superstar Live!, Encores! Songs for a New World), Antoine L. Smith (Carousel, The Color Purple), Jeremy Kushnier (Head Over Heels, Footloose), Hannah Elless (Bright Star, The Other Josh Cohen) and Jared Zirilli (Summer, Lysistrata Jones) and introducing Madison Stratton (New York City Center's Brigadoon) in the role of Mary, this three-part event features Special Appearances by Andrew Briedis, Robbie Rozelle, Jay Schmidt, and Justin "Squigs" Robertson.
As an added bonus, It's A Broadwaysted Life! also proudly features David Contreras, Mila Dorji, Shelkar Dorji, Sheridan Hauser, Monica Hayon, and Liam Ireland from Broadway Bound Kids in the cast as all the young roles.
Broadway Bound Kids is a non-profit that inspires and empowers young lives through the performing arts in a transformative and inclusive community. It's A Broadwaysted Life! is running as a benefit to offer a one-year scholarship to as many NYC students as possible.
It's A Broadwaysted Life! is written and edited by Kevin Jaeger and features original songs composed by Jason Pomerantz with lyrics by Jaeger. Part One of It's A Broadwaysted Life! will be available December 4th, 2018 with Part Two arriving on December 11th and Part Three on December 18th. It's A Broadwaysted Life! The Bartender's Cut (all three parts in one with special features) will be released on December 25th. All parts will be available for free on Broadwaysted on iTunes, Spotify, and all other major podcast streaming platforms.
---
About the Show: Join the hilarious happy hour antics on Broadwaysted every Tuesday as the Brightest Stars of Broadway have a few drinks, play a few games, and share a lot of laughs with host Bryan Plofsky, co-host Kevin Jaeger, and Game Master Kimberly Schmidt.
The recipe is simple. We take a generous pour of Delightful, Delicious, and Delovely featured show segments like "What Have You Seen This Week," "Stage Door Stories," and "Tuesdays in the Corner with Kevin"--mix in a few original games created by our resident Game Master Kimberly--and top it off with a healthy serving of Bryan's Pun-tastic Ponderings. What you get is a podcast filled to the brim with laughs, insight into the NYC Theatre Scene, and a hangover-free cocktail hour with your favorite stars.
Since May of 2016, Broadwaysted has released over 100 episodes and their growing #FriendsoftheShow guest list includes Broadway Legends, Fan Favorites, Fresh Faces, and a whole lot of Newsies,
Twitter: @Broadwaysted
Instagram: @Broadwaysted
Bryan's Twitter: @nuttyplofessor
Kevin's Twitter: @JaegerKev
Kimberly's Twitter: @KimberCoops
Facebook: Join our group Broadwaysted #FansoftheShow to exchange game ideas, share theatre thoughts, or chat with other #FansoftheShow

Related Articles
Broadwaysted: Where we're drunk on Broadway! Literally. This isn't your typical theatre podcast. Come "take a glass together" with us every Tuesday! Join our cocktail (read more...)