Broadway's Babies Benefit Concert Returns On April 23, 2018 At The Highline Ballroom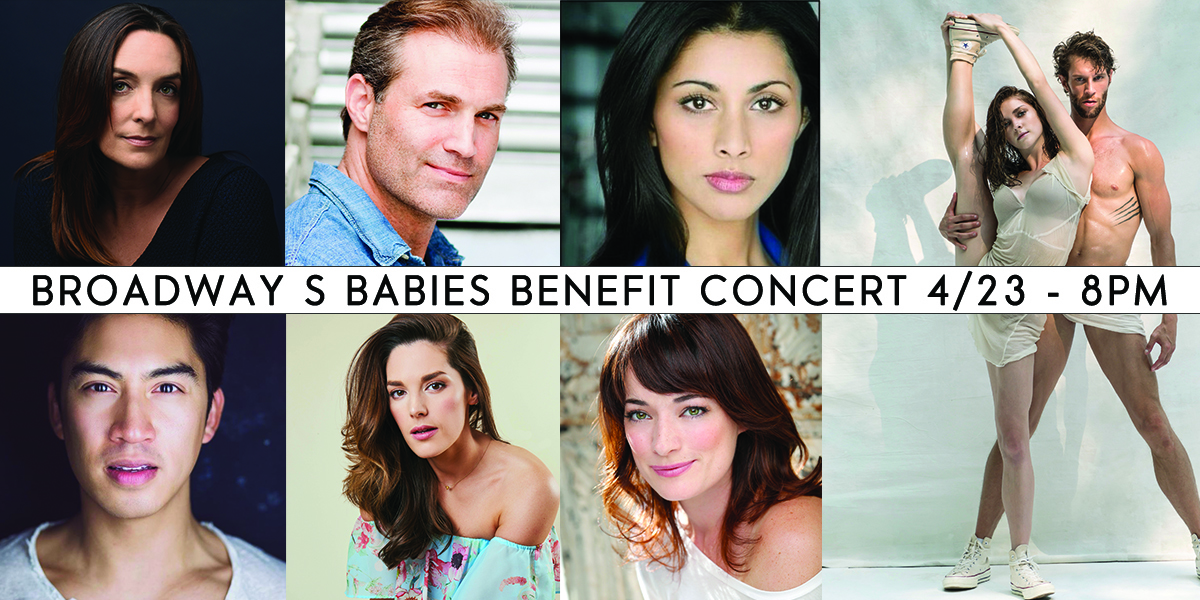 Join some of Broadway and TV's finest on Monday, April 23rd at 8pm at the Highline Ballroom for the return of the Broadway's Babies Annual Benefit Concert to help raise awareness and money for children in need in NYC and around the world. Produced by Kate Pfaffl (War Horse) and Ben Houghton.
Cast Members include:
Marc Kudisch - (Finding Neverland, 9 to 5)
Julia Murney - (Wicked, Wild Party)
Laura Michelle Kelly - (Finding Neverland, Mary Poppins)
Reshma Shetty - (TV - Blindside, Royal Pains)
James Whiteside & Cassandra Trenary - (American Ballet Theatre)
Jarrod Spector - (Beautiful, Jersey Boys)
Kelli Barrett - (Getting the Band Back Together, Dr. Zhivago)
Natalie Joy Johnson - (Kinky Boots, Legally Blonde)
Lauren Nicole Chapman - (Frozen, Kinky Boots)
Blaine Krauss - (Kinky Boots, The Great Comet of 1812)
Devin Ilaw - (Miss Saigon, Les Miserables)
Joshua Kobak - (American Idiot, Tarzan)
Clinton Roane - (Scottsboro Boys)
Vishal Vaidya - (Groundhog Day)
Rachel Zatcoff - (Phantom of the Opera)
Mia Gentile - (Kinky Boots)
Also featuring additional cast members: Skie Ocasio, Monica Kapoor, Christian Sineath, Heather Curran, Ta'Nika Gibson, Nikki Stephenson, Rachel Handler, Joshua Hinck, Connor Holloway, Justin Senense, Matt WB, Aaron Cooker, Deborah Jean Templin, Allyson Carr, Monette McKay, Deepa Liegel, Jon Epcar (Mean Girls) on drums, Lee Nadel (Waitress) on bass, and Oscar Albis Rodriguez on guitar (A Great Big World).
When we often feel powerless about how we can lend a helping hand to a world in need, Kate Pfaffl and Ben Houghton have created an annual Benefit Concert Series as an avenue for New Yorkers and Broadway performers to help those who need it most by doing what they do best: singing their hearts out on stage!
Broadway's Babies, their non-profit organization, is dedicated to giving a voice to the voiceless using the arts as a bridge to bring education, compassion, and possibility to children in need around the world. The upcoming Broadway's Babies Benefit Concert is raising money to fund their current programming which include two after school arts programs in NYC at WIN (Women in Need) homeless shelter and Urban Assembly High School for Global Commerce, a conservatory program (visual art, dance, drums, and music) for two schools for poor and disabled children at Wings of Hope in Haiti which provides full-time employment to four local teachers, and a Fellowship to send music educators to the Shanti Bhavan Children's Project in India. The success of their Annual Benefit Concert will help Broadway's Babies add three more after school arts programs in NYC, expand the music program in India, start a summer arts camp in Haiti, and to develop new arts programming for children in need in South Africa starting in 2019.
Help make a difference in the world. Give these beautiful children the tools they need to break the cycle of poverty as you watch Broadway stars share their voices and hearts to shine brightly in their honor.
Get your tickets today!
MONDAY APRIL 23 - 8pm - The Highline Ballroom
431 W 16th St, New York, NY 10011 (212) 414-5994
$25 student/standing room, $50 general admission, $100 premium reserved seating
For ticket reservations visit http://501auctions.com/broadwaysbabies
For more information vist http://www.broadwaysbabies.com
·