Broadway At R.Evolución Latina Announces 6th Annual Dance-A-Thon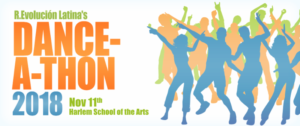 For the past 6 years, R.Evolución Latina (RL) has come together as a community to raise funds by daring to go beyond by dancing for 5 hours at their annual Dance-A-Thon. This grassroots event, has raised more than $200,000 since its inception.
The 2018 Dance-A-Thon, will take place on Sunday, November 11th at Harlem School of the Arts. This event is not only a fundraiser for our 2019 programming, but also an opportunity for the RL community to come together and celebrate the accomplishments of 2018.
After six weeks of fundraising, individuals will have five final hours to reach the $75,000 goal while they dance the afternoon away. In 2017 R.Evolución Latina allocated $20,000 from the event to help Puerto Rico after hurricane Maria and $5,000 to artists in Oaxaca Mexico, after the earthquake.
This year our youth continues to go beyond, as 20 campers will be part of the explosive opening number choreographed by Matthew Steffens. Accompanying our campers are Broadway performers Joomin Hwang (The Prom), Roddy Kennedy (Hamilton) Gabriella Sorrentino (Hamilton) Gabriela Garcia (Half-Time) and Brett Sturgis (On Your Feet). Hudson Flynn continues to become a larger part of this event as a one of Dance-A-Thon's master of ceremony.
Audience members will "CREATE+CONNECT" through dance and other fun activities/performances having a true theatre experience at this new venue in the heart of Harlem. RL founder and the event's Master of Ceremonies, Luis Salgado will keep everyone moving as DJ Franklyn Ayala keeps the beats flowing. Special guest D.J Ari NYC.
The Dance-A-Thon is open to all ages and everyone is welcome to attend and hit the dance floor Sunday November 11th, 1pm -6pm at Harlem School of the Arts - 645 Saint Nicholas Ave. New York, NY. For tickets visit REvolucionLatina.org

R.Evolución Latina (RL) is an organization that empowers the artistic community, and inspires growth within the Latino community through educational support programs, productions and partnerships. With the slogan "Dare to Go Beyond", the organization is modeled on what it calls "The Circle Effect", a platform that seeks to create a multilevel, multicultural, and multigenerational community where leaders are nurtured and supported, and they in turn make a difference and support others in their neighborhood. RL's most celebrated programs include the Beyond Workshop Series, an adult educational scholarship for professional and emerging artists, and the D2GB School Arts Program, which brings teaching artists to New York City schools year-round. The program integrates theater, dance, and music into the classroom to enhance achievement in math, science, literacy, languages, problem-solving, and critical thinking, among other areas.
For information about all of R.Evolución Latina's educational, community, and international partnership programs, the public can visit REvolucionLatina.org.