Broadway AM Report, 9/19/2016 - Celebrity Game Night and More!
Good morning, BroadwayWorld! Because we know all our readers eat, sleep and breathe Broadway, what could be better than waking up to it?
TODAY'S BIG NEWS: Laura Benanti, Andrew Keenan-Bolger, Andrew Rannells and more gather for Honest Accomplice Theatre's celebrity game night benefit!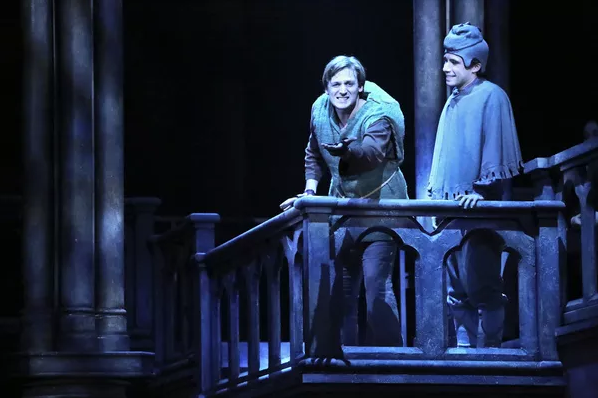 NEWS YOU MISSED THIS WEEKEND:
- Broadway's HELLO, DOLLY! announced more casting, its creative team and more!
- See who won big at the 2016 Emmy Awards - here's the full list!
- We got a first look (right) at 'HUNCHBACK' starring a deaf actor in L.A., a sneak peek at THE ENCOUNTER on Broadway, photos of LOVE, LOVE, LOVE in rehearsal, footage backstage with D.C.'s FREAKY FRIDAY, a first look at the Utah debut of Sting's THE LAST SHIP, a preview of Sierra Boggess performing 'PHANTOM' in French, and the first five minutes of FOX's ROCKY HORROR!
- TV Land's YOUNGER has gained yet another stage vet for Season 3.
- And Pulitzer winner Edward Albee, MTI's Senior VP Richard Salfas, and THE SOUND OF MUSIC's Charmian Carr have passed away...
Broadway Weather Forecast: Thunderstorms this morning and cloudy this afternoon, with a high of 76!
Quote of the Day: A word from legendary playwright Edward Albee, who died over the weekend...
"A play is fiction - and fiction is fact distilled into truth."
-- Edward Albee (via BrainyQuote)
What we're geeking out over: Alan Menken, Stephen Schwartz, Lin-Manuel Miranda and Robert and Kristine-Anderson Lopez celebrating the 25th Anniversary of Disney's BEAUTY AND THE BEAST on GMA!
---
What we're listening to:
"Sky High" from the DISASTER! cast recording,
out now
!
---
Video of the Day: In honor of the late Charmian Carr, watch her perform "Sixteen Going On Seventeen" in THE SOUND OF MUSIC!
---
And a Happy Birthday shout-out to RoseMary Harris, who turns 89 today!
Prolific stage actress RoseMary Harris will be seen in Broadway's THE FRONT PAGE this season. She last appeared on the Great White Way in THE ROAD TO MECCA, and before that, she took the New York stage in THE ROYAL FAMILY, WAITING IN THE WINGS, A DELICATE BALANCE, AN INSPECTOR CALLS, LOST IN YONKERS, HAY FEVER, PACK OF LIES, HEARTBREAK HOUSE, A STREETCAR NAMED DESIRE, THE MERCHANT OF VENICE, OLD TIMES, WAR AND PEACE, YOU CAN'T TAKE IT WITH YOU, THE SCHOOL FOR SCANDAL and THE LION IN WINTER, which won her a Tony Award in 1966. Among her off-Broadway credits are INDIAN INK, THE SEAGULL, MAN AND SUPERMAN and more. She launched her career in the UK, acting for the National Theatre, Chichester Festival Theatre and morE. Harris was inducted into the American Theatre Hall of Fame in 1986.
---
See you bright and early tomorrow, BroadwayWorld!
Related Articles
A Midwest native and Louisville-based journalist, Jessica is a long-time believer in the collaborative power of the performing arts. She has worked as a News (read more...)