Bobby Steggert Shares Essay on Why He Left Acting Career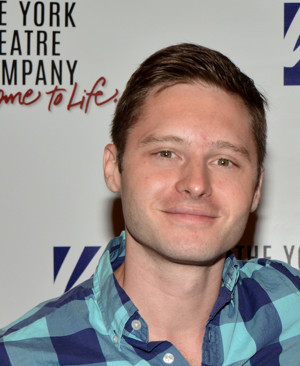 Bobby Steggert has shared a personal essay on why he left his acting career to pursue a master's degree in social work. The piece, titled "An Open Letter to the Artist," was written for the digital platform Medium.
"About two years ago, I completely turned my back on an acting career that I had spent twenty years building," Steggert begins. "I found myself increasingly discontented by the lack of control that every artist must submit to, and I found myself nauseatingly self-concerned in a job that threw me off balance enough to never quite feel stable."
He goes on to talk about while he still believes art to be extremely important, he believes that there is more out there. He had a goal to make a difference in people's lives that felt more "practical" rather than simply "giving metaphoric voice to the voiceless."
"Ultimately, I did what felt necessary to create a chance at more sustainable balance in my own life, and I don't have any regrets today as I work towards something happier," he said.
Read the full piece on Medium.
After appearing in, among other Broadway and Off-Broadway productions, "Master Harold"...and the Boys, A Christmas Carol, The New Group's The Music Teacher and columbinus at the New York Theatre Workshop, Steggert starred as Jimmy Curry in the 2007 Broadway revival of the musical 110 in the Shade, a role which garnered him an Outer Critics Circle Award nomination.
Steggert then appeared at the Vineyard Theatre in Manhattan as the male lead in the 2008 musical The Slug Bearers of Kayrol Island (Or, the Friends of Dr. Rushower). For his role, he was nominated for both the Drama Desk Award for Outstanding Featured Actor in a Musical and the Drama League Award for Distinguished Performance.
He has appeared in numerous roles around the country. Highlights include the Dauphin in George Bernard Shaw's Saint Joan and Juliet in Shakespeare's Romeo and Juliet at The Repertory Theater of St. Louis, The Cripple of Inishmaan at the Milwaukee Repertory Theater, and "Master Harold"...and the Boysand Speech and Debate at L.A. Theatre Works.
He appeared in a production of Ragtime at The John F. Kennedy Center for the Performing Arts in Washington, D.C., in April 2009. He later starred in the short-lived Broadway revival of the Kennedy Center's production of Ragtime in the role of Mother's Younger Brother. He then starred in the Off-Broadway production of Yank: A WWII Love Story at the York Theatre Company in the spring of 2010.
He starred in A. R. Gurney's The Grand Manner at Lincoln Center Theater in the summer of 2010, opposite Kate Burton, Boyd Gaines and Brenda Wehle.
Steggert starred as Will Bloom in the musical version of Big Fish alongside Norbert Leo Butz and Kate Baldwin.
He most recently co-starred (as Will Ogden) with Tyne Daly in Terrence McNally's Mothers and Sons in 2014.