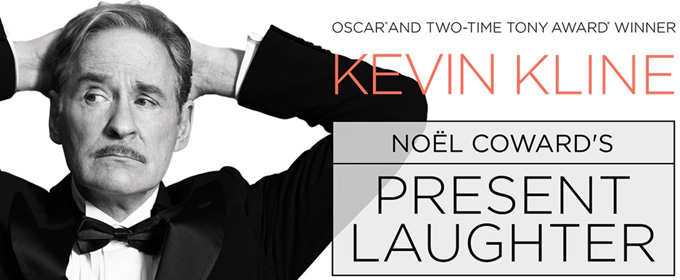 Click Here for More Articles on PRESENT LAUGHTER
BWW TV: PRESENT LAUGHTER's Kevin Kline & Company Get Ready to Bring Noel Coward Back to Broadway
Present Laughter will play Broadway's St. James Theatre (246 West 44th Street) this spring for a strictly limited 16-week engagement. Directed by Tony Award nominee Moritz von Stuelpnagel, performances are set to begin Friday, March 10, 2017, ahead of a Wednesday, April 5th Opening Night, and will play through Sunday, July 2nd.
Academy Award and two-time Tony Award winner Kevin Kline as Garry Essendine, Tony and Emmy Award nominee Kate Burton as Liz Essendine, Tony Award nominee Kristine Nielsen as Monica Reed, and stage and screen star Cobie Smulders as Joanna Lyppiatt, in her Broadway debut, will be joined by Bhavesh Patel of Broadway's War Horse as Roland Maule, Tony Award nominee Reg Rogers as Morris Dixon, Matt Bittner as Fred, Ellen Harvey as Miss Erikson, Obie Award winner Peter Francis James as Henry Lyppiatt, The Wolves breakout Tedra Millan as Daphne Stillington, and Sandra Shipley as Lady Saltburn, with Kelley Curran, Rachel Pickup, James Riordan, and David L. Townsend.
Present Laughter follows a self-obsessed actor in the midst of a mid-life crisis. Juggling his considerable talent, ego and libido, the theater's favorite leading man suddenly finds himself caught between fawning ingénues, crazed playwrights, secret trysts and unexpected twists.
The company just met the press and we're taking you inside the big day below!
Related Articles