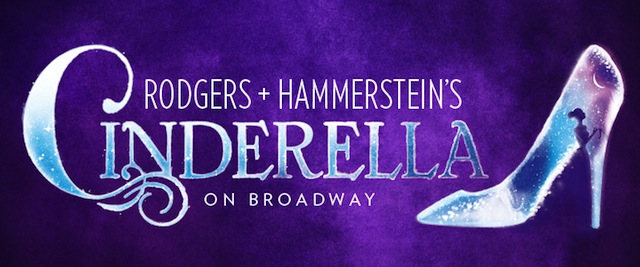 Click Here for More Articles on CINDERELLA THE MUSICAL
BWW Reviews: CINDERELLA Continues To Occupy Broadway
Zuccotti Park has gone back to being a rather nondescript patch of public space in Manhattan's Financial District, but the spirit of Occupy Wall Street lives on in the Broadway production of Cinderella, which is looking perfectly splendid over a year and a half after opening.
A new musical using the songs from the 1957 and 1965 Rodgers and Hammerstein Cinderella television specials, plus some little-known selections from the R&H trunk, the star of director Mark Brokaw stylish and spirited production remains Douglas Carter Beane's rollickingly fresh and funny new book, significantly inspired by the movement started by Zuccotti's 99-percenters.
In this telling, Prince Topher is a nice-guy orphan who has been naively spending his short reign controlled by a Lord Protector who has been passing laws to protect the wealth of the upper class at the expense of the poor. A brief chance encounter with the title character convinces her that he's a compassionate person who may not be aware of what is being done in his name.
Cinderella's relationship with her step-family is fleshed out a bit more. In fact, her actual name is Ella. The "Cinder" part is a derogatory nickname, though she eventually "takes back the word." Her step-mother married her first husband for love, but when she was widowed with two daughters to raise, she married Cinderella's now deceased father for money. ("He died. I got a house!") One step-sister is a self-centered brat, but the other is shy, bookish and has a crush on Jean-Michel, a local activist who organizes soup kitchens and makes speeches on behalf of those who have lost their homes due to unfair financial practices.
The Lord Protector decides to hold the ball that will find a bride for Topher as a way of distracting the public from the lad's accusations and, in a very clever scene, Jean-Michel's attempt to rally the public with "Now Is The Time" (an unused anthem written for South Pacific) is drowned out by the merry song and dance, "The Prince Is Giving A Ball." And while Ella is as excited as any other young lady in town to attend, her main motivation for wanting to go is not to snag a royal husband, but to warn Topher to open his eyes to the way his people are being treated. It's her selfless qualities and her generosity that earn her a visit from the fairy godmother and once she arrives at the palace, she wins over both the prince and his subjects simply by being a nice, friendly person. (Costume designer William Ivey Long's gorgeous and often comic creations include a stunner of a quick transformation into Cinderella's ball gown, which seems to be assisted by lighting designer Kenneth Posner.) There's still the pesky matter of the midnight deadline, but when happily ever after eventually arrives it comes with a message of valuing kindness, forgiveness and charity over physical beauty and to work for what you wish to achieve instead of depending on magical solutions to just appear.
Despite an announced closing date of January 3rd, press was invited to take a gander at the production's newest trio of stars. Though the title role is generally associated with light and crisp soprano voices (Julie Andrews starred in the original television special and Laura Osnes opened in this production.) there is lovely empathetic yearning brought to the role by Keke Palmer, whose expressive alto comes with fine attention to lyric phrasing and a minimum of contemporary embellishments. Her Cinderella realistically carries herself like someone who has suffered from a cruel upbringing and it's touching to see her joyously overwhelmed reactions when the character bravely steps out of her comfort zone and stands up for herself and for the people she cares about.
Judy Kaye is simply a classic choice to play the Fairy Godmother, bringing to mind traditional Rodgers and Hammerstein nurturing older women characters like Lady Thiang and Bloody Mary. Her majestic solo of "There's Music In You" is one of the more perfect moments to be currently enjoyed on Broadway.
Sherri Shepherd plays Cinderella's step-mother in the familiar evil manner. She's energetic and animated, but she misses the humorous nuances of the character written into the script. Like Annie's Miss Hannigan, the character is funny not because she's mean, but because she's frustrated with the way her life turned out.
Original cast members Ann Harada (hilarious as the bratty step-sister who miscalculates her romantic strategies) and Phumzile Sojola (whose soaring tenor is so exciting to hear as the town crier) are joined by Joe Carroll (appealingly normal and earnest as the prince), Stephanie Gibson and Todd Buonopane (both adorably dorky as the introverted step-sister and the jittery social activist). Original cast member Peter Bartlett, a long-time specialist in playing comically droll and dry characters, was out the evening I attended but his understudy Branch Woodman did a fine job as the Lord Protector.
Regrettably, there have been cuts made since opening night, including the opening sequence that showed Prince Topher humanely incapacitating an attacking dragon and angry tree-creatures instead of killing them, the step-mother's "I Have Loved and I've Learned" and the secondary romantic couple's duet, "I Haven't Got A Worry In The World."
But Cinderella remains a fresh and charming evening; one that teaches younger viewers important lessons about caring enough to change the world for the better and inspires hope with its message that impossible things are happening every day... if you make them happen.
Click here to follow Michael Dale on Twitter.
Related Articles
After 20-odd years singing, dancing and acting in dinner theatres, summer stocks and the ever-popular audience participation murder mysteries (try improvising with audiences after they?ve (read more...)