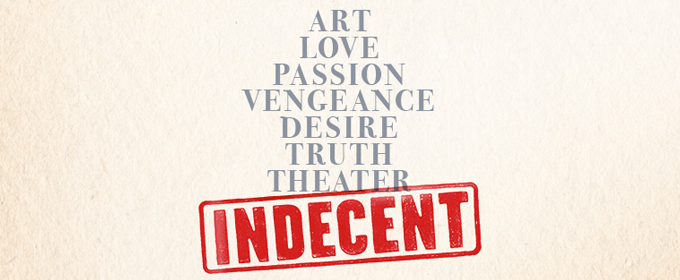 Click Here for More Articles on INDECENT
BWW Review: Paula Vogel and Rebecca Taichman's Thrilling INDECENT Recalls A Case of Broadway Censorship
Passion, as it applies to the need to create and communicate through artistic endeavors, is a word that can be overused. Certainly countless numbers derive immense pleasure from their participation in the arts, and may even feel an uncontrollable need for it. But to continue on despite the risk of losing your freedom, or even being killed for it... that is a display of passion.
There is a great deal of passion - beautiful, thrilling, powerful passion - on display at the Cort Theatre these days, where playwright Paula Vogel and co-creator/director Rebecca Taichman's gloriously uplifting Indecent has transferred from its Off-Broadway Vineyard Theatre run.
There's also a great deal of cleverness, especially in an unexpected bit of stagecraft in its opening moments that has a troupe of actors appearing to literally emerge from the ashes to tell the story of playwright Sholem Asch's Yiddish drama GOD OF VENGEANCE, which caused such tsuris when it opened on Broadway in 1923.
After the charismatic stage manager (Richard Topol) introduces the audience to his colleagues, they joyfully dance to klezmer rhythms as the dust of time pours off of them. The players then get down to the business of dramatizing how, in 1906, the young Polish playwright's tale of the daughter of a Jewish brothel owner who finds love in the embraces of prostitute during a romantic downpour is met with shocked outrage when the male members of a Warsaw literary salon first read it.
Such a depiction would encourage anti-Semitism, they argue. And their fellow Jews would be outraged at the final scene, where the angered father forces his daughter downstairs to work in the brothel and appears ready to hurl his Torah down at her.
They suggest he burn the play. Instead, he takes it to Berlin. GOD OF VENGEANCE is a success throughout Europe in the early years of the 20th Century, but when a New York production that originated at Macdougal Street's Provincetown Playhouse moves to 42nd Street's Apollo Theatre - even with revisions to appease any potential controversy - the play gets raided and the producers and cast, which included Morris Carnovsky and Sam Jaffe, get convicted on morality charges.
Soon after, we see the play being performed secretly in an attic of the Lodz ghetto, where Jews are determined to keep their theatre culture alive no matter what the risks. Try holding back tears while watching a small gathering of frightened people create a theatre space out of nothing because they cannot allow their art to die and their stories to cease being told.
The ensemble of seven actors and three on-stage musicians take on over forty roles, with several playing each actor cast in one of GOD OF VENGEANCE's roles as the play is performed through the years.
As Asch, Max Gordon Moore fits the bill as a quiet intellectual seeking to enhance his people's culture through theatrical realism. (He also has a great turn as one of GOD OF VENGEANCE's admirers, Eugene O'Neill.) Adina Verson plays both Asch's vivacious wife, who dreams of her husband becoming an important playwright, and the lesbian actor who is thrilled for the chance to play a woman who falls in love with another woman.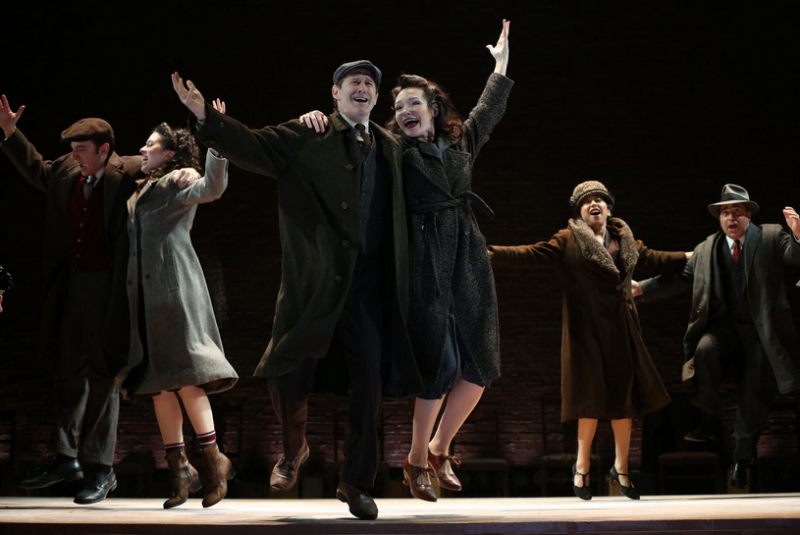 Magnetic Katrina Lenk (so impressive in THE BAND'S VISIT earlier this season) plays all the women cast as the prostitute, who aren't always completely comfortable with all aspects of the role. Charming Tom Nelis is the older authority figure who plays the actors who play the brothel owner, with Mimi Lieber and Steven Rattazzi completing the fine ensemble.
Only Topol remains in the same role; a nervous Polish visitor who is the only one present at the first reading who is touched by Asch's drama, and who, as stage manager, becomes the play's most ardent advocate. When, after the Broadway production closes, a dejected Asch decides that GOD OF VENGEANCE isn't worth the trouble it creates, Topol powerfully demands that there comes a point where a play is no longer the property of a playwright, but belongs to the people, and he insists that their fellow Jews must not have this valuable representation of their culture taken away from them.
Musical moments woven throughout the piece contain some traditional and popular songs, but the lively and moving klezmer score is composed by Lisa Gutkin (who plays violin and mandolin) and Aaron Halva (accordion, baritone ukulele and percussion). They're joined by Matt Darriau, who plays clarinet, bass clarinet and tin whistle.
The connecting tissue of the piece's collage of moments is the "rain scene" where Asch's lesbian characters first consummate their need for each other. Near the beginning of the play we just hear the playwright's wife expressing her admiration for it. Then we see the disgusted reactions of the elder literary men of Warsaw at the play's first reading. We get a glimpse of the moment's beauty when Lenk and Verson perform it in street clothes. Finally, there's an onstage rainfall and the two women, dressed in their nightgown costumes, play the moment in Yiddish.
To see that honest expression of mutual love, and to know the emotions it stirred in its time - both outrage and admiration - is a breathtaking moment that connects the audience with theatre history.

Related Articles
After 20-odd years singing, dancing and acting in dinner theatres, summer stocks and the ever-popular audience participation murder mysteries (try improvising with audiences after they?ve (read more...)