Review: New Light Theater Project's MEANINGFUL CONVERSATION is a Raw, Realistic Snapshot of New York Life
Sometimes you know exactly what to expect based on the synopsis of a play, and sometimes, after leaving the theatre, you got a lot more than you bargained for. With New Light Theater Project's Meaningful Conversation, I definitely received the latter.
Meaningful Conversation is a play in two acts, that explores the relationships between pairs of people when facing tricky situations. The life of the city of New York is breathed into the play, right down to the fire escapes and paper-thin walls. It is within the walls of one apartment in Astoria that the characters learn about themselves, and those around them.
The play takes place in the bedroom of David (Denver Milord), a twenty-something real estate agent. Walking into the theatre, we immediately are greeting with a home-like, comfortable feeling of a bedroom. I immediately felt like I was in my own apartment, and the energy welcomed audiences into David's world before the show even began.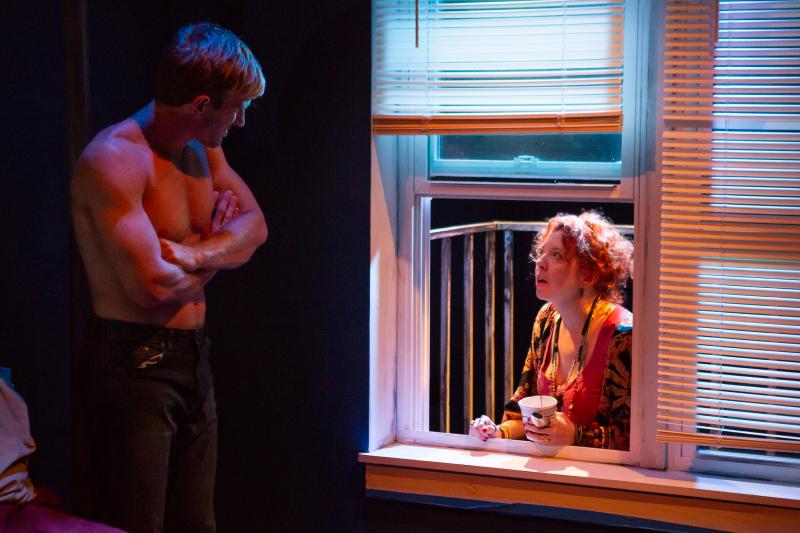 During the 2006 blackout, David is alone. Well, seemingly so, until his upstairs neighbor, a quirky young woman named Nat (Bethany Geraghty), descends the fire escape and surprises David at his window. He invites her inside and she convinces him to build a blanket fort within minutes. Watching David and Nat build a blanket fort on stage, from regular sheets, was fascinating. It created a new dimension to their world. I almost felt like a fly on the wall in a real bedroom, almost as if I was listening in on a conversation I wasn't meant to hear.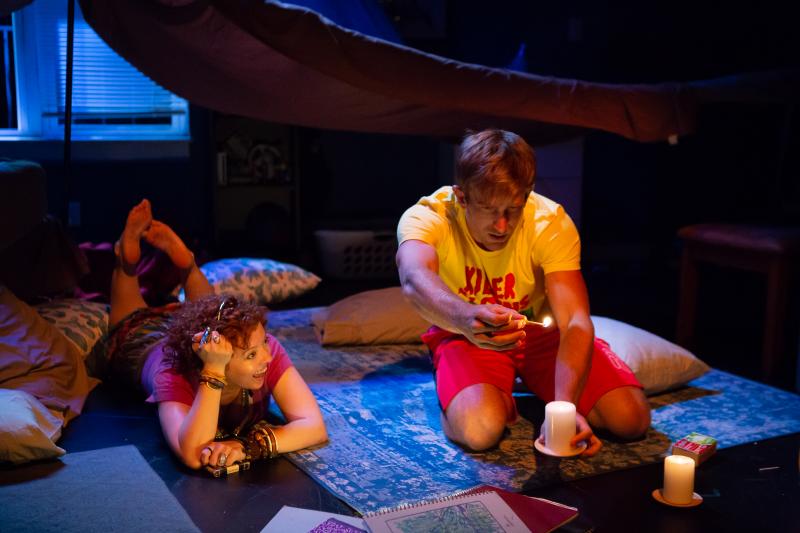 Within their newly crafted fort, the pair get to talking, about everything from intimate details of their childhoods, to past relationships, to Nat's seemingly past-tense alcohol addiction. They engage in a rousing game of Spit, in real-time, making the atmosphere of the play that much more realistic.
At one point, the pair hears a couple fighting outside and Nat takes matters into her own hands, threatening the man if he continues to bother the woman. She is clearly shaken by the encounter and makes David promise to call the police if he ever hears or sees a domestic dispute.
Nat prompts David to do something spontaneous and out-of-character, and, predictably, he kisses her. In the throes of passion, the pair knock down their fort and begin kissing more intensely, and eventually engaging in oral sex. Which, again, is so realistic it had the audience squirming.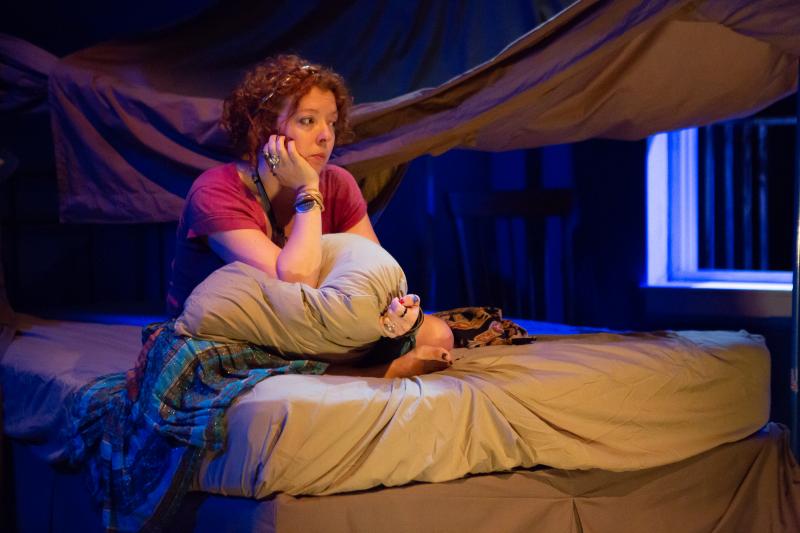 Geraghty plays Nat as such a fun, bubbly, and carefree person, that she is instantly likeable. She immediately gets the audience on her side, despite her somewhat troubled past. We root for her. She gets David to open up, telling her that he always leaves people, right when they need him the most.
Act Two takes place two years in the future, and if I hadn't heard the person next to me read that from their program, I wouldn't have known. Despite the fact that David is clearly no longer in a blackout, and has a woman in his bed who was never mentioned in Act One, there is little evidence to indicate that it is the future.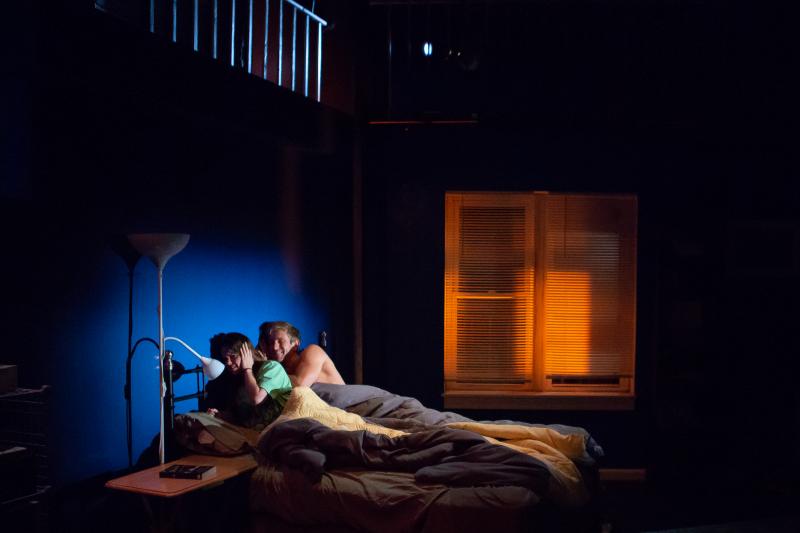 The woman in question is Lydia (Bertha Leal), a one night stand that David's best friend hooked him up with at the bar. The most unrealistic part of the play is just how comfortable the pair seem together despite having just met in a drunken encounter the night before. David tells Lydia all about the neighbors that he knows, including Nat, who he brushes off as someone with substance abuse who he's met once.
Lydia and David Are awoken by a couple in a neighboring apartment fighting. We hear snippets of their conversations when the actors press their ears to the wall. David calls the police, and we are instantly reminded that Nat told him to do so whenever he hears a couple fighting.
When the police show up and David goes downstairs to deal with them, Lydia is left alone in the room. We hear the familiar sound of footsteps on the fire escape, and Nat appears at the window. Despite her discomfort, Lydia invites inside an obviously intoxicated Nat, who proceeds to throw herself around the room and talk even more relentlessly than she did in Act One. When she alludes to what happened during the night she shared with David two years prior, Lydia gets uncomfortable and kicks her out, deciding to leave.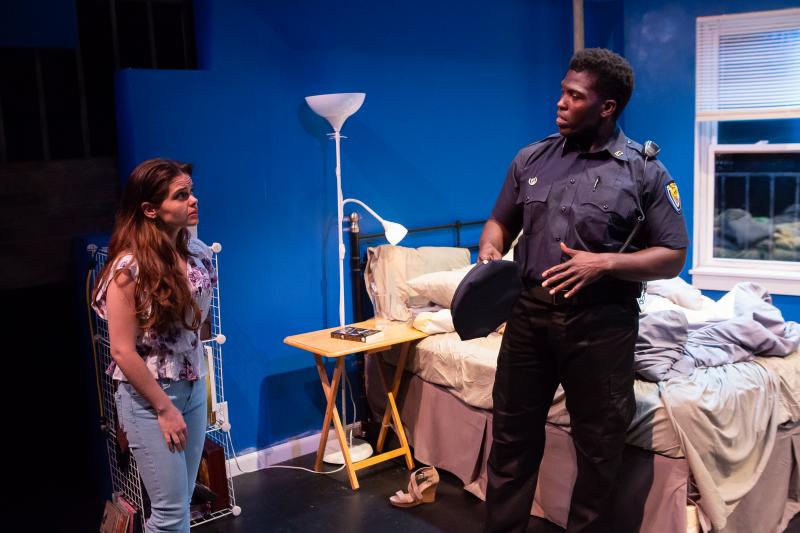 When David returns with the police, he convinces Lydia to stay until they get to the bottom of the issue. They are unable to determine where the fighting is coming from, but they hear Nat yelling upstairs and end up arresting her, saying that she assaulted them. Once they leave, David breaks down. Once again, he has let down a friend when they needed him the most.
The play ends with David deciding to try to bail Nat out, and Lydia leaving to go to her friend's house which is, conveniently, on the same block as the precinct. The pair leave together.
This is a play that I needed a night to sleep on before I could fully process what I had seen. The two acts, at first, seemed to be disconnected, aside from their shared characters. When Act One ended, I remember wondering where the play could possibly go because it felt complete at intermission. However, the second act is in place for David to redeem himself. I was happy to see him get that moment to contemplate doing the right thing, and ultimately go through with it.
Meaningful Conversation is raw and real. It depicts a snapshot of life like I've never seen on stage. It shows intimate relationships between pairs of people, and how they react differently to situations. By the end of the play, I felt like I had made new friends in these characters. I'd climb down my fire escape to hang out with them any day.
Photo Credit: Hunter Canning