Click Here for More Articles on Spoiler Alert! w/ @BWWMatt
BWW Review: MOANA is a Breathtakingly Beautiful Film Worthy of Disney Classics
As we move into the holiday season, undoubtedly there is much for everyone to be thankful for, and if you head out to the movie theatre over the long Thanksgiving weekend, chances are good that you will be counting your blessings that the gods have brought Disney's latest animated musical MOANA into your life. With a screenplay by Jared Bush and music by Mark Mancina, Lin-Manuel Miranda, and Opetaia Foa'I, MOANA is a gorgeous, charming film deserving of a spot amongst the Disney classics.
Set in the South Pacific, the visuals of lush islands and expansive oceans are breathtakingly beautiful. Moana is the sweet, inquisitive only child of the chief of Motunui Island, and will inherit his role as the protector of its people. For generations, Motunui has avoided the vast waters surrounding it, venturing only out to the shallow reef's edge. But, from an early age, Moana quite literally has felt called by the sea.
Moana's Gramma Tala, whom many on the island believe to be a few coconuts shy of a
bunch, tells her of the legendary past of their Wayfinder ancestors, and how a demigod named Maui stole the heart of the mother island Te Fiti. Due to this theft, over the centuries nature has been disrupted, and the ill effects are beginning to impact Motunui, ravishing their crops and drying up their fishing waters.
Encouraged by Tala, who knows of the special relationship that her grand-daughter has wth the ocean, Moana defies her father and sets out on the ocean to find Maui and return the heart of Te Fiti in hopes of saving her home. Moana is voiced by 15-year-old Hawaii native Auli'i Cravalho, and in some ways is a completely new take on the Disney princess. Without a romance insight, this journey is entirely about Moana figuring out what she is capable of as a leader and as a woman. While she does make quite the team with Maui, this "princess" is never the damsel in distress, and is never in need of saving from a man; demigod or not.
Despite never seeing her face, Cravalho becomes a star with her performance. Full of life, excitement, and strength, this character will almost certainly birth generations of fans much like Ariel, Belle, and Mulan have done before her.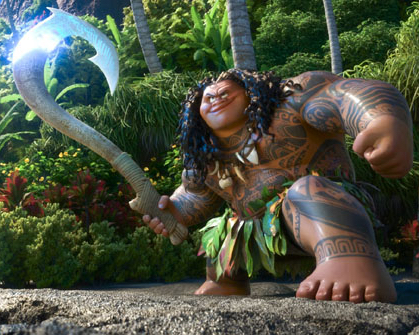 As Maui, Dwayne "The Rock" Johnson is unsurprisingly hysterical, but also shows a pretty impressive singing voice as well. The pair of Maui and Moana often feels like the Polynesian equivalent of Aladdin and Genie, if Genie had sarcastic, anthropomorphized tattoos and an ego the size of the ocean.
Like a lot of recent Disney musicals, MOANA doesn't have the full score that theatre fans would expect in a stage production, but what we do hear is a fantastic combination of traditional island sounds and pop showtunes. For theatre lovers, there are recognizable threads from previous Miranda works interwoven into the songs, including traces of Nina from IN THE HEIGHTS, Campbell and Danielle from BRING IT ON, and all of the Schuyler Sisters from HAMILTON. Most importantly, many of MOANA's songs have the unique Lin-Manuel Miranda ability to make you cry by the sheer force of their optimism.
In fact, both Miranda and Foa'I can be heard throughout the film, and regular Miranda collaborator Christopher Jackson provides the singing voice for Moana's father Chief Tui Waialiki (speaking voice by Temuera Morrison), and Nicole Scherzinger voices Moana's mother Sina Waialiki.
I would be remiss if I didn't mention Alan Tudyk's performance as Hei Hei, Moana's pet rooster, a
character described by the film's co-director Ron Clements as "the dumbest character in the history of Disney animation." Hei Hei is incredibly dumb, but is also adorably endearing. Moana also has a line that she regularly repeats that could eventually rival that of Inigo Montoya.
In most theaters nationwide, the Disney short INNER WORKINGS precedes the film. Very much like an INSIDE/OUT for the rest of your body, the fun, hand-drawn film follows a hapless man as his logical brain and his adventurous heart battle for control.
With all of the animosity percolating in our society today, MOANA provides a palpable respite for an hour and 53 minutes that is full of hope, joy, and sacrifice. Again Disney has found a way to bring us the exact movie that we need at the exact time we need it.
---
Check out the trailer for MOANA:
MOANA starring Dwayne Johnson, Auli'i Cravalho, Jemaine Clement, Rachel House, Temuera Morrison, Nicole Scherzinger, Alan Tudyk, and more, opens nationwide today. MOANA is rated PG for peril, some scary images and brief thematic elements.
---
Is MOANA a part of your holiday plans? Let me know on Twitter @BWWMatt. You can listen to me on BroadwayRadio or on BroadwayWorld's pop culture podcast Some Like it Pop.
Photo Credit: Walt Disney Pictures