BWW Review: Fiasco Brings A Rousing TWELFTH NIGHT To CSC
Sure, HAMLET may be William Shakespeare's dramatic masterpiece, but when pining for some romantic comedy, it's hard to beat Twelfth Night.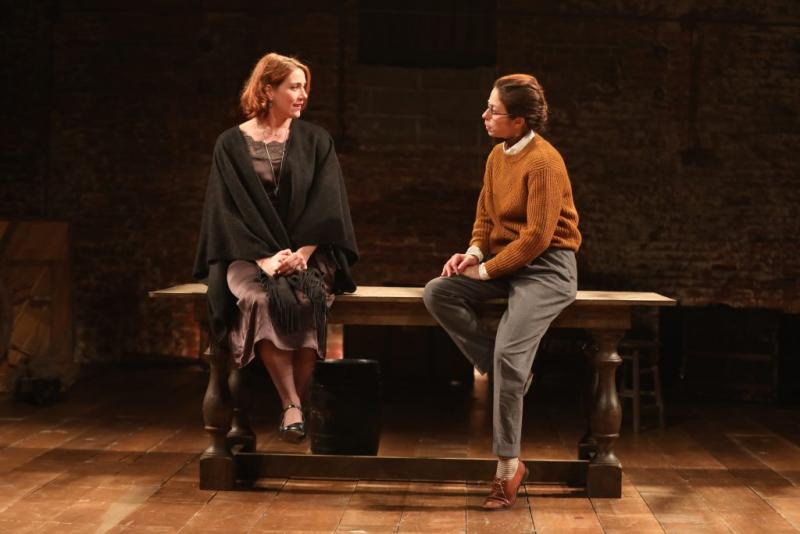 From its opening demand that, "If music be the food of love, play on," through its implausible complications fueled by clever wordplay, Twelfth Night is the kind of piece that bubbles with youthful energy as its characters awkwardly explore their romantic passions.
That youthful energy is delightfully brimming in Fiasco Theater's production, co-directed by two of the company's three artistic directors, Ben Steinfeld and Noah Brody, and housed in the cozy environs of Classic Stage Company's E. 13th Street venue.
With its wooden floors and furnishings, and a balcony hanging above, the set designed by CSC's first-year artistic director J.H. Doyle resembles a friendly rathskeller, with actor/musicians stationed in a corner and the company dressed in vintage wear designed by Emily Rebholz.
With seating surrounding them on three sides, there's a casual connection between actors and audience, as they tell the story of shipwrecked twins Viola (spunky Emily Young) and Sebastian (Javier Ignacio), separated and finding themselves on the shore of Illyria, with each thinking the other must have drowned.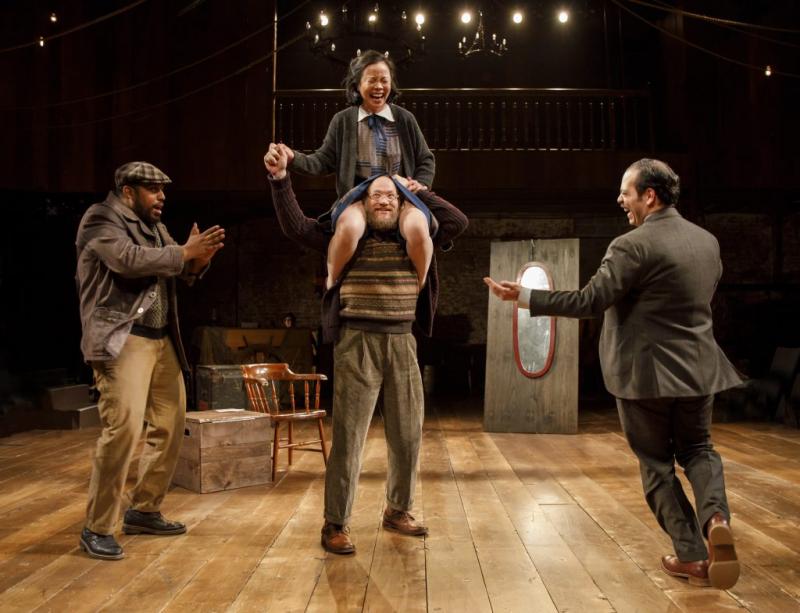 Disguised as the male Cesario, Viola gets a messenger gig with Duke Orsino (Brody), falling hard for her boss while he pursues the love of the uninterested widow Olivia (the third of the company's artistic directors, Jessie Austrian), who sees a reason to stop grieving when she surrenders to Cesario's unintentional charms. When Sebastian enters the mix, having been rescued by the brave sailor Antonio (a hearty David Samuel), confusion naturally abounds.
The parallel plot involves Olivia's uncle, the gregarious Sir Toby Belch (Andy Grotelueschen) who, with his buddy Sir Andrew Aguecheek (Paco Tolson) and his niece's maid Maria (very funny Tina Chilip), plays an elaborate joke on Olivia's pompous, humorless steward Malvolio (Paul L. Coffey), who is smitten with his lady.
All of this is observed by the jester Feste (Steinfeld, who also serves as music director), who comments on the foibles of romance through jest and song.
The rousing musical moments shared by the company enhance the merry spirit of the fun and fast-moving production.