BWW Interview: Writer JOEY FAMA, Choreographer LANE NAPPER, and Director/Musician MICHAEL PERRY of THE CARNIVAL KID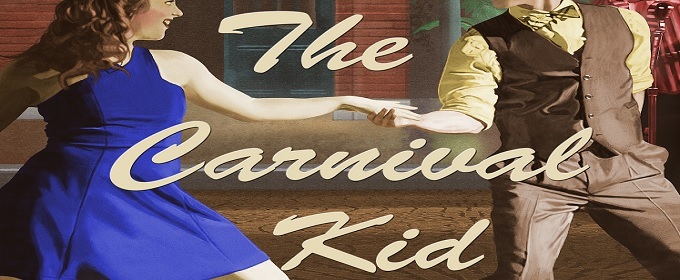 What is The Carnival Kid?
Travis has been having trouble concentrating at work, which tends to happen when all your thoughts have been replaced with an insatiable longing for your co-worker, in this case a woman named Adelaide. The Carnival Kid, an award winning and imaginative romantic-comedy short, follows Travis as he indulges in his fantasies of Adelaide while a Dixieland band provides a dreamy musical backdrop. This surreal Technicolor musical short film combines the music of Jour Majesty with the talent of Broadway and television stars to create a memorable spectacle reminiscent of the golden age of Hollywood Musicals.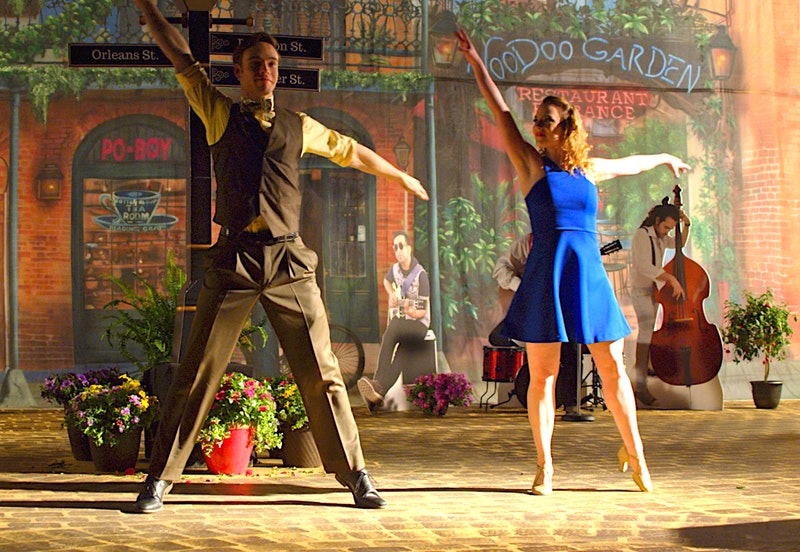 The Carnival Kid has already made a big splash, debuting last November to a full house at the Chelsea Fashion and Film Festival in New York City, were it earned rave reviews from those in attendance. More recently, writer Joey Fama was awarded the NOVA Jury Award, distributed by the Northern Virginia Film Festival, for excellence in film. Fama was also recognized for Best Drama Under 20 Pages, Best Comedy Under 20 Pages, and Best Teleplay Under 30 Minutes in addition to the iPitch Writing Award from Enginuity Film Festival.
An Interview with Joey Fama, screenplay writer for The Carnival Kid, featuring thoughts from Choreographer Lane Napper and Director/Musician Michael Perry
I spoke with writer Joey Fama about The Carnival Kid, detailing how he was approached for the project, what inspired him, how the multiple award-winning team was assembled, and where the film may go from here.
"Some of the best advice I ever got as a writer was to, at the very least, write down one good idea a day," said Fama, detailing where the plot for The Carnival Kid originated. "After I heard the song Carnival Kid (by the folk-pop band Jour Majesty) I began brainstorming ideas and I remembered one of these ideas I had several years before. It was kind of a dream sequence about a guy who can't get a girl out of his head." This idea seemed to fit perfectly with the song, so Fama approached Michael Perry, singer/songwriter of Jour Majesty with his suggestion. "He liked it and we went through a few rounds of editing and the storyboarding."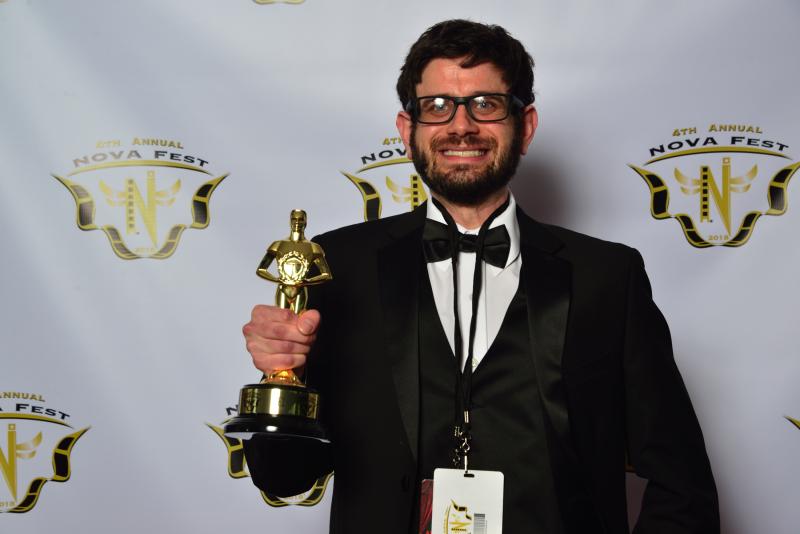 Fama had grown up around musicals and Broadway shows, although he never aspired to write a musical of his own. "I never dreamed I'd write a musical in any way, shape, or form. While I enjoy them a great deal it's just not something I had previously worked on." But this did not deter Fama once given the opportunity to expand his writing horizons. "When I talked to Michael and heard the song, I knew it was a great opportunity that I couldn't pass up."
Broadway has impacted Fama's writing for the better he said, explaining, "my mom and I go to New York a couple times a year, we always try to hit up a few Broadway plays and musicals. I am very fortunate to have this opportunity and I feel like it has had a very important influence on me as a writer."
How Jour Majesty and Joey Fama Teamed Up
Jour Majesty had several songs which they were hoping to produce a music video for. Fama was given the freedom to choose which song he thought he could best bring to life. "After meeting and talking for a while, we talked about me writing a script for one of his songs. He sent me a list of the songs he was interested in. They were all excellent, but the song Carnival Kid really stood out to me," said Fama. "I listened to it a bunch of times and I knew that was the one." The song at that point was only a demo, but Fama immediately saw the potential. "The funny thing was it was only a rough version of the song. It was the only song he had sent me that wasn't finished." Fama adds that Jour Majesty often poked fun at him for choosing the song. "We have kind of a joke that Michael and I tell people - that I am the kind of writer who picks the only uncompleted song on the album for a movie."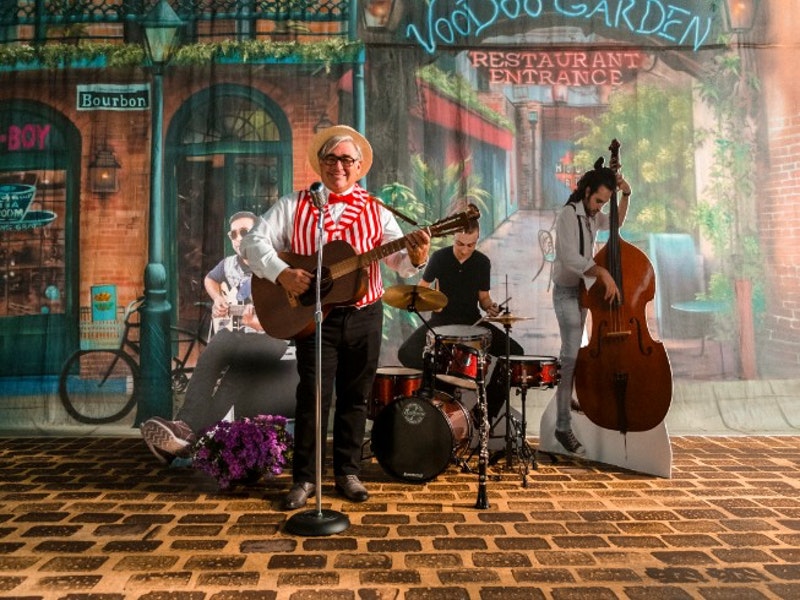 Assembling the Talented Crew
Lane Napper, best known for his hilarious character on the now defunct Nickelodeon TV show Victorious but who can more recently be found on Netflix's Jessica Jones, was one of the first crew members to sign on to the production. "I remember seeing everything Lane has done and thinking, wow!" said Fama. "I was familiar with his work on Victorious. But I didn't know about his work as choreographer." While Napper may have been known to TV audiences as Lane Alexander on Victorious, behind the scenes he was handling choreography for the show. His work can also be seen on other Nickelodeon staples such as iCarly, Drake & Josh, All That, and Zoey 101. "I was surprised to find out he was one of the top choreographers in the business," said Fama. "His work on The Carnival Kid is second to none. What a lot of people don't realize is the dance sequence is all one take. There are no cuts or edits. It's pretty amazing." Fama added that, "Rüdiger Barth, our Director of Photography, deserves a lot of credit too. We couldn't have done it without him."
I asked Napper what drew him to choreographing The Carnival Kid. "I love musicals, especially the ones from MGM. Stars like Gene Kelly, Judy Garland, Ann Miller, and so many others lighting up the stage with their timeless talent," said Napper. "When I found out that I could use that style on film with this project, I jumped at the chance! There was no way I was going to let this pass by! I had to do it!"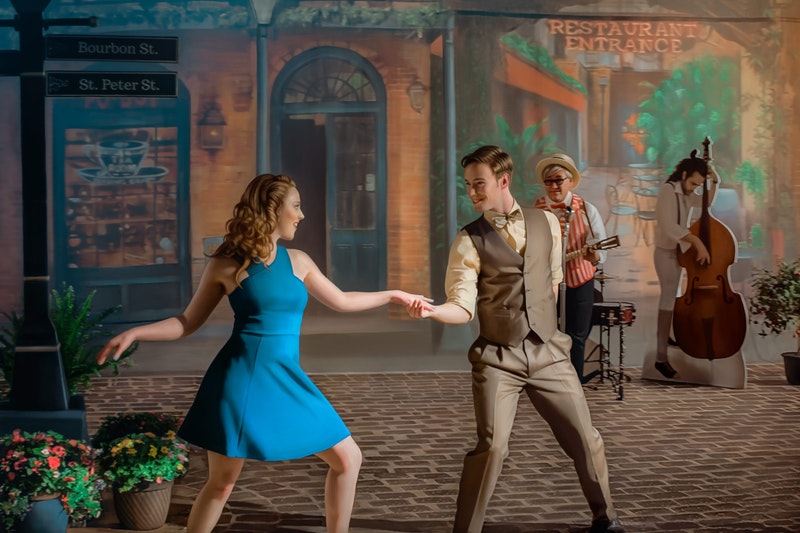 Despite Napper normally using his choreography skills for television, he was not afraid to try out a different medium. "I have extensive work in all areas of choreography, especially for television. I found that there are no real challenges in either medium," said Napper. "I found that you have to keep things moving and when creating stuff for film, it's about depth, not width. My job is to try and create a piece that's engaging to even the non-dancer."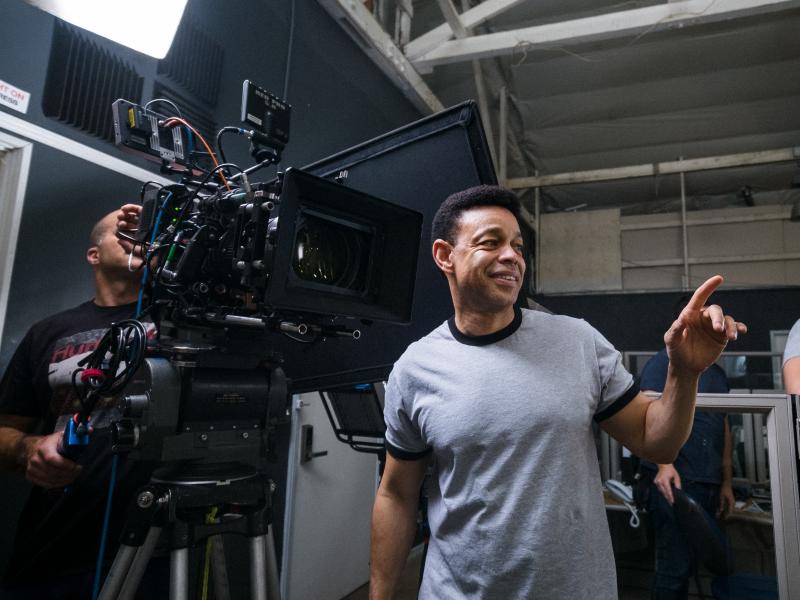 The experience of creating The Carnival Kid was a special one for Napper. "I didn't want it to end. Truthfully, one of the best productions I've ever worked on," said Napper. "When watching The Carnival Kid, if you look closely during the 'dream sequence', you'll notice that we did the whole piece in one take. No editing Anywhere. I love that stuff!"
As for whether Napper would like to work with this cast and crew again, he said, enthusiastically, "When can we start working on the next one together!? This time let's make a full-on movie musical!"
Matt Wiercinski and Cooper Flanagan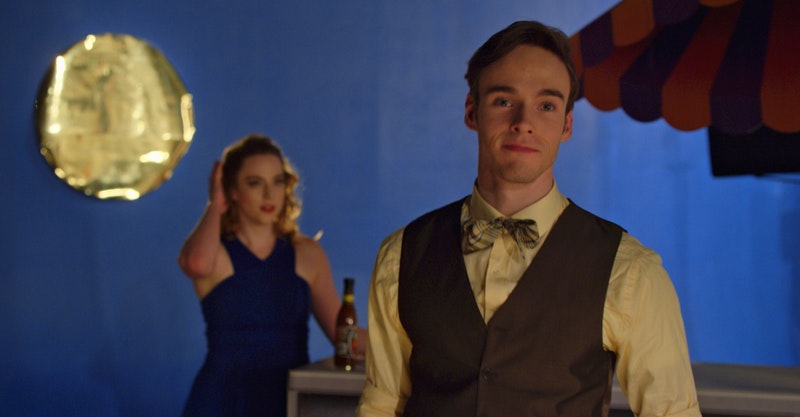 Napper was to thank for bringing one of the film's stars, Matt Wiercinski, into the picture. "Matt and Lane both train at the Broadway Dance Center in NYC," explained Fama. "Matt was currently between shows, liked our script, and signed on to the project. He is a supremely talented individual." Wiercinski is a professional actor and dancer, currently cast in the Broadway production of Anastasia. "We needed someone was not only a very talented dancer, but could also act," said Fama. "Lucky for us Matt is both of those."
Fama did not want to leave out The Carnival Kid's lead actress, Cooper Flanagan, who currently works with Broadway Cares, a nonprofit theatre organization which fights to raise money to combat the AIDS crisis. Flanagan is an accomplished actress, singer, and dancer based out of New York City. "She's our lead actress, she's fantastic," said Fama. "I look for her to do huge things in the future."
Michael Perry / Jour Majesty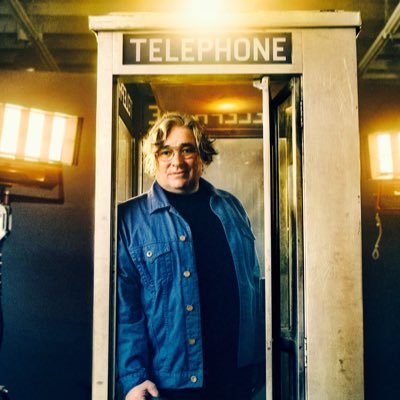 "Joey and I met at the 2016 Northern Virginia International Film Festival," said Michael Perry, Director of The Carnival Kid, and artist who performs under the pseudonym of Jour Majesty. "I had a musical animated film called Empty Box of Wine playing in the festival. Joey saw the film and came up to say he enjoyed the video. We began talking and Joey asked if I would be open to him writing a script around one of my songs." Perry didn't hesitate. "My immediate reaction was 'sure!', Joey is very likable."
After their chance meeting, the two began the search for the right song. "I sent him several songs that were currently in production, and several others that were only rough demos. Joey liked one of the demos and he began writing the first draft." Perry got to work making the demo a finished production. "I started production on the song and, two years later, The Carnival Kid movie was born."
Jour Majesty/Perry is no stranger to unique music videos, as several of his have won awards and national acclaim. I asked him where the ideas for his videos stem from and if he usually worked with other writers. "This is actually the first time I worked with a writer on one of my videos," said Perry. "I usually write the scripts for my musical shorts. The reason I normally work alone is that I like to have two independent stories - the song lyrics and the visual story - and have them intertwine in a way that tell the ultimate story. This is always easier to do alone because I can keep editing the story and pictures until the message Is conveyed." Perry spoke with Fama about his approach to ensure that his unique way of portraying his music remained intact. "Joey and I talked about this approach prior to the first draft of The Carnival Kid, and his script delivered. It captures the essence of the song, yet not in an overt way. It is a story with the song's story. It was excellent."
"This is one of the best experiences I have had on a production," said Perry, when asked if he enjoyed working on The Carnival Kid. "This was a true bi-costal collaboration. For this film I wanted to assemble a cast and crew that had experience in the genre of dance theater because I wanted to film the dance sequence without edits, vaudeville style." Perry reached out to friends for help in finding the correct crew. "I asked my past business partner, Russ Reinsel -one of the directors on the song and dance television show Victorious - if he knew of any choreographers that could put together a cast." This led to Napper's introduction to Perry. "Russ told me the best chorographer, used by all the TV Networks, is Lane Napper." But there was a catch as Napper lives in New York City and Perry in Los Angeles. "I was able to send Lane the script; he loved it and said he would find my cast."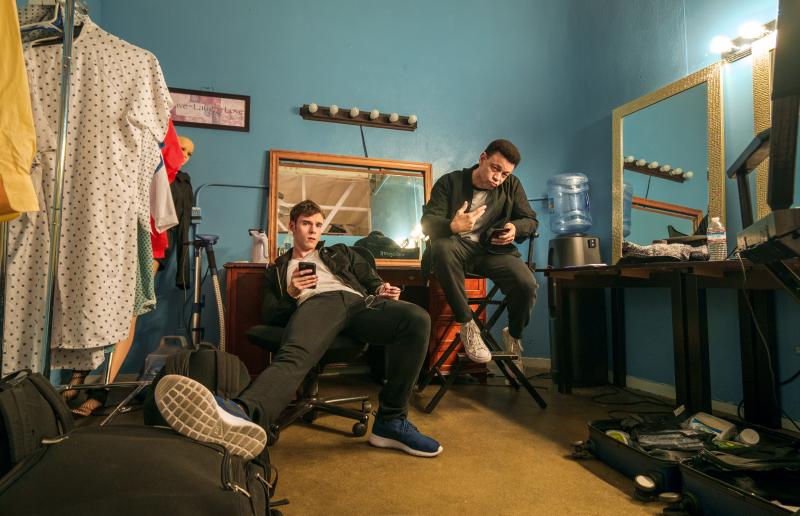 "Lane put together the extremely talented Matt Wiercinski and Cooper Flanagan for the lead roles," said Perry. "They rehearsed the dance and dialogue in NYC at the Broadway Dance Center and flew out to Los Angeles the day of the filming." For Perry, the day of the shoot was both an exciting and nerve-wracking day. "It was the first time I met Lane, Matt, or Cooper in person. I was a bit nervous because I had never send the final dance routine in person." Perry soon found his nervousness was unnecessary. "Their performance was flawless."
As for the future, Perry is already hard at work with Fama on their next venture. "We are currently working on a project called A New Sound," said Perry. "The script is fantastic. While the story's theme does revolve around the essence of music, it is not a music video. It is a sci-fi drama. Once we finalize the script, we will begin pre-production. It is going to be very exciting."
Awards and Accolades
"You never really know what people are going to think about your film," said Fama when asked about the film's reception. "I remember being pretty nervous before our premier at the Chelsea Fashion and Film Festival. The Carnival Kid Is the first film I had ever produced. But it was great, we played a packed house there, people loved it." Among the many awards won by the production, Fama explained why the NOVA award stood out to him. "We were blown away to win the Jury Award at the Northern Virginia Film Festival (NOVA). The quality of the films that play at NOVA are second to none, so we are very proud of our little musical."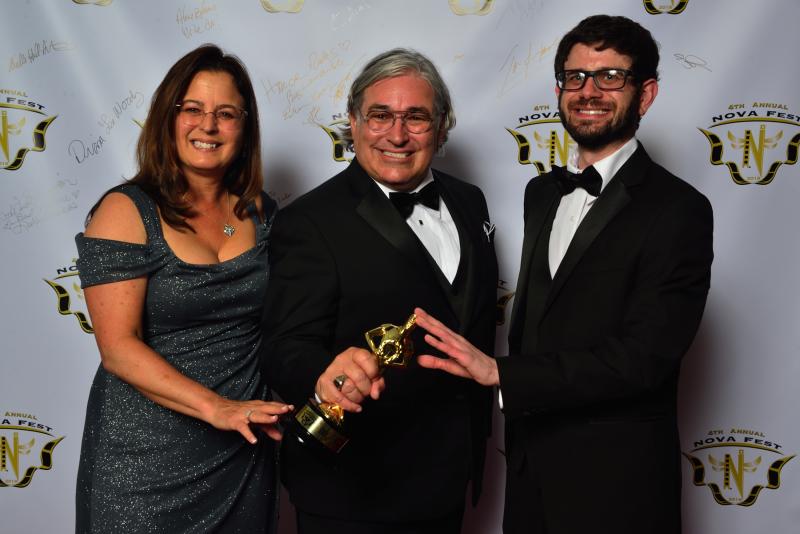 While awards are nice, it is the audience's warm reception that has really made Fama proud of the production. "One thing that I hear from a lot of people is that The Carnival Kid just made them happy or that it made them smile," said Fama. "I think that's a lot of what we were going for; kind of that golden age of musicals, movies that you would watch, and it would make you happy." Fama added that, "it also meant a lot to me to win the Runner-Up Audience Award in my home state, West Virginia, at the Enginuity Awards."
Future Plans and Where to Find More Information On The Film
"Our next showing is in Las Vegas Palms Casino in August at the Action on Film Festival," said Fama. "We are very excited about this showing." More showings are currently in the works, "we are waiting to hear from some more festivals. The Carnival Kid will continue its festival run through 2018."
For those wanting to find out more information you can visit The Carnival Kid online as well as on Facebook. To keep up with writer Joey Fama you can visit his website. To hear more by Jour Majesty you can visit their website.
What's Next For Writer Joey Fama
"Michael (of Jour Majesty) and I are currently developing a science fiction comedy called A New Sound. It's very exciting for us," said Fama. "The hope is that it will be a larger scope project. You definitely want to keep an eye out for it!" Fama has more than one production in the works. "I am also currently developing a script for Lane. I am a big fan of Lane's work. We were at the Enginuity Film Festival not long ago and we had some time to talk. We hit it off immediately. Lane and I discussed a few things and I have high hopes for that."
Napper chimed in on this subject, explaining a bit about what is in the works for him and Mr. Fama. "It's not been officially announced yet, but Joey is actually writing something for me to star in," said Napper. "For those who may not know, besides being a choreographer, I'm also an actor. Joey has seen my work and says that he likes it. He's developing something for me as we speak. There's a good chance it'll be something fun and family themed."
Richard Allen is a freelance writer for various publications. He can be contacted via email at richardallenwrites@gmail.com or at facebook.com/richardallenwrites