BWW Interview: John Davidson Joins FINDING NEVERLAND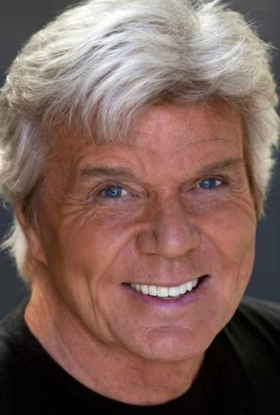 John Davidson likes to travel. He's been doing it all his professional life. He's toured in such shows as Oklahoma and Carousel, to say nothing about the summer tours of the Music Fair Circuit. He's also taken his own show out on the road, appearing most notably at the Jones Beach Marine Theater, where he astonished the crowd by jumping over the railing and into the audience to talk one-on-one with members of the audience and take requests from them. A few years ago, he joined the national tour of Wicked, where he assumed the role of the Wizard. Now, the 75 year old singer has joined the national company of Finding Neverland, where he's taking over the roles of James Frohman and Captain James Hook.
What's the appeal of performing on the road? "Well," Davidson replies in a recent phone conversation, " My kids are now adults--the youngest is 30-- so it's just me and my wife, Rhonda, and she's a painter. She packs up her watercolors and brushes and can paint anywhere. We like to travel by car and drive from one venue to another. It's a good way to see the country and meet the locals. I like doing that and get a sense of what kind of humor they like. I remember these things and frequently add them to the one-man show I do. It's good to know the kind of people you'll be performing for. Not every audience is like New York or Los Angeles."
Davidson likes to accompany himself on his guitar and that dates back to his earliest days as a performer. In the late 60's her released an album called "A Kind of Hush" in which it was just him and his guitar. (The recording was transferred to compact disc and is still available .) He claimed it was inspired by his late nights in his apartment, where he sang softly to himself and accompanied his singing with his trusty guitar. As it turns out, that is one of his finest recordings and cherished by his fans to this day. In his show, he expands upon that by including banter, jokes and backstage stories. "Audiences really enjoy it," he adds.
There's another way that Davidson likes to perform: "I'm a busker," he admits. Not unlike classical violinist Joshua Bell, who donned a baseball cap and performed unrecognized in the Washington, DC subways, Davidson will take his guitar out on the streets and sing for passersby. "I get great satisfaction from that. You have to realize that my fan base is aging and people under 30 don't know me from Adam. Once in a while, though, I am recognized and it usually results in a nice handshake and trading a few memories. Most people have terrific memories of the years when I hosted the Kraft Summer Music Hall. So do I."
Still. Davidson enjoys performing in book musicals. He got his start in show business playing opposite the legendary Bert Lahr in Broadway's 1965 musical, Foxy, and returned to the Great White Way in a stage adaptation of State Fair in 1993. When the tour of Finding Neverland was casting, he auditioned for it but the creative team decided upon another actor. When that actor's contract expired, Davidson got a phone call, "They said they remembered my audition and liked what they saw. They then asked me to take over the roles." I had to re-arrange my schedule to accommodate it, though. Not only did I have quite a few concerts lined up but I had been asked to do On Golden Pond in Virginia--a role I've really wanted to try." He doesn't regret it, though.
"I really like Finding Neverland," he says. It's a solid show with a really hummable score. It's closer to Frank Wildhorne than to Stephen Sondheim and that's a good thing. You know I once heard that Sondheim writes songs that deliberately won't become hits, but this show had some really good music with a modern edge to it. You could almost say there's a hip-hop flavor to the music." Additionally, Davidson is impressed with the cast and understudies of this production. It might strike some people as odd for an incoming actor to praise the understudies, but those are the actors who rehearse those who are joining the cast prior to the fit-in rehearsal. "They are all really excellent," the actor says.
John Davidson will be touring with Finding Neverland for about a year. At that point he might yearn to be in one place for more than a week or two. In 2012 he joined the cast of Off-Broadway's legendary musical The Fantasticks, playing Henry, the old actor. He proved to be outstanding in the character role. A short while later, he re-joined the cast as Bellomy, one of the fathers in the show; so he's not averse to staying put for a certain length of time. Wouldn't New York audiences enjoy seeing Davidson step into the shoes of Horace Vandergelder in the current revival of Hello, Dolly? He'd be remarkable in the role. Meanwhile, he can be enjoyed in Finding Neverland, as it traipses through the country and delights the crowds that are flocking to it.