Interview: Jerry Mitchell on Watching Broadway Veterans Still Dancing in HALF TIME at Paper Mill Playhouse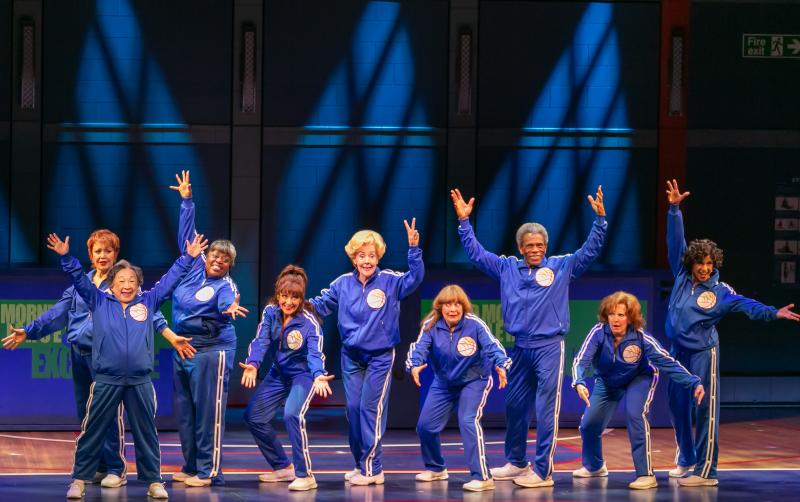 Tony Award winner Jerry Mitchell is going full out these days. Not only is he directing and choreographing the original musical, Half Time, at the Paper Mill Playhouse in Millburn, New Jersey, but he's also about to begin rehearsals as the director and choreographer for Broadway's Pretty Woman.
It was recently announced Andy Karl (Groundhog Day, Rocky) will take over the role of Edward, played by Steve Kazee (Once) during Pretty Woman's out-of-town tryouts in Chicago, due to a family emergency. The show begins previews July 20th with opening night at the Nederlander Theatre set for August 16. Karl joins his wife, Orfeh (Legally Blonde), who plays Vivian's best friend, Kit de Luca, in their third show together.
As for Half Time, the musical starring legendary performers Donna McKecknie (A Chorus Line), Georgia Engle (The Drowsy Chaperone), Andre De Shields (The Full Monty) and Lillias White (Fela!), tells the story of ten senior citizens who audition to be part of the half time show for a major basketball team. But instead of performing to a traditional dance like tap, salsa or swing, they wow the audience with hip hop. "You cannot age someone out," explains Mitchell of the plot. "That's really what is sweet about it."
The show, which runs May 31 to July 1, features a book by Bob Martin (The Drowsy Chaperone) and Chad Beguelin (Aladdin) and music by Matthew Skylar (The Wedding Singer) with lyrics by Nell Benjamin (Mean Girls). Additional music by Marvin Hamlisch and co-choreographed by Nick Kenkel. Based off a 2008 documentary, it originally premiered under a different name, Gotta Dance, in Chicago.
BroadwayWorld's Leigh Scheps caught up with Jerry Mitchell on how he's embracing both shows at the same time and what he's learning from watching Broadway's veteran performers in action.
---
What do you think audiences will love about this show?
What I love every day when I'm sitting here: watching Donna McKechnie, Andre De Shields, Lillias White, and Georgia Engel. I mean it's inspiring. It's about these real people of a certain age and having this challenge to learn hip hop dancing.
You've worked with many in the cast before.
Lillias and I were swings in Barnum. Donna and I have worked together three times now, but we have the Michael Bennett connection. It's astounding to watch these people and see how incredibly gifted they are. That gift doesn't leave you just because you get older.
What have you taken away from working with them every day?
Perseverance. The tortoise definitely does win the race. We have young people here, too. We call them the younger squad and the older squad. The younger squad really goes out of their way to make sure [the older squad] has what they need for the rehearsal. It's an amazing thing to witness in the room, how they take care of each other.
How has this production changed at all from when it premiered in Chicago?
Well, we've got five new songs. There was a character that was really missing its whole arc and we had to go back and examine that. We also added a new beginning, which has some of the same feelings as the opening, but it starts differently and we find the seniors not in rehearsal. We find them reading the ad and going to the audition. And what's happening in their real life, why this kind of opportunity is so important to them at this age, which I think helps set up the whole story.
What character needed the arc change?
The character of Joanne has completely changed, which is being played by Donna McKechnie.
Are we going see Donna McKechnie in full out Cassie here?
Donna's just amazing. She still dances so beautifully and her lyrical quality is still so abundant. I choreographed her in Follies at the Paper Mill Playhouse. She was sensational then, and now it's just a pleasure to be in the room with her again.
How is Marvin Hamlisch represented in this show?
Well, he was the original composer. There are four numbers that Marvin [did].
How are you managing to work on this show and get ready for Pretty Woman?
I don't know. The great thing about [Half Time] was there was 80% that was very strong. We're in our third week of rehearsals and we already have the show completely back on its feet. I mean that's astounding for one reason that we did it that quickly, but two, that we're doing it that quickly with a group of unbelievably talented senior citizens. The things that are changing in Pretty Woman are the things that you change all the time. I replaced one song. We performed it the last weekend in Chicago. The writers and I, as well as the designers are redesigning some things [including] a couple of new costumes that I didn't think quite hit it out of the park. I hired a new swing yesterday and we'll start rehearsals on June 18th. I'll have two weeks of pre-production and development before we get the cast for two full weeks in a room before go two full weeks of tech and then there are previews. So, I'm feeling pretty sure about where we are. I'm okay.
Next year you have another show at the Paper Mill, with My Very Own British Invasion. What can we look forward to with that show?
Rick Elice (Jersey Boys, Peter and the Starcatcher) and I have put together a musical based on conversations we had with Peter Noone, of the Herman's Hermits, about his life growing up in England and going to a club called The Bag of Nails. He hung out with other rock stars who were all between the ages of 17 and 21. He wasn't supposed to even get in until he was 18, but he got snuck in by John Lennon. It's about his rise and his traveling over to America during the whole British Invasion period after the Beatles and falling in love.
I guess we can expect a lot of '60s dancing!
Well, a lot of '60s rock and roll music. The whole show is going to move in the style where everybody's telling the story inside the club -- sort of like Kinky Boots meets Peter and the Starcatcher.
Aare you still on tap for Bye Bye Birdie Live on NBC?
Nothing's happening, as far as I know.
Are you working on anything else?
I'm working on a new musical called Becoming Nancy. I've been working on it for quite a while. George Stiles & Anthony Drewe (Mary Poppins) are writing the score. Elliot Davis is writing the book. It's an original musical based on a book I read "Becoming Nancy" and we're going to be doing a lab. I'll let the producers tell you where we might go after that. But it's a very exciting project. It's about a young boy growing in East Dulwich in 1979. He auditions for the school musical. Of course there're no girls who can sing, so he gets cast as Nancy.
Nancy, like Nancy in Oliver?
Yes. It's a very charming story.
---
Shop BroadwayWorld

Shop this season's new musicals! Get dressed up for a night at the theatre, or just a night at home, with merch from some of Broadway's biggest hits including SOME LIKE IT HOT, KIMBERLY AKIMBO, and more!
---
Related Stories