Click Here for More Articles on SHAKESPEARE IN THE PARK
BWW Interview: De'Adre Aziza is a Midsummer Night's Dreamer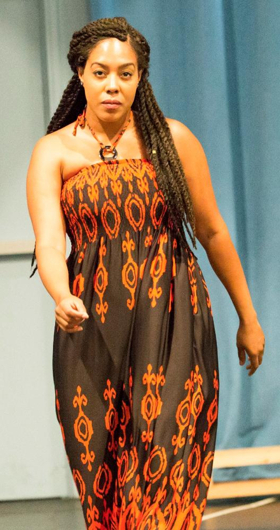 De'Adre Aziza, Hippolyta in The Public Theater's free Shakespeare in the Park's latest offering, A MIDSUMMER NIGHT'S DREAM, is having a blast in the Bard's outdoor romp about love, sex and marriage.
"It's fun," she said with a laugh before a recent rehearsal. "You know Shakespeare and his serious plays. I'd rather do comedy. What's better than making people laugh?" she asked. "It's not like playing Queen Margaret in a drama."
The beloved ode to romantic love via mismatched lovers and naughty sprites, is running at Central Park's Delacorte Theater from July 11-August 13.
"Everyone has the opportunity to be as creative as they want in this production," Aziza said. "Although Hippolyta has few lines, she makes the most of her stage time through body language." The soon-to-wed Queen of the Amazons is planning her wedding to Theseus when magic and mischief interfere with the course of true love.
Puck [Kristine Nielsen] meddles with a magic love potion and causes pots of trouble. Young lovers lost in the woods become infatuated with the wrong person. Mayhem ensues. A typical Shakespeare comedy, literally set in the great outdoors.
Aziza thinks Hippolyta is a fierce feminist in this comedy of errors.
"I don't think that just because she chooses to be married means she's not a feminist," Aziza said. "She's LETTING Theseus [Bhavesh Patel] marry her, even if he technically 'won' her. She'd probably say to him, 'If I didn't want to marry you I wouldn't,'" she said.
"But she's attracted to a man with power and she likes his style," she said of her fiancé. "What makes her tick is finding the way to get married to someone she's fallen for. But she's an Amazon and behind every great man...," she added. "Love is not rational, it's emotional and Hippolyta learns this. When you're living from your emotions, you're going to get caught up in all this drama.
"In the end, love wins because Hermia [Shalita Grant] and Lysander [Kyle Beltran] follow their hearts," she said of the pixilated duo. "Love surpasses reason and the ego. All the scholarly research I did said that she was a dud, but that's not true," Aziza said. "She's strong and stands up to her father, too. But essentially it's all about her wedding and the party that follows," Aziza said.
"There's dancing, there's a singing fairy and a band. It's what we all need right now," Aziza said. "Of course we stick to the original script, then riff off the world Lear"-director Lear deBessonet-"has created for us. We try to keep it as honest as possible."
There's an upside to having a smaller role than others. "I get to chill and enjoy it when I'm not on," she said. "Our actors are so funny," she said of the cast that includes Danny Burstein [Nick Bottom] and Annaleigh Ashford [Helena]. "I love them. They bring me to laughter tears each and every time. Danny is a dear friend of mine and knowing the natural fool that he is, it's just ridiculous," she said with a laugh.
"I love watching the mechanicals, too. It's a dream come true to be on the stage with Phylicia Rashad. She's a legend! It's awe-inspiring," she said. Rashad plays Titania.
Aziza isn't worried about the weather during the run. "I did COMEDY OF ERRORS in the park in 2013. We got rained out so often, there's nothing you can do," she said. "The challenge is to be in your pretty make-up and costume and pretend there aren't a million bugs flying around your face. Anything could happen.
"It's very humbling when nature is your backdrop. In the final week it was pouring and so many people stayed and we really wanted to do the show," Aziza added. "We decided to take our mikes off and asked the audience to come down closer to the stage and we finished the play. It's a once-in-a-lifetime experience I'm blessed to do twice."
Preparation for the comedy includes four weeks of rehearsal before previews and opening.
Aziza feels a kinship with her character. "What we have in common are we are both grown women. I'm 40 and she's around 40, and we're experienced," she explained. "She already has an established life, and if she's going to get married she understands how things go down.
"She can be quiet in this play but she's not a docile, quiet person," she said. "You're going to know how I feel-my face and my energy gives it away."
"The Public is my artistic home," she said. "This is my fourth production with the Public and I have friends who have been with it for 20 years. I was an intern there and it was always nurturing."
Aziza hopes that the weather cooperates this year, but will happily deal with whatever the elements bring.
"It does feel magical. There's nothing like doing Shakespeare having the stars and the trees and an actual castle behind us," Aziza said. "You couldn't build a better set."
Since 1962, over five million people have enjoyed more than 150 free productions of Shakespeare and other classical works and musicals at the Delacorte Theater. A Midsummer Night's Dream team includes costume design by Clint Ramos, scenic design by David Rockwell, lighting by Tyler Micoleau, hair, wig and make-up by Cookie Jordan, sound by Jessica Paz, choreography by Chase Brock and original music by Justin Levine. The Delacorte is at 81 Central Park West.
Photo Credit: Simon Luethi