BWW Exclusive: Woodie King Jr. Discusses the Past, Present and Future of New Federal Theatre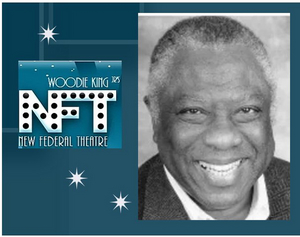 Woodie King Jr., founder of New Federal Theatre has penned an article exclusively for BroadwayWorld, discussing New Federal Theatre's past, present and more.
Read his article below.
---
In 1970, when New Federal Theatre was founded, the theatre had a strong mission: Integrating minorities and women into American Theatre. The conundrum is still that we are alive and well, but still underfunded.
When we began 50 years ago, there were well-funded main stream theatres in New York City and around the United States, theatres like The Public Theatre run by Joseph Papp; Chelsea Theatre Center run by Robert Kalfin, Michael David, and Burl Hash; The American Place Theatre run by Wynn Handman and Sidney Lanier, operating out of St. Clement's Church. Soon, Joseph Papp would move to run Lincoln Center Theatre for Performing Arts. New Federal Theatre would move entire productions into theatres like these, working with these artistic leaders.
Not one word of the New Federal Theatre's productions was changed! Amiri Baraka's SLAVE SHIP, WHO'S GOT HIS OWN and WHAT THE WINE-SELLERS BUY by Ron Milner, FOR COLORED GIRLS WHO HAVE CONSIDERED SUICIDE WHEN THE RAINBOW IS ENUF by Ntozake Shange, THE TAKING OF MISS JANIE by Ed Bullins.
Broadway producers brought BLACK GIRL by J.E Franklin to Philadelphia. Theatres and producers awaited plays produced by New Federal Theatre that "integrated minorities and women into mainstream theatre" that were new to their audiences; plays that incorporated black identity, works from playwrights like Amiri Baraka, Ed Bullins, J.E Franklin, Ntozake Shange, Rob Penny, Ron Milner, Ossie Davis, Samm-Art Williams, Bill Harris, Richard Wesley, P.J. Gibson and more.
New Federal Theatre started producing Actors' Equity-approved showcases, and here we are now, 50 years later. As Producing Director of New Federal Theatre, I am able to look back and look forward.
Integrating people of color and women into American Theatre is still very much needed. We needed those plays back 50 years ago, and we need those kinds of plays NOW.
The Black Lives Matter movement has spoken out with a loud voice after the murders of George Floyd, Breonna Taylor and Rayshard Brooks. We speak for equality and fairness. Many of those, Black and White, rioting in the night are denied access to ART, CULTURE, and THEATRE. They are/were denied because of foundations, and individuals do not believe BLACK LIVES MATTER, but BLACK LIVES DO MATTER.
We need well-funded theatres of color across America. Theatres that can pay professional artists wages that are comparable to large white-controlled institutions; theatres with large fundraising staffs and sufficient marketing.
NFT never had that, but we've introduced Reginald VelJohnson, Garrett Morris, Samuel L. Jackson, Laurence Fishburne, Denzel Washington, Chadwick Boseman, Glynn Turman, Starletta DuPois, Issa Rae, S. Epatha Merkerson, Oz Scott, Trazana Beverley, Morgan Freeman, Anna Maria Horsford.
Noted artists who worked at New Federal Theatre also include Lloyd Richards, Charles Nelson Reilly, Melba Moore, Vinie Burrows, Art McFarland, Kathleen Chalfant, Earle Hayman, Roger Robinson, Ellen Holly, Giancarlo Esposito, William "Mickey" Stevenson, Dick Anthony Williams, Max Roach, Shauneille Perry ...
With more eyes on Black Lives Matter through media and being home-bound, caught by cell phones, we see the injustice. We react across America and in cities throughout the world.
In some cities these reactions are led by white people, but most are led by Black people. All chanting, "I CANT BREATHE" and "BLACK LIVES MATTER". Playwrights must infuse the plays they write with ingredients of issues focusing on injustice. Being creative and secure in your own identity will focus your own work as a writer, not bullshitting a white producer, saying "this the way we are....sir."
What's beyond the pandemic for theatres of color, for ANY theatre? A serum, a vaccination. That is now estimated to take around one year, and most Black people think, once again, Black people will be the last to receive it.
New Federal Theatre as a theatre organization, focuses on a deep study of the original Federal Theatre Project, a great deal of knowledge and information on Hallie Flanagan- a great deal of study on young Orson Welles and John Houseman. New Federal Theatre always looked back at history, and forward to new works about now, contemporary works, focusing on integrating people of color and women into mainstream theatre, presenting productions like Zora Neale Hurston: A Theatrical Biography; Harriet's Return: Based Upon the Legendary Life of Harriet Tubman; Freight: The Five Incarnations of Abel Green; and Looking For Leroy- which won 6 AUDELCO Awards.
In 2020 with Black Lives Matter across America and the world, New Federal Theatre will no longer look exclusively to integrating people of color and women into mainstream theatre.
We are aware that 50 years ago social disparities that we thought would be reduced are basically the same NOW as back THEN. The people are younger, but they are WHITE. New Federal Theatre will explore changing its mission to: PRODUCING PLAYS BY PEOPLE OF COLOR AND WOMEN, and insisting on a marketing and fundraising budget.
---
If you are a Black artist or an artist of color and would like to share your stories, your work, and your experiences, or to recommend someone else that we should get in touch with for one of our initiatives, please feel free to email us at contact@broadwayworld.com.