BWW Exclusive: All Eyes on Sir Ian McKellen: Richard Jay-Alexander Chats with a Real-Life HERO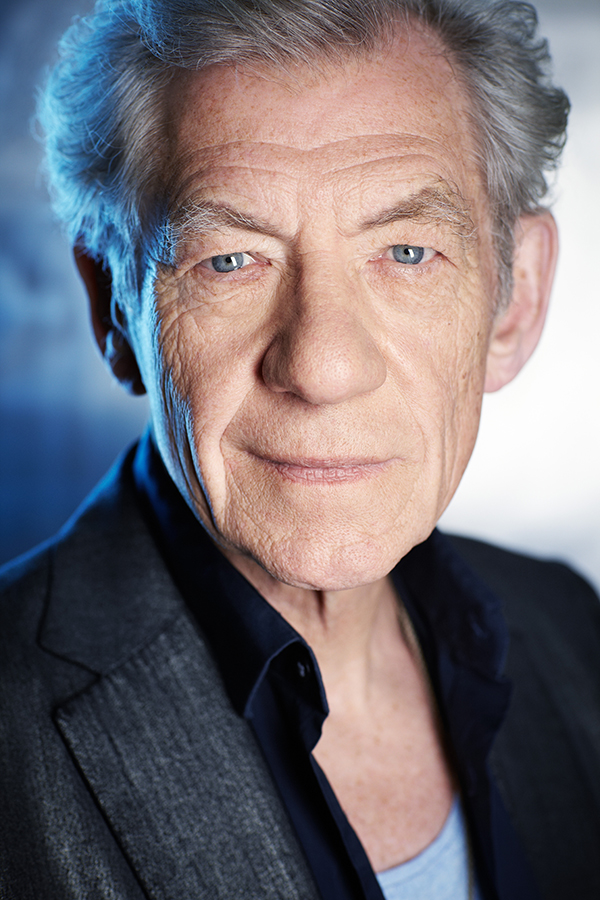 On Monday night, June 15, Sir Ian McKellen will receive the Trevor Hero Award at The Trevor Project's TrevorLIVE New York event, presented by Wells Fargo and held at the Marriott Marquis, right in the heart of the theatre district.
This is perfect, as McKellen is no stranger to Broadway, nor the world's stages. He won the TONY Award in 1981, as Best Actor in a Play, for his riveting portrayal of Antonio Salieri, in Peter Shaffer's AMADEUS.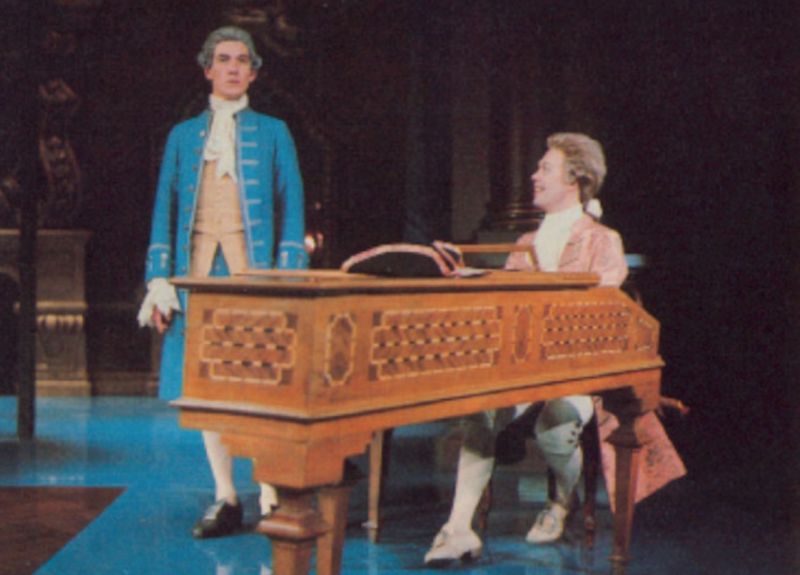 This is where I first met Ian (before he became a SIR), as part of the Original Broadway Cast of the Tony Award-Winning Best Play. It's hard to believe that 35 years have passed and I remember much of it quite vividly. But when it was announced that Sir Ian was being honored with the HERO Award, it truly seemed like the "perfect" fit. For he really is a modern-day hero.
Of course, he is known to the world now for his portrayals of Magneto in the X-MEN films and Gandalf in THE LORD OF THE RINGS and THE HOBBIT Trilogies. But, for me, it has always been about his work on the stage: MACBETH, THE ALCHEMIST, BENT, WILD HONEY, RICHARD III, AMADEUS, etc., garnering over 50 international acting awards.
His historic "coming out" paved the way for so many and was proudly "knighted" ... showing to all, that you, indeed, could be who you really are and still achieve greatness.
In addition to his one-man show, ACTING SHAKESPEARE, he also devised an evening entitled A KNIGHT OUT, once again, breaking down walls. Continuing to pave the way and to make history, he was a co-founder of STONEWALL UK, which still has McKellen going to schools and talking to young people and inspiring them. This is a man who grew up in a world where homosexuality was illegal. This is also a reality that many young people today simply cannot even fathom.
We caught up on the phone last week. The legendary actor has been busy filming and it was just a day or two after his 76th birthday. It was as though no time had passed. I can still see us all in the "out-of-town" tryout of AMADEUS and Ian is onstage with Tim Curry (who played Mozart) at the National Theatre, in Washington, D.C. The end of the play isn't working yet and Peter Shaffer is in the house, typing away feverishly and ripping pages out of the typewriter to hand to the two stars, to "try on for size." The director was Peter Hall (before he became a SIR). Yes, unforgettable.
Although it feels as if no time has passed, it surely has, but we pick right up. Sir Ian McKellen is thrilled about being in New York for the event on Monday night. He shared with me that James Lecesne had asked him many times before, but that finally the schedules have worked out in everyone's favor. The perfect match here between award recipient and the organization honoring him is made in heaven and in truth.
Founded in 1998 by the creators of the Academy Award®-winning short film TREVOR, The Trevor Project is the leading organization providing crisis intervention and suicide prevention services to LGBTQ young people ages 13-24, nationwide.
Ian's "coming out" came after talks with Armistead Maupin (pictured to the left), in San Francisco, back in 1988 and he has never looked back.
We talked about the differences between the U.S. and the UK. The UK, of course, is smaller, but they actually have laws about discrimination. It is ILLEGAL. It was amazing to learn from him that in his country, people speak 41 different languages!
As Ian stated quite passionately, "No one is born with prejudice. They can learn to un-do it." And, hence, his committment. His stardom reaches many and his fan base is comprised of multiple generations. He knows this and is very touched when he hears from young people, and old, about how he has affected them in some way. He is also active on social media. He has 2.21 million followers on Twitter and 4.4 million on Facebook. His website is mckellen.com
In terms of the age-range of his public, he has been re-stacking the deck, yet again, by appearing in the British television series VICIOUS, with Derek Jacobi. It is in its 2nd Season and will be airing here, stateside, almost simultaneously to when it airs in the UK and can be found on your local PBS station. In talking about VICIOUS, Ian clearly has great affection for the show and enjoys doing it. He was taken aback by some of the polarity of opinion on the show and remembers some criticism, referring to a "laugh track." But, he actually has the last laugh, knowing full well that they do the show, weekly, in front of a (very) live audience of 500 people and often have to tame and edit the laughter. So, there you have it!
Sir Ian McKellen has been supported and flanked in his mission for equality by fellow countryman such as James Wharton (the former Queen's Guard soldier, and now LGBT activist) and now retired Rugby great, Gareth Thomas, who came out in 2009. Ian has also been a part of the Albert Kennedy Trust, which supports young LGBT 16-25 year olds who are made homeless or living in a hostile environment.
So, this award is well deserved and I haven't even begun to scratch the surface of this man's day-to-day commitment to equality, freedom of expression and being sure that everyone knows they have rights and options and a "family" of people and resources they can turn to for help and guidance that can allow them to be who they are and achieve all they aspire to.
One of my favorite things to do these days, is ask actors I know if there is anything on YouTube (of themselves) that they actually like or have enjoyed looking at. This was Ian's "pick"
To see and meet the man and the legend, you can still get tickets for what is sure to be a historic night by going to TheTrevorProject.org/TrevorLIVENY.
It should also be mentioned, that additional honorees on Monday night are Maine's Ryan Fecteau, the youngest openly gay state legislator, who will be named the Youth Innovator Honoree for his on-going advocacy and commitment to equality, and Johnson & Johnson will be honored with the 20/20 Visionary Award.
And there will be many performances by Adrienne Eller, Alex Newell, Bridget Everett, Broadway Inspirational Voices, Pelisse Henderson, Jeanine Tesoro, Kyle Dean Massey, Lauren Patten, Marc Shaiman, Michael Wartella, Well-Strung - plus appearances by Alex Sharp, Carmen Ejogo, Harmony Santana, Jordan Roth, Raven Symone, Rosie Perez, Susan Sarandon, T.R. Knight and Victoria Justice.
BroadwayWorld, of course, will be there to cover the exciting night for this extraordinary organization, which was a favorite of the late Damon Intrabartolo, a great friend of BWW.
Celebrating 16 years, The Trevor Project honors Sir Ian McKellen with the Trevor Hero Award at "TrevorLIVE New York" on June 15th at the Marriott Marquis, presented by Wells Fargo. McKellen will be honored for his ongoing support of the lesbian, gay, bisexual, transgender and questioning (LGBTQ) community. Maine's Ryan Fecteau, the youngest openly gay state legislator, will be named the Youth Innovator Honoree for his on-going advocacy and commitment to equality, and Johnson & Johnson will be honored with the 20/20 Visionary Award. The awards will be presented at The Trevor Project's high-profile evening of music, comedy and entertainment which brings together top entertainers, advocates and corporate leaders to support the organization's life-saving, life-affirming work for LGBT and questioning youth in crisis.
"The Trevor Project is proud to honor longtime supporters and allies Sir Ian McKellan, Maine Representative Ryan Facteau, and Johnson & Johnson. We want to acknowledge their dedication and support for the LGBTQ community," states Abbe Land, executive director and CEO of The Trevor Project. "We have felt the progress of their commitment to raise awareness for the issues the LGBTQ community faces, to promote advocacy for equal rights, and to foster the responsibility that every person should provide service for their community. We look forward to celebrating these great honorees at TrevorLIVE New York."
About Ian McKellen
A legend of the stage and screen, Sir Ian McKellen has been honored with over 50 international acting awards and is co-founder of Stonewall UK, which lobbies for legal and social equality for gay people. He is treasured worldwide as "Magneto" in the X-Men films and "Gandolf" in The Lord of the Rings and The Hobbit trilogies. Born and raised in the north of England, 75-year-old McKellen attended Cambridge University and since 1961 has worked non-stop in the British theatre. Among his countless accolades, he has won Olivier Awards for "Macbeth," "The Alchemist," "Beny," "Wild Honey" and "Richard III." In 1991 Sir Ian was knighted for his outstanding contribution to theatre. In 2008, the Queen personally appointed him Companion of Honour for his services to drama and to equality.
About Ryan Fecteau
Ryan Fecteau, 22, is a Biddeford, Maine native and the youngest openly gay state legislator in the United States. He studied political science and earned a minor in theology and religious studies at The Catholic University of America (CUA) in Washington, DC. During his time at CUA, Fecteau was elected the first openly gay Speaker of the Student Association and initiated efforts for university recognition of an LGBTQ student group. Following graduation in May of 2014, Fecteau ran for the Maine House of Representatives where he was elected on Tuesday, November 4th and he currently serves on the Joint Standing Committee on Labor, Commerce, Research and Economic Development.
About Johnson & Johnson

The Trevor Project honors Johnson & Johnson for ensuring that diversity is a central part of the cultures across the Family of Companies. Johnson & Johnson's commitment to diversity and inclusion is deeply rooted in their core values and is exemplified in a number of the companies' programs and activities. Throughout the Care with Pride™ program, the company has donated more than half a million dollars to organizations committed to LGBTQ education and outreach, including suicide prevention and family health. Johnson & Johnson has joined other businesses in legal actions that support equal rights, as recently as signing an amicus brief in the call for all states to legally recognize same-sex marriage. In 2014, PFLAG honored the Johnson & Johnson Family of Consumer Companies with a Straight for Equality in the Workplace Award. The Human Rights Campaign has also recognized Johnson & Johnson for ten consecutive years with a perfect Corporate Equality Index score.
TrevorLIVE NY is directed by Special Guest Director Paul Dobie with Special Guest Producer Adam Shankman.
The Leadership Committee of TrevorLIVE NY is comprised of James Adams, Ezra Alvarez, Phil Armstrong, Braden Bradley, Brian Dorsey, Derek Dykens, Michael Epstein, Caleb Hartzler, James Lecesne, Jincey Lumpkin, Caitlin McLaughlin, Lauren Milano, Kevin Potter, Ian Reisner, Scott Schwimer, and David Suk. Tickets to TrevorLIVE NY may be purchased at: TheTrevorProject.org/TrevorLIVENY.
About the Trevor Project:
Every day, The Trevor Project saves young lives through its accredited, free and confidential phone, instant message and text messaging crisis intervention services. A leader and innovator in suicide prevention, The Trevor Project offers the largest safe social networking community for LGBTQ youth, best practice suicide prevention educational trainings, resources for youth and adults, and advocacy initiatives. Learn more at TheTrevorProject.org.