Audra McDonald and Brian Stokes Mitchell Will Perform in LET FREEDOM RING! Concert at the Kennedy Center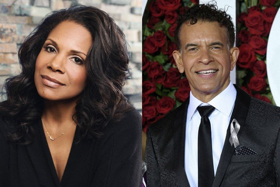 The John F. Kennedy Center for the Performing Arts and Georgetown University celebrate the legacy of Dr. Martin Luther King Jr. with a free, ticketed musical tribute titled Let Freedom Ring!
The annual program, part of the Center's Millennium Stage free daily performance series, features Tony, Emmy, and Grammy-winning artist Audra McDonald, Tony-winning artist Brian Stokes Mitchell, and the Let Freedom Ring Choir led by Music Director Rev. Nolan Williams Jr., on Monday, January 21, 2019 at 6 p.m. in the Kennedy Center Concert Hall.
Georgetown University will present the 17th annual John Thompson Jr. Legacy of a Dream Award to Hawah Kasat, co-founder and executive director of One Common Unity, an organization which breaks cycles of violence and builds compassionate communities through the power of arts and education. The award is given by Georgetown University to an international or local individual who exemplifies the spirit of Dr. King. For more information about this year's awardee, please visit: https://www.georgetown.edu/news/hawah-kasat-legacy-of-a-dream-award-recipient-2019
Free tickets-up to two per person-will be distributed on a first-come, first-served basis at the entrance to the Hall of Nations, beginning at 4:30 p.m. on January 21. Overflow seating will be available at Millennium Stage North (near Eisenhower Theater) for patrons to view a simulcast of the performance. This performance will be close-captioned and will also be live streamed on the Kennedy Center Facebook and YouTube pages, and on the website at www.kennedy-center.org.
Audra McDonald has won a record-breaking six Tony Awards, two Grammy Awards, and an Emmy Award, achievements reflecting the unparalleled breadth and versatility of her artistry as both a singer and an actor. She was named one of Time Magazine's 100 most influential people of 2015 and received a 2015 National Medal of Arts, America's highest honor for achievement in the arts, from President Barack Obama.
In addition to her Tony-winning performances in Carousel, Master Class, Ragtime, A Raisin in the Sun, The Gershwins' Porgy and Bess, and Lady Day at Emerson's Bar & Grill, she was nominated for Tony Awards for Marie Christine and 110 in the Shade on Broadway. She has been seen by millions on television, including roles in NBC's The Sound of Music Live!, ABC's Private Practice, CBS All Access's The Good Fight-which launches its third season in 2019-and PBS's Live from the Lincoln Center, for which she won an Emmy. In film, she has appeared in Seven Servants, The Object of My Affection, Cradle Will Rock, It Runs in the Family, The Best Thief in the World, She Got Problems, Rampart, Ricki and the Flash, Disney's live-action Beauty and the Beast, and the movie musical Hello Again. McDonald has released five solo albums on the Nonesuch label and recently released a new recording, Sing Happy, with the New York Philharmonic on Decca Gold.
McDonald also maintains a major career as a concert artist, regularly appearing on the great stages of the world and with leading international orchestras. Of all her many roles, her favorites are the ones performed offstage: as a passionate advocate for equal rights and homeless youth, wife to actor Will Swenson, and mother.
Dubbed "the last leading man" by the New York Times, two-time Tony Award winner Brian Stokes Mitchell has enjoyed a career that spans Broadway, television, film, and concert appearances with the country's finest conductors and orchestras. He received Tony, Drama Desk, and Outer Critics Circle awards for his star turn in Kiss Me, Kate. He has also given Tony-nominated performances in Man of La Mancha, August Wilson's King Hedley II, and Ragtime. Last season he made a long-awaited return to Broadway in Shuffle Along, a new musical written and directed by George C. Wolf. He received his most recent Tony Award, the Isabelle Stevenson special Tony, for his work as Chairman on the Board of the Actor's Fund, a charity that helps anyone who has made a living in show business and the performing arts in times of need, crisis, or transition. In 2016, he was inducted into the Theatre Hall of Fame.
An extremely versatile singer, Stokes Mitchell has performed at venues spanning the jazz, opera, pop, country, and musical theater worlds. He has worked with John Williams, Keith Lockhart, Michael Tilson Thomas, Leonard Slatkin, the late Marvin Hamlisch, The Smithsonian Jazz Masterworks Big Band, The Mormon Tabernacle Choir, and the Muppets. Stokes Mitchell has made multiple appearances at Carnegie Hall, beginning with his debut with the San Francisco Symphony through his televised performance in South Pacific opposite Reba McEntire, to his sold-out solo concert, which he continues to perform throughout the United States.
He has been invited twice to perform at the White House and has performed for Presidents Clinton and Obama. His musical talent has extended to the present day as producer, arranger, and orchestrator on his own albums, including his latest recording, Simply Broadway, featuring the Tony-winning singer accompanied by solo piano. Stokes Mitchell has appeared on more than 20 albums and is currently working on his next album, Plays With Music, to be released this year.
Hawah Kasat is an artist, author, educator, yoga instructor, community organizer, and non-profit leader. He has dedicated his life to teaching about solutions to violence and ways to peace, and has traveled to more than 42 countries to facilitate interactive workshops, host dialogues, perform poetry, teach yoga, and speak with those interested in creating a caring, sustainable, and equitable world. He has authored four books (including The Poetry of Yoga, a book anthology containing more than 300 yogi poets from 19 countries), released two music albums, and produced three documentary films (including the award-winning documentary Fly By Light). Kasat is co-founder and executive director of One Common Unity (OCU), a non-profit that supports a movement for peace education and the building of a non-violent culture through music and art. Over the past 18 years, OCU has worked with more than 25,000 youth and families from around the nation.
In his early years, Kasat worked as an AmeriCorps community organizer and mentor in Washington, D.C.'s most under-resourced neighborhood, encouraging youth to explore the roots of oppression. After graduating from American University with a degree in peace and educational philosophy, he was awarded a fellowship with the Robert F. Kennedy Memorial Foundation to work as a special representative to the United Nations and the World Conference Against Racism. For four years, he directed the Peaceable Schools Program in D.C.'s largest public high school, and today still leads trainings for teachers and students in conflict resolution, non-violent communication, positive youth development, emotional literacy, social justice, and arts empowerment.
As part of Georgetown University's Let Freedom Ring! initiative, this event builds on the success of the first joint program in January 2003, which featured the legendary Roberta Flack and attracted more than 5,000 patrons. The second, held in August of 2003, commemorated the 40th anniversary of Dr. King's "I Have a Dream" speech and featured actor, civil rights leader, and 2004 Kennedy Center Honoree Ossie Davis. Past concerts have featured Jessye Norman in 2004; Aaron Neville in 2005; Yolanda Adams in 2006 and in 2016; Brian McKnight in 2007; Denyce Graves in 2008; Kennedy Center Honoree Aretha Franklin in 2009; India Arie in 2010; Patti LaBelle in 2011; Bobby McFerrin in 2012; Smokey Robinson in 2013; Dionne Warwick in 2014; Natalie Cole in 2015; Gladys Knight in 2017; and Vanessa Williams in 2018.
Georgetown University is the oldest and largest Catholic and Jesuit university in America, founded in 1789 by Archbishop John Carroll. Georgetown today is a major student-centered, international research university offering respected undergraduate, graduate, and professional programs in Washington, D.C., Doha, Qatar, and around the world. For more information about Georgetown University, visit http://georgetown.edu. Georgetown's annual Let Freedom Ring! initiative honors Dr. Martin Luther King Jr. through a series of academic, artistic, and extracurricular programs that examine Dr. King's life and work, and address the contemporary challenges our nation faces in order to fulfill his dream of justice and equality for all people. A link to the University's full schedule of events this year is available at http://georgetown.edu/mlk.